'Ted Lasso': The Most Inspiring Season 1 Quotes From Jason Sudeikis' Coach Lasso
Jason Sudeikis' title character does so much more than coach a soccer team on Ted Lasso. He gives some pretty wholesome life advice too. Whether Lasso's dishing out wise words during a meeting of The Diamond Dogs on the Emmy-nominated series or giving a heartfelt speech in the locker room, he's always got an inspiring quote, or 50, at the ready. Without further ado, here are TK inspiring Lasso quotes from Ted Lasso Season 1. 
Ted Lasso doesn't define success by wins and losses
"For me, success is not about the wins and losses. It's about helping these young fellas be the best versions of themselves on and off the field," Sudeikis' character said in season 1. His remark confused some — after all, he is coaching a professional soccer team and winning is a major part of the game — but it soon became clear Lasso was an unusual coach in the world of professional sports.
Ted Lasso believes anything is possible with love
Lasso's a romantic. He's a big fan of romantic comedies and believes love can conquer all. "If you care about someone, and you got a little love in your heart, there ain't nothing you can't get through together," he once said. 
During season 1 he learned love doesn't actually conquer all. The American football moved to the other side of the Atlantic while his marriage crumbled. As the season unfolded Lasso's divorce played out. 
Ted Lasso wants to embrace change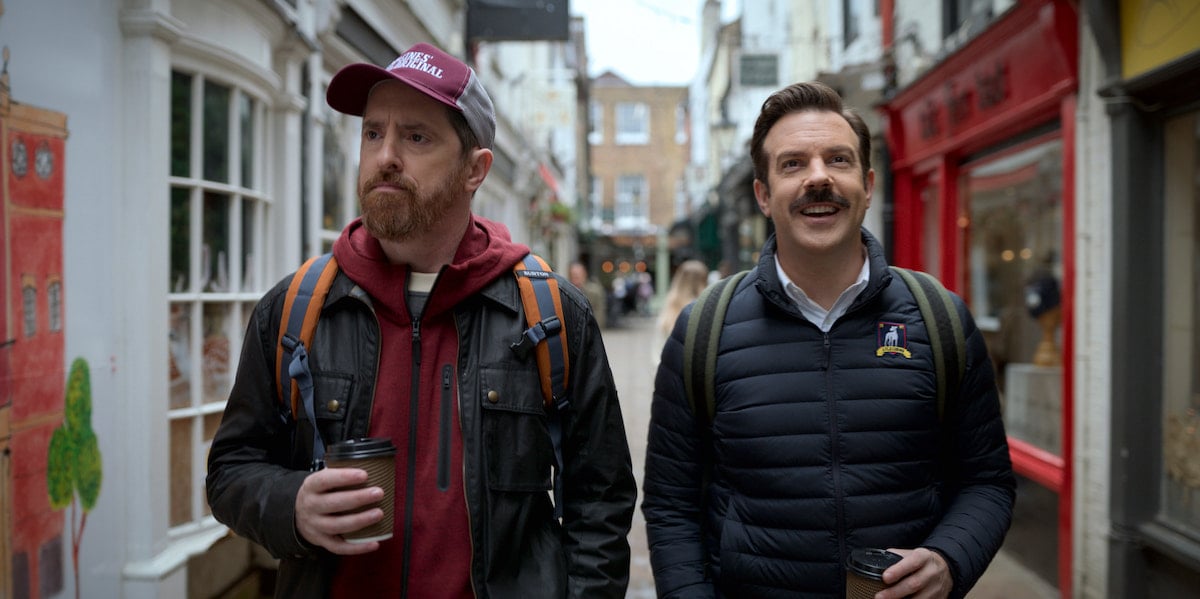 Change is hard even for Lasso. But the Richmond coach delivered some inspiring quotes about embracing change in season 1. In fact, he gave an entire speech on the subject at the half. 
"I know change can be scary. One minute, you are playing freeze tag out there at recess with all your buddies. Next thing you know, you're getting zits, your voice gets low, and every time your art teacher, Ms. Scanlon, leans over your desk to check and see how your project's going, you feel all squiggly inside," he said. 
Lasso concluded with a final note on change after the tangent about his former teacher 
"Most of the time change is a good thing and I think that's what it's all about – embracing change, being brave, doing whatever you have to so everyone in your life can move forward with theirs and maybe it's the only way you can truly make her be happy," he said, referring to what he called "Lady Football." 
Ted Lasso sees the silver lining in sadness
Leave it to Lasso to cheer up the team after a particularly heartbreaking loss. After the memorable season 1 moment where Richmond got relegated, he told everyone that while the sad times in life happen they're not as bad because they all have each other. 
"I promise you there is something worse out there than being sad, and that's being alone and being sad," he said to the team, Richmond owner Rebecca Welton, as played by Game of Thrones' alum Hannah Waddingham, Keeley Jones (Juno Temple), Nathan Shelley (Nick Mohammed), and Leslie Higgins (Jeremy Swift).
Ted Lasso believes
It's a sign that hangs above the door in the Richmond locker room and on Lasso's bathroom mirror, "believe." He encouraged the team (and fans) to believe instead of relying on the saying, "it's the hope that kills you." 
"I believe in hope. I believe in believe," he said. 
These are just a few of Lasso's inspirational quotes. For more of them watch Ted Lasso on AppleTV+. A new episode drops every Friday on the streamer. 
Ted Lasso is all about being 'curious, not judgmental'
The darts scene in the Apple original series is among the most memorable moments in season 1. Welton's ex challenged Lasso to a game of darts and proceeded to get schooled by the coach from Kansas. Along the way Lasso explained that he's spent his life being underestimated. But a quote from Walt Whitman helped him see it differently. 
"I was driving my little boy to school and I saw a quote by Walt Whitman, it was painted on the wall and it said, 'Be curious, not judgmental.' I like that," he said while throwing darts. 
He continued, saying, "All of the sudden it hits me – all them fellas that used to belittle me, not a single one of them was curious. You know, they thought they had everything figured out so they judged everything and they judged everyone. And I realized that their underestimating me – who I was had nothing to do with it. Because if they were curious they would have asked questions." 
While it's attributed to Whitman, Lasso has since become synonymous with "be curious, not judgmental."