'Ted Lasso': Jason Sudeikis Reveals the Hilarious Reason He Knows the NSYNC 'Bye Bye Bye' Choreography So Well
Jason Sudeikis' Ted Lasso character was instrumental in teaching the AFC Richmond team the moves to NSYNC's "Bye Bye Bye" on the hit Apple TV+ show, but it seems Sudeikis needed no schooling on the choreography. The actor shed a little light on why he already had the famous boy band moves down pat.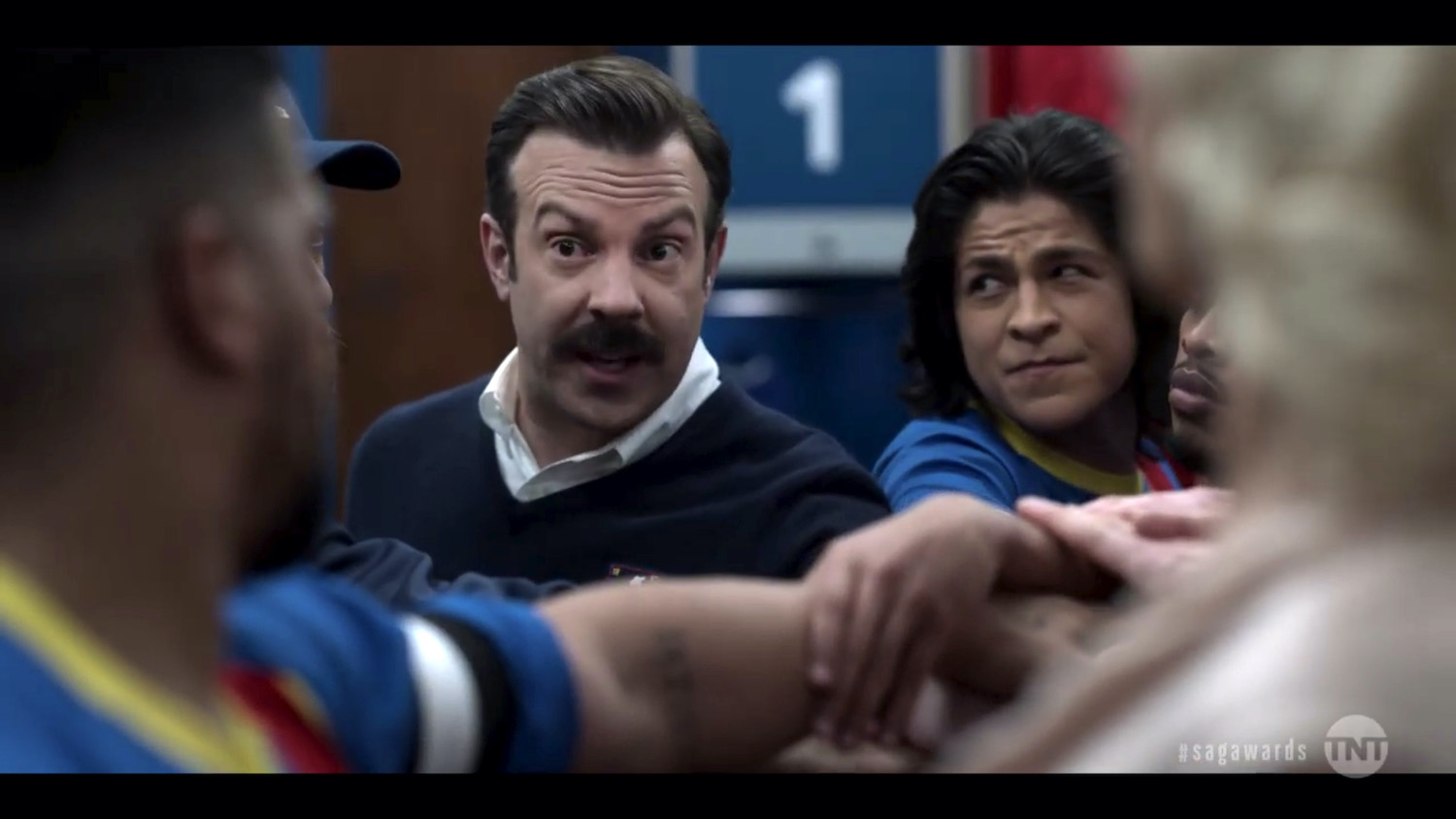 Ted Lasso teaches the team the NSYNC 'Bye Bye Bye' choreography
Coach Lasso, Coach Beard, and assistant coaches Nate and Roy initially appear to be leading the team in a drill during Ted Lasso Season 2 Episode 11 "Midnight Train to Royston." But, it's revealed they are rehearsing a goodbye surprise for psychologist Dr. Sharon Fieldstone. The team is struggling to learn the choreography to NSYNC's "Bye Bye Bye," but Ted steps up to coach them in the dance moves.
"No, no, no, guys c'mon — that ain't gonna cut it," he tells them. "Y'all gotta be together on this." Then he shows them the choreography, jumping and turning his body as he pumps his fist before motioning "bye bye bye."
Ted points out he's "jumping, like I'm a marionette," adding, "That's why this song is on the album No Strings Attached." He adds that performing the choreography will mean more at Dr. Sharon's going away party if everyone "can tell how hard we worked on it… it ain't the execution, that ain't the gift. It's the effort," he tells the team.
Sudeikis explained why he knows the NSYNC choreography so well
During an Oct. 7 appearance on The Ellen DeGeneres Show, the host asked about the "Bye Bye Bye" dance moment. Sudeikis admitted that it was easy for him because he could draw on his personal experience. "Is that something you had to learn?" DeGeneres wondered. "Is that something that was already memorized?"
The actor said he had no challenges with the choreography since he knew it so well. "What better way to say goodbye than to do choreography? … I knew the dance mostly from my time living in Amsterdam," Sudeikis explained. "I worked at a sketch and improv theater there along with the two fellows that I created the show with, Brendan and Joe. And the only thing on Dutch television in English were music videos and The Nanny with Fran Drescher."
When Sudeikis needed a break from watching The Nanny, he turned to music videos. He added, "And so yeah, that was right when NSYNC was running the world and so I watched that video a lot … I knew the dance, yeah."
Jason Sudeikis danced to NSYNC on TV before 'Ted Lasso'
In 2018, Sudeikis showed off that same NSYNC choreography on The Ellen DeGeneres show when he played a game to raise money for charity. "We're going to play a song and you have to dance as big as you can," DeGeneres said before the challenge. Each song choreography Sudeikis completed earned $1,000.
Sudeikis also spoke with DeGeneres about writing season 3 of Ted Lasso, saying, "It was a crazy week for the second week, to be like leading up to the Emmys and then the week after, a bunch of folks won Emmys. A bunch of folks were nominated, then a bunch of folks won. So we were kind of like nervous and anxious and then real cocky. And now we're back into the fear… that's where the good stuff comes from."
RELATED: 'Ted Lasso' Co-Creator Bill Lawrence Responds to Harsh Criticism About Season 2