'Ted Lasso': Jason Sudeikis Teases Hilarious Season 3 Fake Spoilers
Did Ted Lasso fans get a peek at some of the show's season 3 spoilers? During a recent late-night talk show appearance, Jason Sudeikis sat in front of a whiteboard with a number of interesting sticky notes for season 3 storyline ideas. Eagle-eyed Ted Lasso fans did a bit of detective work to spy all the hilarious fake spoilers.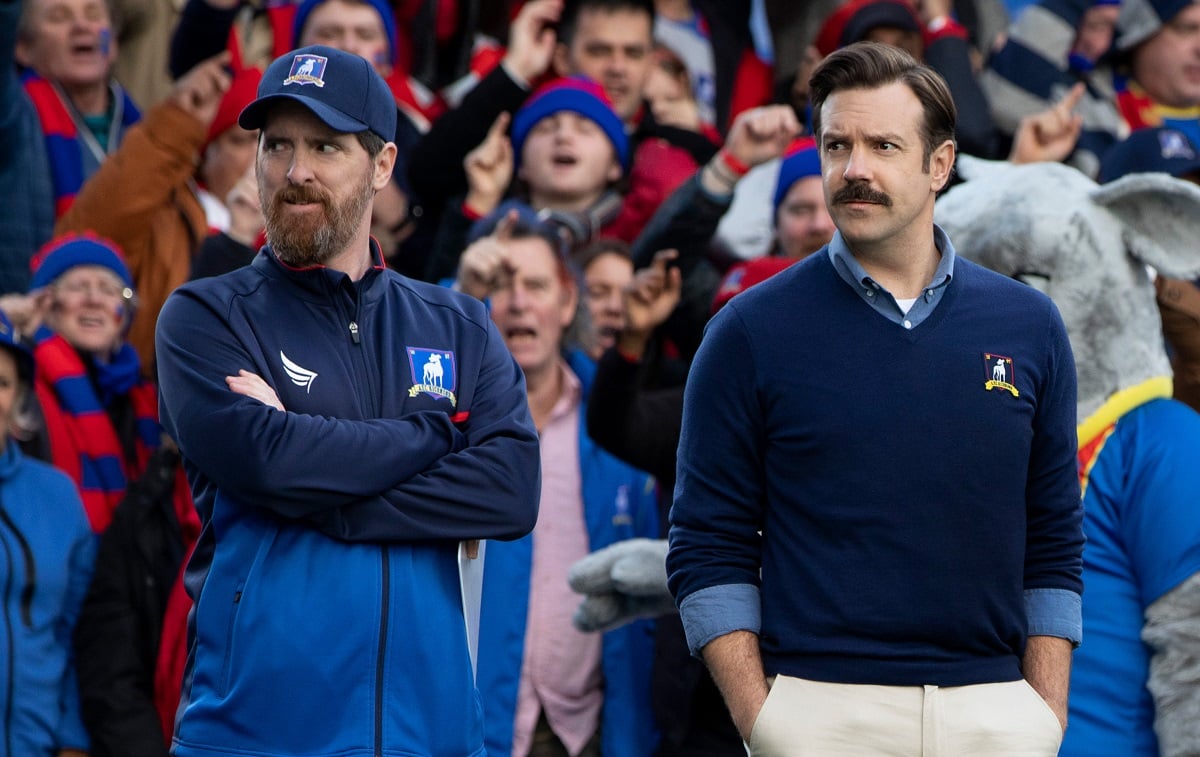 'Ted Lasso' writers are working on season 3
On the Oct. 7 episode of Late Night with Seth Meyers, Sudeikis chatted with the host about working on writing the third season of Ted Lasso.
He was joined by series co-creators Brendan Hunt and Joe Kelly to talk about the show, explaining that they're already working on season 3 and are on the fourth week of writing. The trio shared how there was excitement ahead of the Emmys and then after winning, plenty of celebrating. Then it was time to get down to business again.
"The first two weeks were great because it was the lead-up to the Emmys and then we won stuff at the Emmys," Sudeikis explained. "It was a lot of high-fiving and now we have to actually write. We're figuring it out now."
Jason Sudeikis and the 'Ted Lasso' co-creators teased a wild season 3 spoiler
During the interview, Meyers spotted one of the sticky notes behind them had a huge spoiler. "It looks like an idea for episode 302," the host said. The note said in all caps: "TED DIES."
"No wrong answers while you're blue-skying a season," Kelly noted about their brainstorming session.
They all reminisced about doing an improv show in Amsterdam in the early 2000s when the Ted Lasso seeds were planted. Sudeikis bought a Playstation at the time and Hunt, who was a soccer fan, told him to get FIFA 2000.
"Brendan would basically explain to me the game as he was playing Arsenal and I was playing Manchester United," Sudeikis said. Those conversations paved the way for the Ted and Coach Beard characters.
Fans spotted all the 'Ted Lasso' season 3 spoiler details
They only discussed the sticky note storyline idea "Ted Dies" during the interview, but fans on Reddit zoomed in on the Post-it Notes to get the full scoop about all the hilarious spoilers.
One Reddit user listed all of the Post-it Notes seen behind Sudeikis during the interview, though not all of them were entirely clear. Perhaps there's a real Ted Lasso season 3 spoiler hidden among them?
301: Rebecca & Keeley go shopping/talk about work
302: TED DIES
302: Pube shaving scandal
303: Biscuits laced with cocaine?
303: Henry coaches team via Zoom
303: Ted develops a shopping addiction (ear cuffs)
304: Something with Steve Bannon?
305: Rebecca gets adult braces
306: Dani meets the queen
307: Reveal Roy has small d***
308: Roy gets really, really fat
309: Team building field trip to Hitler's bunker
309: Beard is the Zodiac Killer
310: Nate wins Great British Bake Off
311: Rebecca reworks more truthful [?] Vegas stand-up show
311: Jamie is a ghost
311/312: The dead dog comes back to haunt?!?
RELATED: 'Ted Lasso': Jason Sudeikis Said 1 Unexpected Fan Reaction to the Show Is 'Really Lovely'