'Ted Lasso': Juno Temple Thinks Keeley Fell for Roy at the Gala in Season 1
In 'Ted Lasso,' Keeley Jones and Roy Kent have been dating since midway through the first season. By season 2 of the Apple TV+ series, Keeley and Roy are in a loving and committed relationship. During an interview with Awards Daily, Temple shared that she believes Keeley fell for Roy in season 1 episode 7 of 'Ted Lasso.'
In Ted Lasso, Keeley Jones (Juno Temple) and Roy Kent (Brett Goldstein) have been dating since midway through the first season. By season 2 of the Apple TV+ series, Keeley and Roy are in a loving and committed relationship. In an interview with Awards Daily, Temple shared her thoughts on Keeley as a character, her friendship with Rebecca (Hannah Waddingham), and her relationship with Roy.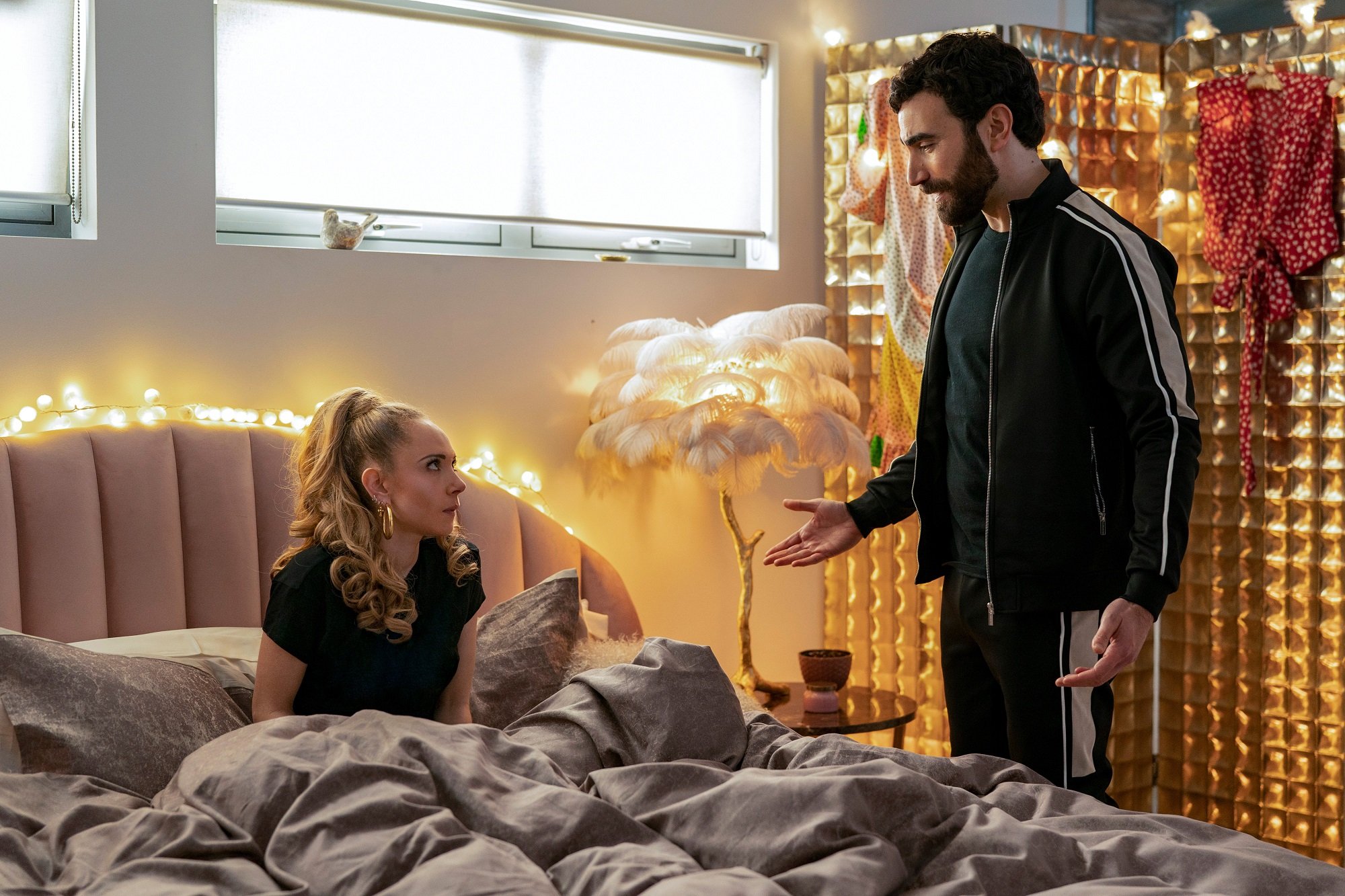 Juno Temple on when Keeley developed feelings for Roy in 'Ted Lasso'
At the start of season 1 of Ted Lasso, Keeley is in a relationship with Jamie Tartt (Phil Dunster), a 23-year-old player for AFC Richmond. In season 1 episode 4, "For the Children," Rebecca organizes an annual charity gala for the club, and the entire team attends.
While Keeley is Jamie's date to the charity ball, the two get in a fight, and Keeley bids on Roy at the auction to try and make Jamie jealous. Roy confronts Keeley about it, and she apologizes. When she realizes that Jamie only apologizes without actually being accountable, she breaks up with him.
Speaking with Awards Daily, Temple shared that she believes the gala is where Keeley finds herself drawn to Roy's maturity, saying:
"In the episode where we're all at the gala, and there's that moment between Roy, Keeley, and Jamie, Roy calls Keeley out for using him, and I think she really sees how much that hurt his feelings and I think that's a moment where she realizes his heart might feel something for her and that's why it hurt and how has she not paid attention to that? She immediately owns up to the fact that was wrong and it wasn't kind. She wishes she hadn't, but I do think that moment was a big moment for Keeley, because it's where she realizes that oh, the man in front of me might be somebody who wants to love me in a grown-up way that's got a future and isn't hovering on a potential it-could-all-fall-apart-tomorrow situation."
Roy and Keeley have a rough start in 'Ted Lasso'
While Keeley and Roy kiss in season 1 episode 7 of Ted Lasso, "Make Rebecca Great Again," the two have a difficult start to their relationship due to miscommunication.
"I think she's more not used to a man being what we consider potentially these days more chivalrous and old school. 'I'll kiss you goodnight and we'll do this again sometime.' Her gut reaction is, 'That was bad. Now what?' I think it's something that's new to her," Temple told Awards Daily.
Juno Temple thinks Keeley is drawn to 'kindness'
Because Keeley does not realize Roy's feelings for her, she has a one-night stand with Jamie before ultimately working things out with Roy. Ted Lasso is known for exploring themes like accountability and toxic masculinity, and Temple told Awards Daily the first season also emphasized the importance of kindness.
"I think the romance that builds between Keeley and Roy is really great, but also the fact that Keeley ends up having a night with Jamie again because she thinks that Roy is completely uninterested and Jamie comes in and he is kind to her," she said.
Temple continued, "It's important that that is shown, that women react to being treated with kindness and appreciation and more than just being hot and wanting to sleep with them. It turns you on a lot more. They react much better to it."
New episodes of season 2 of Ted Lasso premiere on Apple TV+ each Friday.