'Ted Lasso': Nick Mohammad Says the Rest of Season 2 Is 'Quite Devastating'
In Ted Lasso, Nick Mohammad plays Nathan Shelley, an assistant coach for AFC Richmond who was previously the team's kit man. When the series premiered, Nate was timid and had little confidence. Over the course of the season, Ted Lasso (Jason Sudeikis) began to give Nate the space to make his voice heard, and he was promoted to assistant coach.
While Nate experienced a lot of growth in the first season of Ted Lasso, the second season shows Nate still struggling with his confidence and ego. In an interview with The Playlist, Mohammad shared that Nate's storyline and the remainder of season 2 of Ted Lasso will become "quite devastating."
[Spoiler Alert: This article contains spoilers for season 2 episode 5 of Ted Lasso.]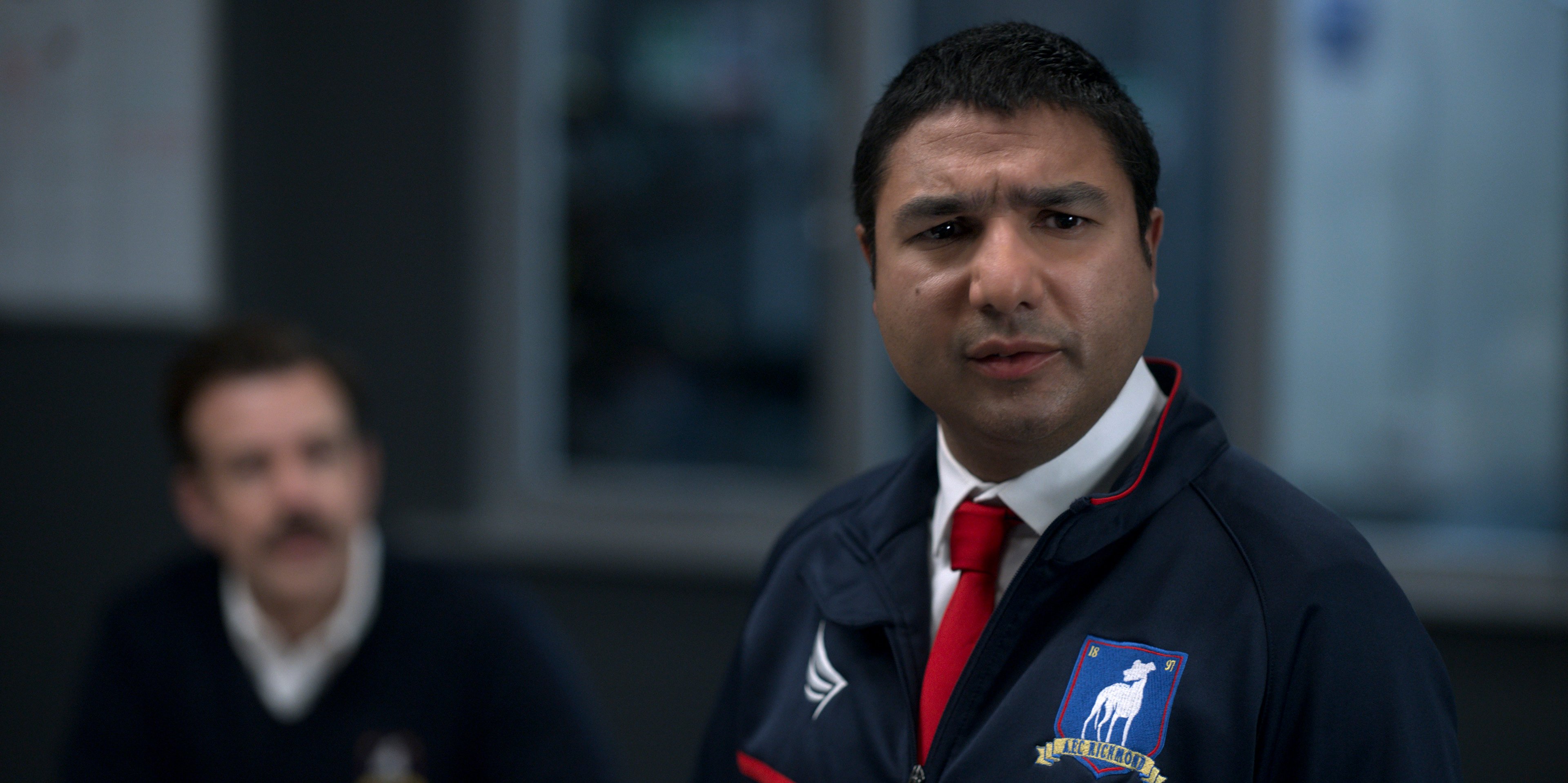 The rest of season 2 of 'Ted Lasso' will be 'quite devastating'
Since it premiered, the Apple TV+ series has become known as a feel-good show, primarily because of Ted's relentless optimism. Despite its comforting nature, Ted Lasso still deals with some heavy themes.
In his interview with The Playlist, Mohammad shared the rest of the season will be "tough," saying:
"Because, in the first four episodes, all we've got of Nate is that something's up with him. He's not quite the Nate that we know and love, I guess, from season one. There's something going on. He's struggling with something. He's struggling, maybe being in this new position of slight responsibility and having someone beneath him that used to do his job. And the truth is, and we were about to episode five, but from five onwards, five to 12, it gets quite devastating. I can't spoil anything, but it's an absolute roller coaster, and they're so clever in the way that they've teed up everything up. And there seemed to be a lot of it, to be honest, even in season one, but some tough times are coming, and it might even make for quite a tough viewing, I think, some of it. And it was a real challenge too, and we can maybe speak again once it's all gone out a bit because I can't give anything away."
RELATED: 'Ted Lasso' Being 'Positive and Inspirational' Wasn't Planned, According to Coach Beard's Brendan Hunt
Nate is a different character in season 2 of 'Ted Lasso'
From the moment season 2 of Ted Lasso premiered, Nate became a different character. He comes across as rude and pushy, while still occasionally being soft-spoken and insecure. According to Mohammad, fans will see more of Nate's story as the season progresses.
"I don't think it's giving anything away in saying that a lot of his insecurities and so on stem from the fact that his relationship with his dad is not great. And I think Ted Lasso, the show in itself, examines that father-son, or mentor-mentee relationship quite a lot," Mohammad told The Playlist.
He continued, "And this is another one of those. And yeah, we're going to get to drill down a little bit into why Nate is being such a d**k. And it all comes out. It all comes out. It's just; they're being very teasing at the moment because we've got another eight episodes to go."
RELATED: 'Ted Lasso': Roy Kent's Brett Goldstein Almost Played a Completely Different Character — 'You Won't Believe This'
Nate's storyline is about to 'go awry'
For fans hoping Nate's newfound meanness will be resolved quickly, Mohammad thinks things will get worse for Nate in Ted Lasso before things get better.
"… they're treading an interesting line with Nate, and it's about to all go awry," he told The Playlist.
New episodes of season 2 of Ted Lasso premiere every Friday on Apple TV+