'Ted Lasso': Nick Mohammed Thinks Nate Possibly Went 'Too Far' to Be Redeemed
The season 2 finale of Ted Lasso premiered on Apple TV+ on Oct. 8. In the episode, Nate (Nick Mohammed) faces off against Ted (Jason Sudeikis) after betraying him in the previous episode. After the episode became available for fans to stream, Mohammed was interviewed about Nate's choices and his future in season 3 of Ted Lasso by TVLine.
[Spoiler Alert: This article contains spoilers for season 2 episode 12 of Ted Lasso.]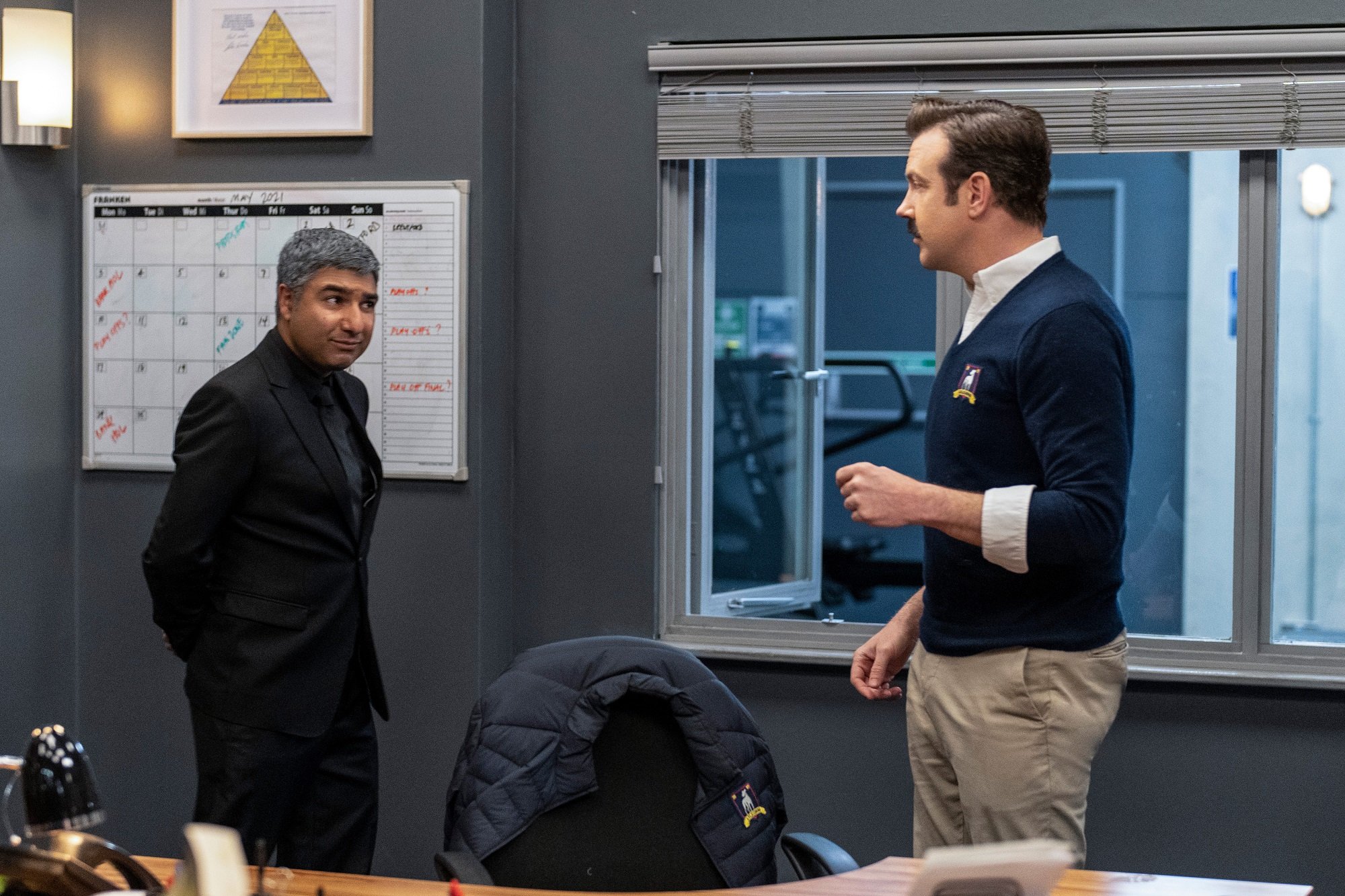 Nate leaves AFC Richmond in 'Ted Lasso'
In season 2 episode 12 of Ted Lasso, "Inverting the Pyramid of Success," Nick confronts Ted during halftime of AFC Richmond's final game of the season. After the game, Nate tears down the "Believe" sign from the locker room and leaves it on Ted's desk.
The episode ends with Nate coaching West Ham United, which is now owned by Rebecca Welton's (Hannah Waddingham) ex-husband Rupert Mannion (Anthony Head).
"It's quite smug, isn't it? That's a really fun, tantalizing way to end," Mohammed told TVLine. "As much as he's on a big power trip, and he's now with another team, and a really good team, I think he hates himself."
Nick Mohammed is unsure if Nate can be redeemed in 'Ted Lasso'
Ever since the season 2 finale of Ted Lasso premiered, fans of the Apple TV+ series have debated if Nate will have a redemption arc going forward. Typically, Ted Lasso shows its characters a lot of grace and forgiveness, but Mohammed does not think a redemption arc is guaranteed for Nate.
"Whether that means he can ever be redeemed — because I think what people would like is a redemption arc in Season 3 — I genuinely don't know, because they're still in the writers' room," Mohammed told TVLine.
He continued, "But also there's a very good chance that Nate has gone too far over the mark and can't come back from this. And he may be the one character that doesn't get a redemption arc in Ted Lasso. You never know what they might do."
What does Nick Mohammed think of Nate?
As Nate's journey progressed throughout the second season of Ted Lasso, many fans grew to hate Nate while others empathized with Nate's struggles.
Even though Mohammed plays Nate, the actor admitted he does not actually support the choices Nate made during the season.
"Obviously, I don't condone his behavior by any means, and also, it was just a different dynamic to what I'd had in Season 1," he told TVLine. "But we spent time on it, and we chatted as we filmed over the course of six months."
The actor continued, "My concern was not wanting the character to peak too early — that there was somewhere for the character to go in terms of him going on a power trip. It was about drip-feeding those negative qualities that really come to bear in the latter half of the season."
Both seasons of Ted Lasso are available to stream on Apple TV+.