'Ted Lasso': Phil Dunster Says Jamie Is 'Having a Quarter-Life Crisis' in Season 2
On July 30, season 2 episode 2 of Ted Lasso, titled "Lavender," premiered on Apple TV+. The main story of the episode focuses on soccer player Jamie Tartt (Phil Dunster). In an interview with Entertainment Tonight, Dunster explained Jamie's headspace in season 2 of Ted Lasso and revealed that "Lavender" shows Jamie going through "a quarter-life crisis."
[Spoiler Alert: This article contains spoilers for season 2 episode 2 of Ted Lasso.]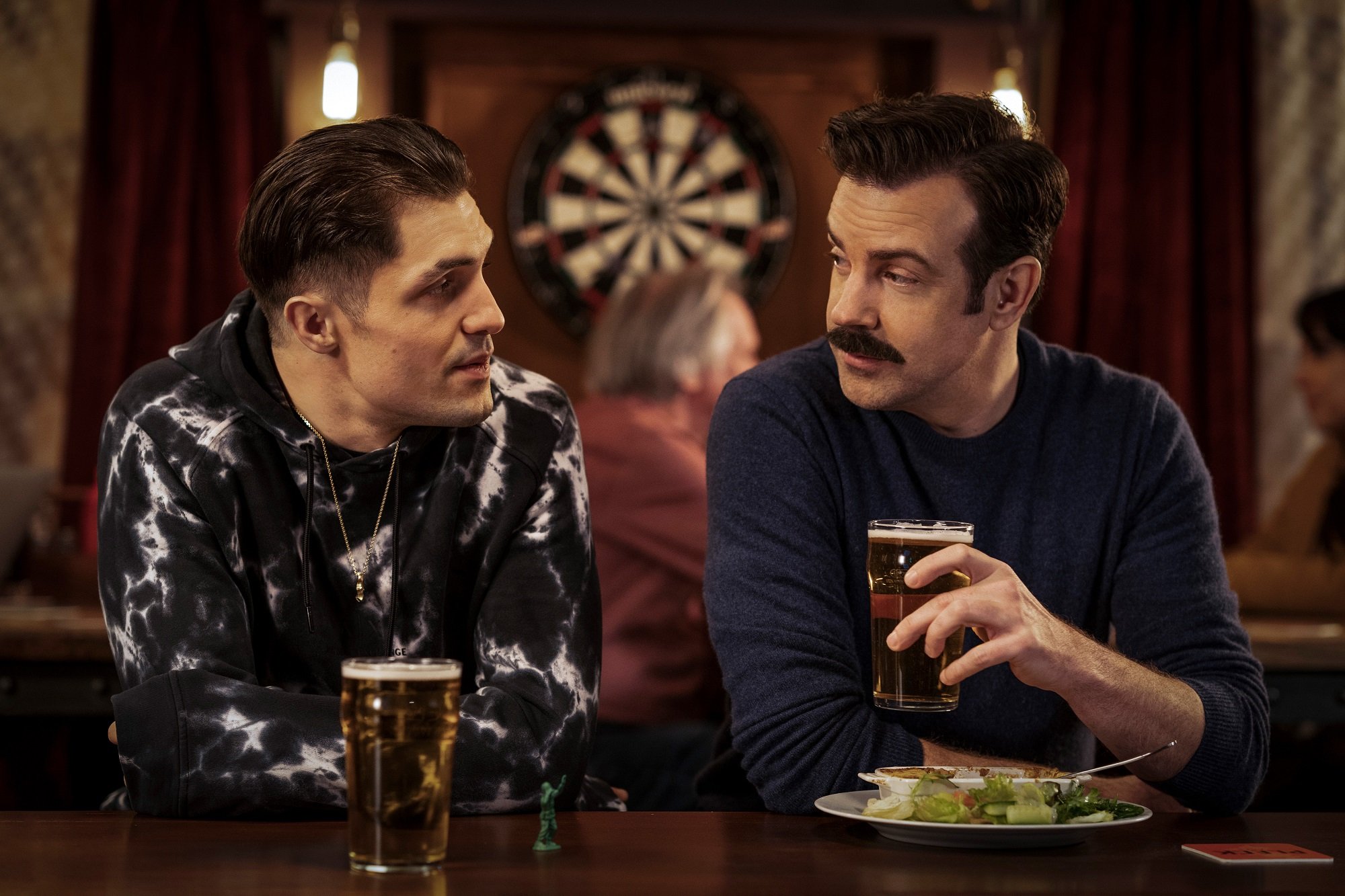 Jamie does not have a job in 'Ted Lasso'
In the first episode of season 2 of Ted Lasso, it is revealed that Jamie is the contestant on a fictional reality dating show called Lust Conquers All. While Jamie originally seems to be thriving on the TV show, he is voted off the show in "Lavender."
Jamie attempts to rejoin his former soccer team Manchester City, but the team does not want him back. His agent then informs him that no prominent club in Europe is interested in signing him. Jamie goes to meet Ted Lasso (Jason Sudeikis), and he admits he joined the cast of Lust Conquers All to get back at his father.
"I did it to piss off me dad," Jamie tells Ted. "He was just on me after every match. How I played, how many minutes I played, how I sat on the bench when I didn't play."
While Ted sympathizes with Jamie, he originally does not let him re-join AFC Richmond because of how he treated the other players on the team.
RELATED: 'Ted Lasso' Dart Scene Was Perfected Last-Minute by Jason Sudeikis, Hannah Waddingham Says
Phil Dunster thinks Jamie is 'having a quarter-life crisis'
After losing his spot on Lust Conquers All, Jamie finds himself aimless and desperate to get back to soccer. While speaking with Entertainment Tonight, Dunster shared that he thinks Jamie choosing to leave soccer in the first place shows Jamie is struggling.
"It's interesting," Dunster said. "They didn't write him going to a different club. They didn't write him playing a different sport. It's a different career. It's a different thing… He's having a quarter-life crisis."
Dunster continued, "And I think that a lot of people in their 20s go through that thing of, this life that I think that I was about to lead, is that actually nonsense? Is that actually something I want to do?… And so they go traveling, or they have a mad relationship, or they dye their hair or whatever. It's just that in Jamie Tartt's world, he goes into a sort of Love Island."
RELATED: 'Ted Lasso' Season 2: How Many Episodes Will There Be? It's More Than You Think
Jamie returns to AFC Richmond in 'Ted Lasso'
Even though Ted originally tells Jamie and the team that he will not bring Jamie back, he realizes that Jamie could be what AFC Richmond needs to start winning again. He lets Jamie back on the team, but Jamie's entrance at the practice is not well-received by his teammates.
"It's interesting, because I think that Jamie's probably never really been an outcast," Dunster told Entertainment Tonight. "He's probably always seen himself as maybe an outsider, but he's always had his talents and his bravado to hide behind and he knows that will get him anywhere he wants to, up until that point."
Season 2 episode 3 of Ted Lasso will be available to stream on Apple TV+ on Aug. 6.