'Ted Lasso': Reciting Allen Iverson's 'We're Talking About Practice' Speech Wasn't in the Original Script
Anyone who has watched Ted Lasso Season 1 knows how serious Jason Sudeikis' title character is about practice. It's evident in the locker room speech a normally friendly and light-hearted coach Lasso gives Jamie Tartt (Phil Dunster). A memorable moment for sure, the scene almost didn't make it into the episode.
According to an editor on the AppleTV+ series, Sudeikis added Lasso's recitation of NBA Hall of Famer Allen Iverson's 2002 comments about practice shortly before filming began.
Ted Lasso gave Richmond's star player a speech about not practicing with the team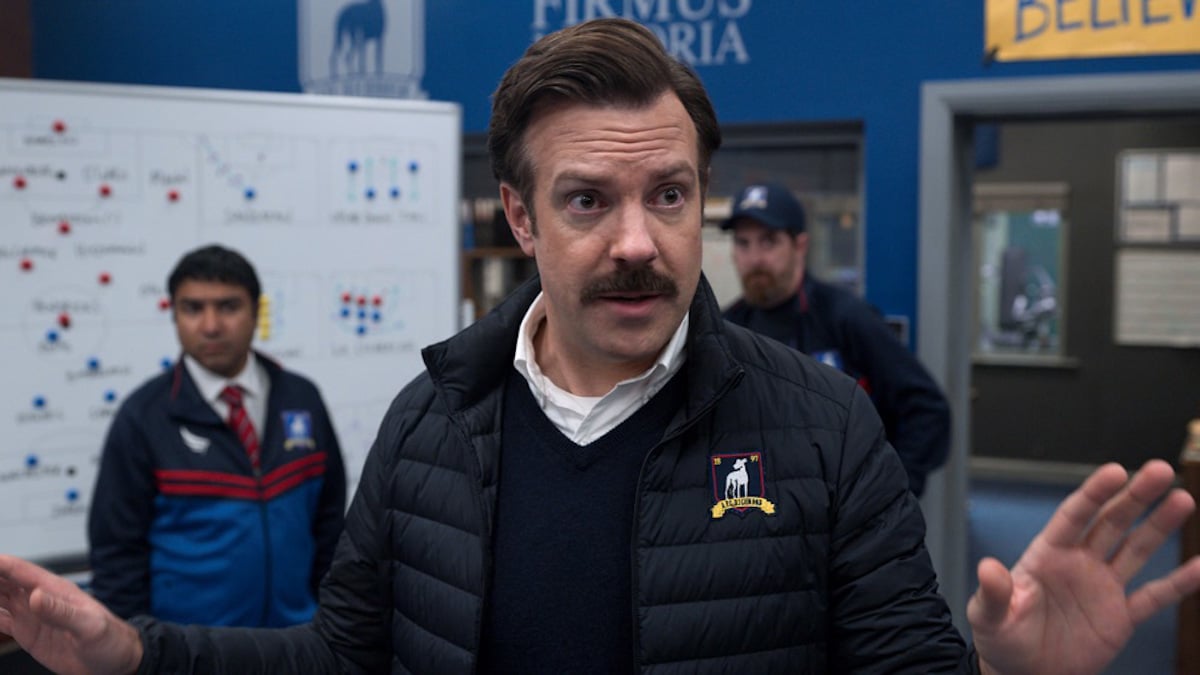 Jamie didn't take kindly to being benched. In Ted Lasso Season 1 Episode 6: "Two Aces," the 23-year-old soccer star retaliated by sitting out the following practice claiming he was hurt. Upon hearing the news Ted went to the locker room to talk to him.
"Relax, Ted. It's just practice," Jamie said.
That was enough to set Ted off and show Jamie — and the rest of the Richmond squad suiting up for practice — another side of him.
"You're sitting in here, you're supposed to be the franchise player and yet here were are talking about you missing practice," he said. "We're talking about practice, you understand me, practice. Not a game, not a game. Not the game you go out there and die for, right? Play every weekend like it's your last, right? No, we're talking about practice, man. Practice!"
Ted continued, explaining to Jamie that's it's not "just practice."
"You know you're supposed to be out there, you're supposed to lead by example. You're just shoving that all aside. And so here we are, Jamie. We're talking about practice," he said. "Not a game, not the game. We're talking about practice with your team, with your teammates. The only place that we get to play together, we got control over."
"The rest of the time it's us 11 against those 11," he added. "We talking about practice, man. I'm talking about practice and you can't do it! 'Cause you're hurt, right?"
Ted ended his speech by asking Jamie to set up the cones on the practice field. Jamie refused and quickly found himself falling out of favor with the rest of the team.
To see Iverson's "practice" rant, check it out on YouTube. 
Jason Sudeikis added Ted Lasso's recitation of Allen Iverson's 'practice' speech at the last minute
RELATED: 'Ted Lasso': Playing Rebecca Brought Hannah Waddingham 'Catharis' After a Real-Life 'Abusive Relationship'
At a March 2021 South by Southwest panel titled, Ted Lasso: Emotion in the Edit, series co-creator Bill Lawrence sat down with two editors to discuss the show. During their conversation, it was revealed that Ted's "practice" speech inspired by Iverson wasn't in the original script. According to Apple Insider, editor A.J. Catoline said Sudeikis, who also helped create the series, added it to the script just a few days before shooting the episode. 
Sudeikis is constantly tinkering with the 'Ted Lasso' script, co-creator says
RELATED: 'Ted Lasso' Dart Scene Was Perfected Last-Minute by Jason Sudeikis, Hannah Waddingham Says
Lawrence, who is also behind the hit show Scrubs, shared that changing the script late in the game is a common thing for Sudeikis. Lawrence described the Horrible Bosses alum as an "insufferable tinkerer," saying that it gets "to the point where until something calls to action, he's going to keep tinkering with the scene." 
"It's one of the things that makes it better and better," he added.
Ted Lasso Season 2 premiered on July 23, 2021. New episodes air every Friday on AppleTV+.