'Ted Lasso': Sam Obisanya's Toheeb Jimoh Explains Why That Press Conference Scene Was so 'Touching' to Film
Ted Lasso star Toheeb Jimoh is opening up about Sam Obisanya's activism. The AFC Richmond player takes a stand in the Apple original series' latest episode. There to support him are his teammates, coach Lasso (Jason Sudeikis), and Rebecca Welton (Hannah Waddingham). 
[Spoiler alert: This article contains spoilers from Ted Lasso Season 2 Episode 3: "Do the Right-est Thing."]
Sam Obisanya takes a stand against fictional Dubai Air in 'Ted Lasso' Season 2 Episode 3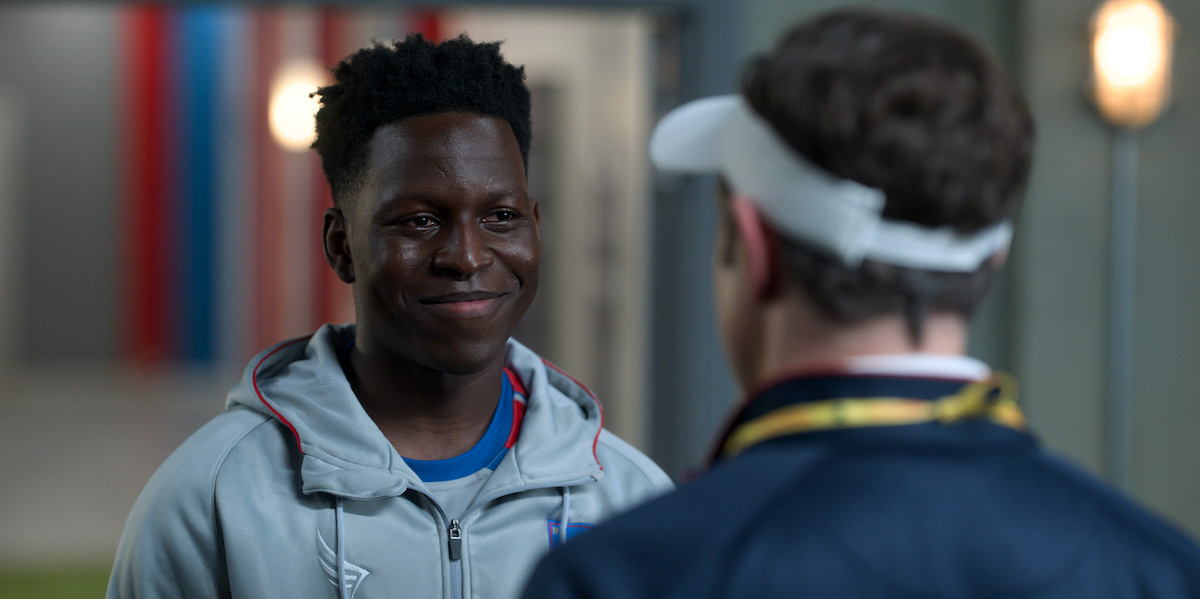 Sam takes part in a photoshoot for Dubai Air. He poses for photos wearing his Richmond team jersey and excitedly texts his father about getting free flights. 
His excitement quickly disappears when his father tells him the airline's parent company is destroying the environment in Nigeria — Sam's home — and paying off the government. 
Then he tells Rebecca and Keeley why he has to back out of the photoshoot. Rebecca supports Sam's decision and says she should be able to make it go away without much fuss because the owner is an "old friend" of her ex-husband's. When she shares that Sam will no longer be participating the company's owner says it's no problem if they kick him off the team. 
After some deliberation and encouragement from her goddaughter, Nora (Kiki May), Rebecca informs them Sam will remain on the team. Then, before a match, Sam covers up the Dubai Air logo on his jersey which inspires his teammates to do the same. At a post-game press conference coach Lasso gave Sam the mic and allowed him to get the word out about the situation.
Toheeb Jimoh says it was 'touching' to have Jason Sudeikis put him in 'the big seat' during the press conference scene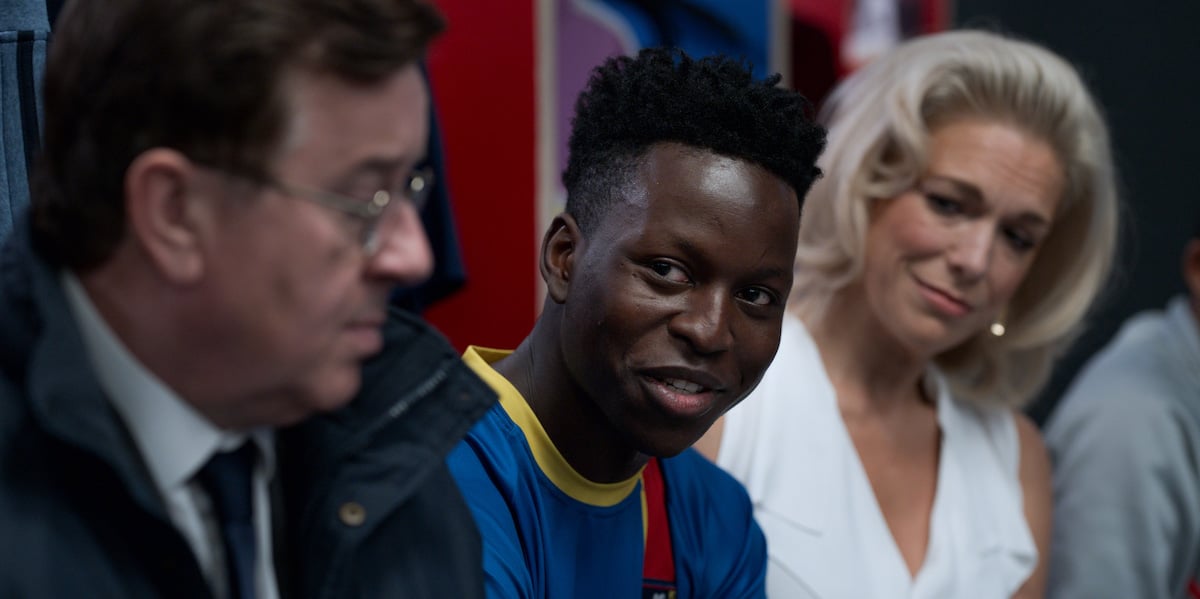 Jimoh highlighted the "parallels" between the characters and his experience filming the press conference scene in an August 2021 Essence interview. He said that while coach Lasso was literally giving Sam the mic Sudeikis was also putting him front and center. 
"It's so funny because there are so many parallels between the characters and us in real life. Because at that moment it's Ted giving Sam the reigns and giving him the opportunity and the platform to speak. But at that moment, it was also Jason Sudeikis, the lead of the show putting me in the big seat and going 'All right, cool, this is your moment, knock them out,'" he explained. 
"That was touching. There were those moments where I had to catch myself and I was like, 'All right, cool. This is happening. He [Sudeikis] trusts me and let's go,'" Jimoh added.
Sam Obisanya's activism and AFC Richmond's response left Hannah Waddingham 'emotional'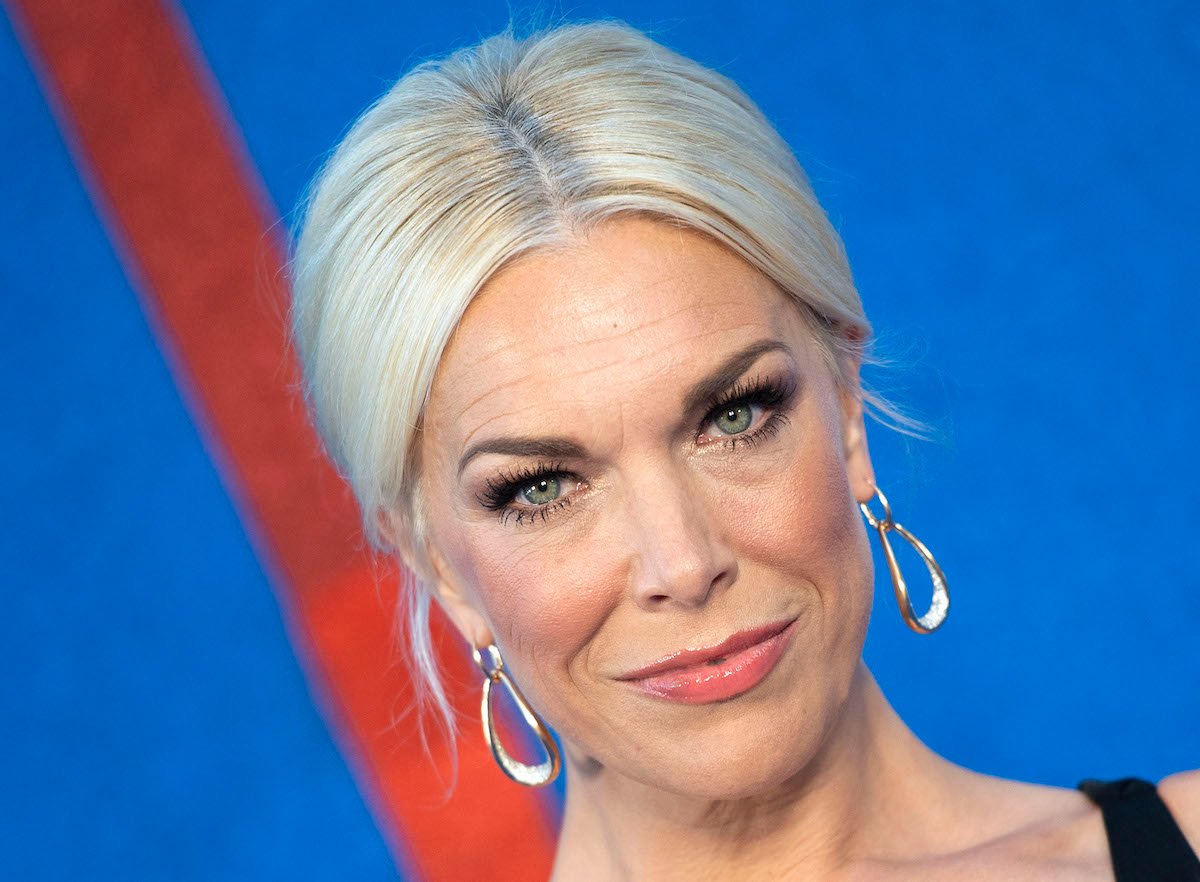 Jimoh's co-star, Game of Thrones alum Waddingham, also shared how she reacted to the latest episode. She told TV Insider she found herself getting "very emotional" over the team's response to Sam's activism. 
"I was very emotional just reading it," she said. "I just thought it was beautifully written that all these guys that tease and josh each other all the time were absolutely a united front about it."
Ted Lasso Season 2 is airing on AppleTV+. A new episode drops every Friday at 12 a.m. PT and 3 a.m. EST