'Ted Lasso Season 2 Episode 1': Recap, 'Goodbye Earl'
"Don't you fret, Boba Fett," Ted Lasso Season 2 is back on Apple TV+, and episode 1 is as hysterical and heart-warming as ever. Jason Sudeikis' usually eternally optimistic character worries about all the Richmond Football Club ties this season. Meanwhile, Roy Kent (Brett Goldstein) has a new coaching job. Plus, Rebecca Welton (Hannah Waddingham) and Keeley Jones (Juno Temple) are closer than ever before.
[Spoiler alert: This article contains spoilers from Ted Lasso Season 2 Episode 1, "Goodbye Earl."]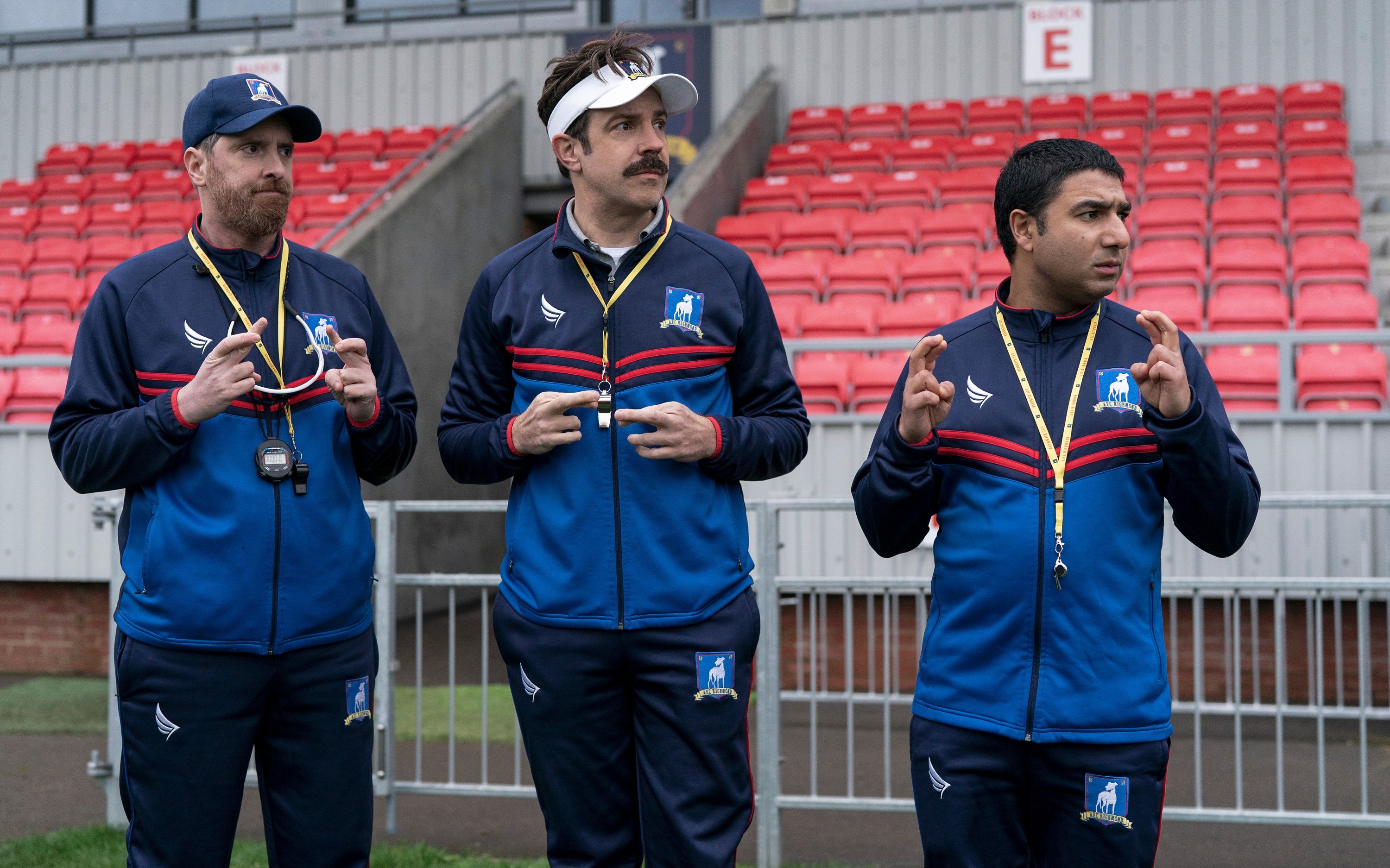 'Ted Lasso' Season 2 Episode 1 begins with the death of Earl
In the opening scene of Ted Lasso Season 2 Episode 1, Dani Rojas (Cristo Fernández) almost delivers the first win of the season. After seven straight ties, the Richmond Football Club and their devoted fan base couldn't be more excited. However, as Dani kicks the ball, a bird comes flying across the field. The mascot, Earl, notices the bird and his owner mistakenly lets go of his leash.
Dani's ball hits Earl in the head instead of securing the win, and the dog dies. The tragic turn of events is no match for Ted Lasso, who gives the press a sweet story about a dog from childhood.
"Those things come into our lives to help us get from one place to a better one," Ted tells the press. "I hope we helped Earl do just that. We are gonna miss him around here a whole bunch."
However, Dani doesn't have the same outlook on life as Ted. The troubled player stands in the shower, fully clothed, praying and "washing the dead off." Later, he has a terrible nightmare, complete with a cartoon dog and splattered blood that looks like ketchup. 
What's up with Roy?
Now that Roy Kent has retired, he took a new coaching position. However, it's his niece, Phoebe's (Elodie Blomfield) football team. He treats them like adults and calls them "little pricks." Roy enjoys his time with his niece and spends his free time doing Yoga. However, Keeley worries that he's not spending enough time with his friends from the football club.
Instead, Roy prefers to hang out with Yoga moms and watch reality TV shows. In the last few minutes of Ted Lasso Season 2 Episode 1, Jamie Tartt (Phil Dunster) makes an appearance. He's on the British dating show Lust Conquers All. The former Richmond player is as egotistical as ever, and Roy's Yoga mom friends love him. It looks like viewers haven't seen the last of Jamie.
'Ted Lasso' Season 2 Episode 1: Rebecca and Keeley double date
When Keeley forces Roy to join her on a double date with Rebecca and her new boyfriend, it's as awkward for viewers as it is for Roy. After the date, Keeley tells Rebecca how "age-appropriate" he is. However, Roy jumps in with the sweetest moment filled with curses. If his niece Phoebe were present at that moment, he would owe her even more pounds.
"He's fine," Roy begins. "That's it. Nothing wrong with that. Most people are fine. It's not about him. It's about why the f— you think he deserves you. You deserve someone who makes you feel like you've been struck by f—ing lightning. Don't you dare settle for fine."
On her lunch date with the new man, she realizes that she must be brave enough to let someone fabulous love her. 
'Ted Lasso' Season 2 Episode 1: Sharon joins the team
Although Ted has doubts about bringing in a psychologist to help Dani work through "the yips,"
Coach Beard (Brendan Hunt) talks him into it. Sarah Niles joins the cast as Sharon, and she's very straightforward. The new sports psychologist tells it like it is and doesn't like Ted's superstitions. Higgins (Jeremy Swift) gives up his office to give Sharon a place to conduct her sessions. 
After one session, Dani excitedly returns to the field and successfully kicks the ball into the net. Later, he thanks Ted for bringing Sharon in to help him. The other teammates begin meeting with Sharon, and Ted is intimidated. It looks like Higgins ends up working on a tiny little table for more than only Ted Lasso Season 2 Episode 1.
Ted Lasso Season 2 Episode 2 returns to Apple TV+ on July 30, 2021, at 12 a.m. PT and 3 a.m. EST.