'Ted Lasso' Season 2: How Many Episodes Will There Be? It's More Than You Think
Jason Sudeikis, Brendan Hunt, Brett Goldstein, Hannah Waddington, and Juno Temple return for 'Ted Lasso' Season 2 on July 23, but how many episodes is the new season?
Apple TV+'s Ted Lasso Season 2 hit the streaming service on Jul 23, 2021 but viewers want to know how many episodes to expect. The comedy developed by Bill Lawrence is back with Jason Sudeikis, Joe Kelly, and Brendan Hunt for another installment. So, how many episodes will there be in the new season?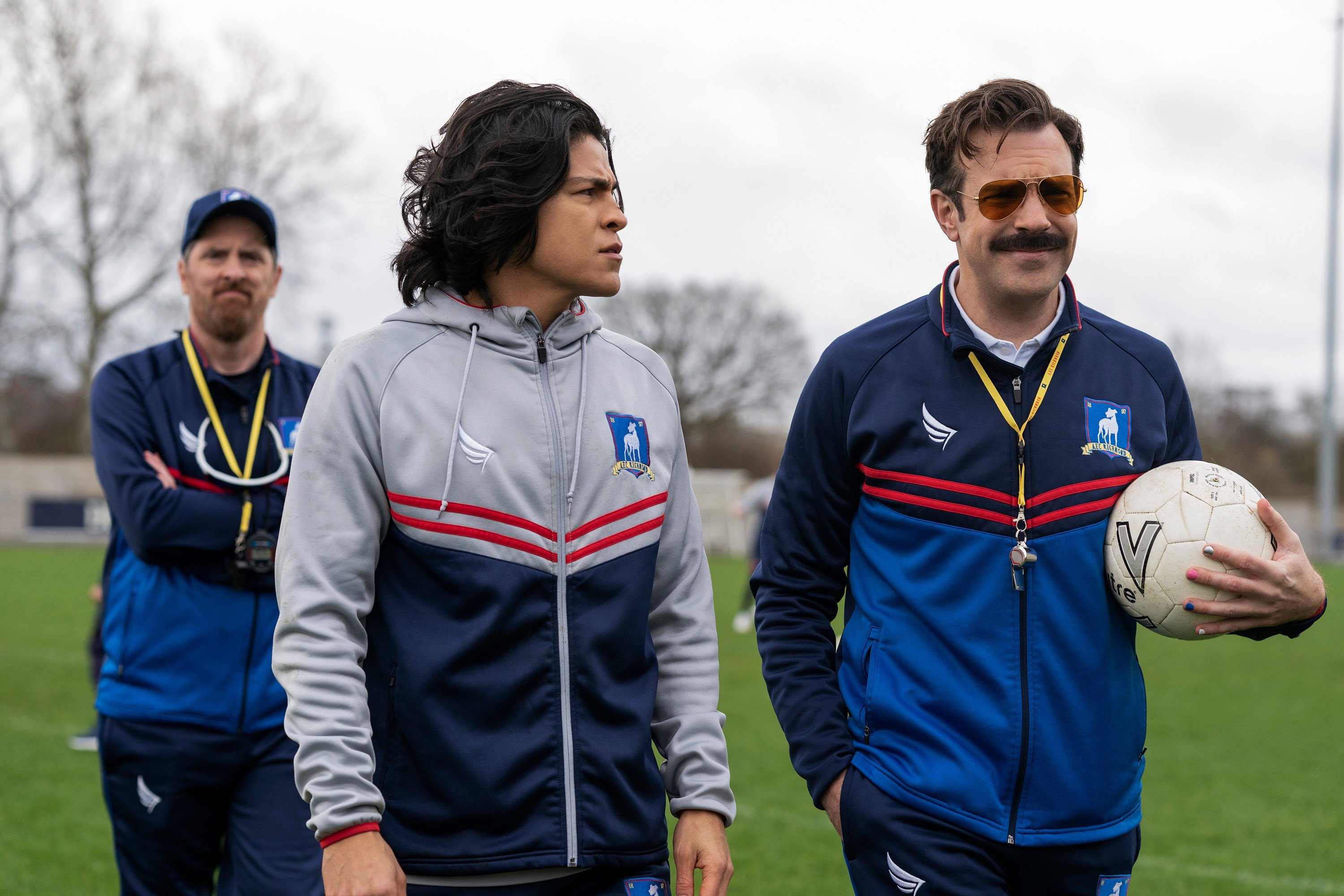 Where can I watch 'Ted Lasso'?
Is Ted Lasso on Netflix? Sadly, the popular series is an Apple TV+ original, so Ted Lasso Season 2 is only available on the Apple TV+ streaming service. Since its launch in late 2019, the app is more widely available, so you can download it on non-Apple devices as well. Plus, it's only $4.99 a month to binge-watch Ted Lasso Season 1 and then catch up on the new season. There are also several other streaming shows to check out, including The Morning Show, Dickinson, Defending Jacob, and For All Mankind.
What Time Does 'Ted Lasso' Come Out on Apple TV+?
For those of you looking to stay up late on July 22 to watch Ted Lasso Season 2 when it drops at midnight, it might be a stretch. For viewers on the West Coast, Ted Lasso drops to Apple TV+ at midnight PT; however, it won't drop until 3 a.m. EST for the east coast.
'Ted Lasso' Season 2: How many episodes will there be?
Fans of Jason Sudeikis are in luck; Ted Lasso Season 2 has an extra two episodes compared to the first season. Ted Lasso Season 1 only had 10 episodes, but season 2 gives viewers more with 12 episodes total. The first season had such a strong debut that Apple TV+ renewed it in August 2020 for a second season. Juno Temple let it slip to Collider that the new season would be 12 episodes instead of 10. 
Here is the complete episode list from Apple TV+ (updated with episode titles as they become available).
Episode 1 — "Goodbye Earl" (July 23)
Episode 2 — "Lavender" (July 30)
Episode 3 — "Do the Right-est Thing" (Aug. 6)
Episode 4 — "Carol of the Bells" (Aug. 13)
Episode 5 — "Rainbow" (Aug. 20)
Episode 6 — "The Signal" (Aug. 27)
Episode 7 — "Headspace" (Sept. 3)
Episode 8 — "Man City" (Sept. 10)
Episode 9 — (Sept. 17)
Episode 10 — (Sept. 24)
Episode 11 — (Oct. 1)
Episode 12 — (Oct. 8)
Who is in the cast of 'Ted Lasso' Season 2?
Naturally, Jason Sudeikis returns as Ted Lasso as well as Brendan Hunt as Coach Beard. Brett Goldstein reprises his role as Roy Kent and Nick Mohammed as Nathan "Nate the Great" Shelley. However, the women play a more significant role in Ted Lasso Season 2. The relationship between Rebecca Welton (Hannah Waddingham) and Keeley Jones (Juno Temple) is a highlight in season 2.
Jeremy Swift also returns as Leslie Higgins and Phil Dunster as Jamie Tartt. Toheeb Jimoh reprises his role as Sam Obisanya. Additionally, Cristo Fernandez plays Dani Rojas again. James Lance returns as Trent Crimm, and Kola Bokinni reprises his role as Isaac, Richmond's vice-captain. Lastly, Annette Badland rounds out the Ted Lasso Season 2 cast as Mae, the pub landlord.