'Ted Lasso' Season 2: What Day Do New Episodes Drop on Apple TV+?
Ted Lasso season 2 is now playing on Apple TV+, with new episodes coming every week. The feel-good comedy that was inspired by an NBC Sports promotional video is a critical darling that just scored a record-setting 20 Emmy nominations.
It's also extremely popular with fans, thanks to star Jason Sudeikis and the amazing ensemble cast. As new viewers continue to discover this fish-out-of-water tale, many are wondering — what day do new episodes drop?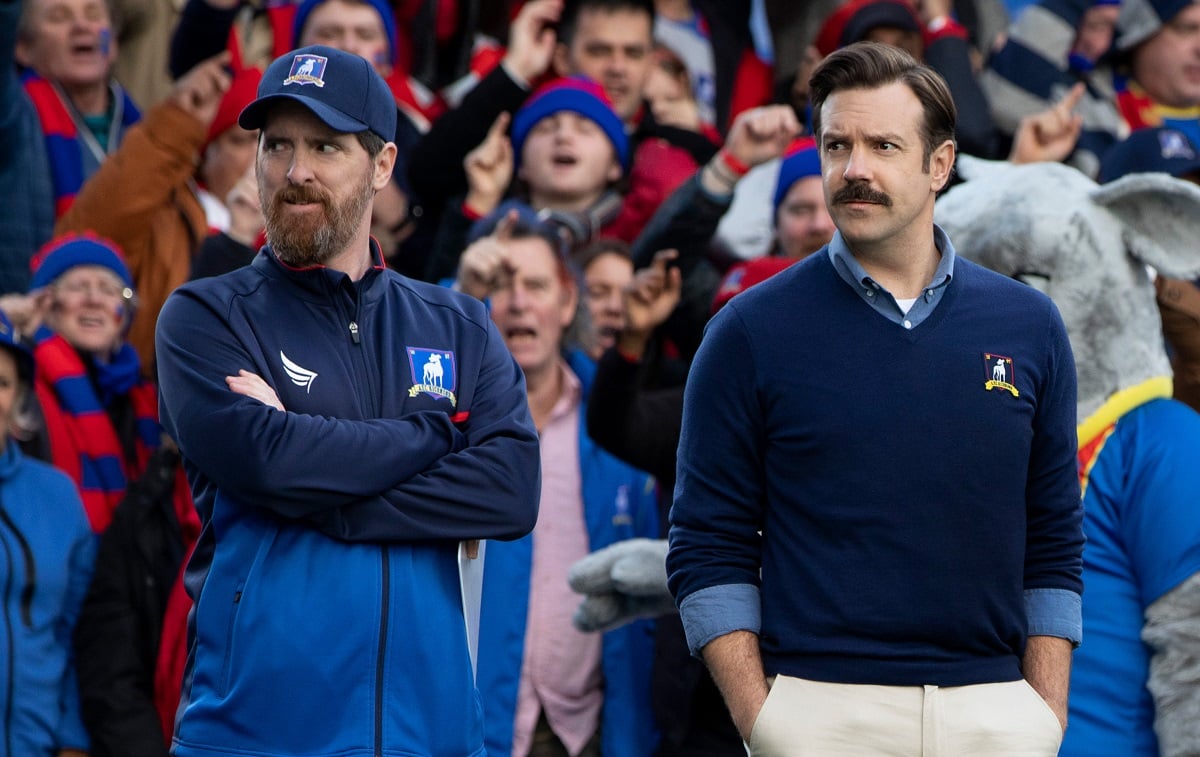 What is 'Ted Lasso'?
Ted Lasso is an original sports comedy from Apple TV+ that stars Saturday Night Live alum Jason Sudeikis. He plays the titular character — a Division II college football coach from America who takes a job with AFC Richmond as a professional soccer coach in England. Despite the fact he has zero soccer knowledge or experience.
When it premiered in 2020, fans fell in love with the character immediately because of his never-ending positive attitude, wholesome disposition, and his constant British social and cultural faux pas.
Sudeikis created the series with Brendan Hunt (Ted's assistant coach Beard), Joe Kelly, and Bill Lawrence. The quartet saw great potential in a series after Sudekis starred as the character nearly a decade ago in a series of NBC Sports commercials promoting their coverage of the English Premier League.
The season 2 premiere dropped in late July
Season 1 of Ted Lasso featured 10 episodes which dropped on Apple TV+ between August and October of 2020. After causing such a stir in season 1, fans were anxious to see where the story would go. They finally got their wish when the first episode of season 2 dropped on July 23.
Unlike Netflix, the new streamer didn't release the entire season at once. Instead, they are taking the old school network broadcast approach and releasing one new episode each week until the finale in October.  According to Games Radar, season 2 will feature 12 episodes, and they will be released on the same day each week.
What day do new episodes of 'Ted Lasso' drop?
The first episode of season 2 — "Goodbye, Earl" — dropped on Friday, July 23, which means Friday is the day for new episodes of Ted Lasso. Episode 2 "Lavender" will arrive on July 30, and episode 3 "Do the Right-est Thing" drops on August 6.
The remaining release schedule looks like this:
Episode 4 — August 13
Episode 5 — August 20
Episode 6 — August 27
Episode 7 — September 3
Episode 8 — September 10
Episode 9 — September 17
Episode 10 — September 24
Episode 11 — October 1
Episode 12 — October 8
RELATED: One of the Stars of 'Ted Lasso' Played 1 of the Most Memorable Characters in 'Game of Thrones' History
The exact time the episodes arrive each week is unclear. But according to Tech Radar, the episodes "usually launch very early in the morning." Most likely, each episode will arrive around 3:00 am on the East Coast, which is midnight Pacific Time.
Season 2 will focus on the theme of mental health
Ted's endearing charm, honesty, and optimistic nature will continue in season 2. But there will be a shift during the show's sophomore outing. The show will be exploring the theme of mental health even further.
"Mental health still has stigmas around it in this country, and even more so in England, and even more so in sports, so we take a little time to explore that, and where our characters are at with that," Hunt told Deadline. "Now, I know that all sounds hilarious. But we'll still get our yuks in."
'Ted Lasso' has been a big hit in Jason Sudeikis' hometown
The success of Ted Lasso is largely credited to Sudeikis, who many say is a lot like his character in real life. The Kansas City native has made a point to highlight his hometown in the series, which started in the pilot.
Sudeikis wore a shirt in the very first episode that was created by his longtime friend Brendan Curran. The tee reads "Joe Arthur Gate Stack."
RELATED: Paul Rudd Loves This Sandwich from Kansas City so Much, the Marvel Star Actually Has Is Flown To NYC
A shout-out to the top four barbecue joints in Kansas City — Joe's Kansas City (formerly Oklahoma Joe's), Arthur Bryant's, Gates, and Jack Stack.
Now, the tee has become a top-seller when it comes to Ted Lasso merch, and the Kansas City love won't stop anytime soon. However, many of the references will be Easter Eggs that only Kansas Citians will notice and understand.
Ted Lasso season 2 is currently airing on Apple TV+. Season 3 is expected to be released in 2022.