'Ted Lasso' Season 3 Began Production With New Nike Uniforms
'Ted Lasso' Season 3 is one step closer as Apple TV+ confirmed the start of production. As a bonus, Nike tweeted some new AFC Richmond uniforms.
TL;DR:
Nike tweeted AFC Richmond jerseys tagging Ted Lasso.
Apple TV+ quote tweeted Nike and stated Ted Lasso Season 3 has begun filming.
The start of production is consistent with co-creator Brendan Hunt's previous comments about a delay.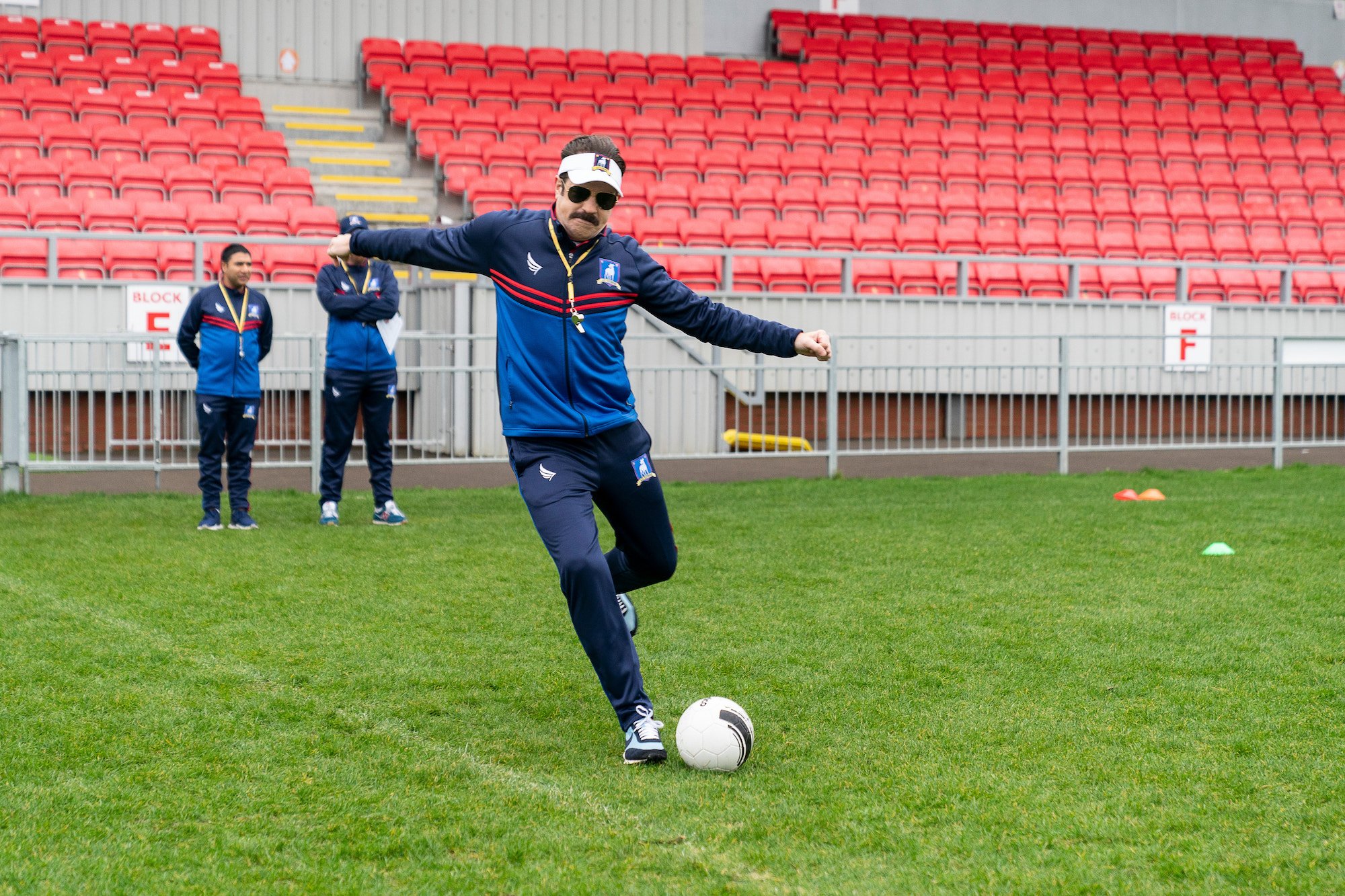 Ted Lasso and Nike sportswear both made waves on Twitter on March night. Nike tweeted hints of a collaboration with the Apple TV+ hit. The streaming service's official account also confirmed the start of production. So, what does this mean for Ted Lasso Season 3? 
Nike is working on something for AFC Richmond
The first tweet came from Nike at 11:00 a.m. ET/8:00 a.m. PT. They tweeted "Never Done Beleiving" with a picture of an AFC Richmond Jersey with a Nike logo in the top left corner. The text "Believe." was in the center between the Nike and AFC Richmond logos. 
The photo offers a change from the previous Ted Lasso jerseys. Where AFC Richmond previously wore solid blue jerseys with a red stripe, this photo shows a jersey half blue on the left side and half red on the right. Representatives from Ted Lasso's publicity team did not immediately respond to Showbiz Cheat Sheet's inquiry about the collaboration, so it remains a tease for now. 
'Ted Lasso' Season 3 has begun
Apple TV+ quote tweeted Nike four minutes later, writing, "New Season. New Kits." Since season 3 will take place during the next football season, it could make sense for AFC Richmond to change uniforms. They also wrote, "@TedLasso Season 3 has started production." That's good news for the fans who have been waiting since season 2 ended in October.
Hunt had already indicated that Ted Lasso Season 3 was starting production late. Speaking with TV Line on Feb. 7, Hunt said a "football wrinkle" meant they had to start filming scenes on the soccer pitch later than usual. 
What a late start means for 'Ted Lasso' Season 3 premiere date 
Hunt said that starting production late would likely mean Ted Lasso Season 3 won't premiere in the summer of 2022 as previous seasons had. Season 1 premiered in August 2020 and 2 in July 2021. A late start would mean a late premiere, and thus a longer wait between seasons 2 and 3.
That Ted Lasso Season 3 has begun in March means at least they could conceivably complete physical production over the summer. Season 3 will have 12 episodes like the longer season 2. Some of season 2's episodes ran longer than 30 minutes. An official premiere date is still to come. 
Season 2 concluded with Nate Shelley (Nick Mohammed) turning on Ted (Jason Sudeikis) and AFC Richmond. Shelley has gone to rival team West Ham, and Hunt has also said AFC Richmond will face their rivals twice in season 3. So far, Hunt, Jason Sudeikis, Joe Kelly and Bill Lawrence have indicated plans to conclude Ted Lasso with season 3.