Ted Lasso' Season Keeps Moving With Positivity in Every Way
Ted Lasso came out of nowhere when everybody needed a little positivity during a difficult year. Jason Sudeikis, who co-created the series with co-star Brendan Hunt, wanted to make Lasso an adult comedy with the type of heart that's typically reserved for family entertainment. The results are a show that is hilarious, poignant, and overwhelmingly positive in the face of a world that isn't always positive back.
'Ted Lasso' and his wholesome charm sweeps the fans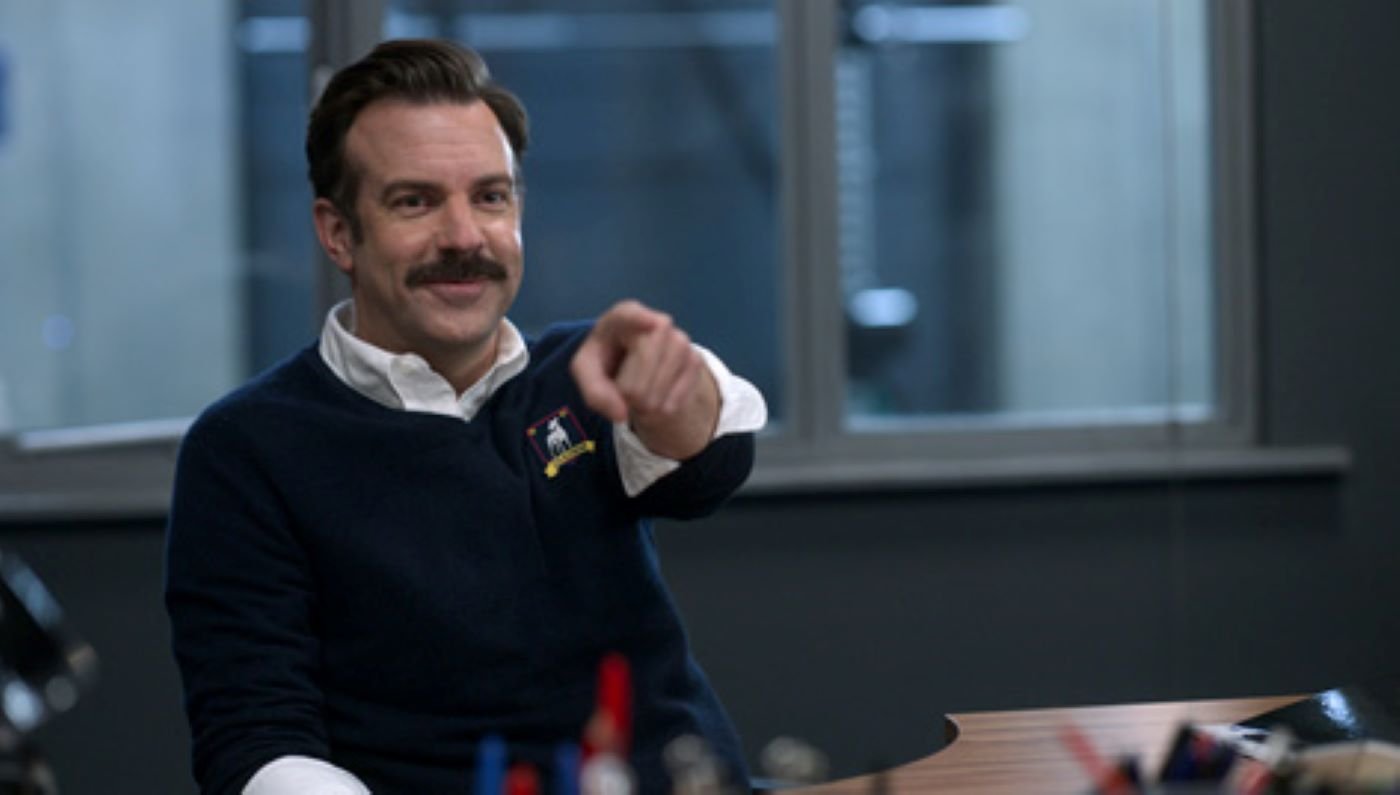 Jason Sudeikis' IMDb page shows that he has already proven he didn't need SNL to succeed. Films like We're the Millers, Downsizing, Race, and Booksmart showed that he could bring that signature sardonic charm to several genres. However, Sudeikis hadn't had the signature success that Andy Samberg or Adam Sandler had as a leading man. This all changed with Ted Lasso.
Sudeikis has a habit of playing characters who often came across as charming but condescending jock without much heart to go with the jokes. This wore on Sudeikis, who chops his penchant for playing these types of roles up to his athletic past. However, Sudeikis wanted to show that he didn't need to play glorified bullies to charm the masses. Thus, Ted Lasso was born.
Ted Lasso tells the story of a college football coach who an angry divorcee inexplicably hires to sabotage her husband's soccer team. However, while Lasso lacks any fundamental knowledge of soccer, his signature positivity speaks to his players on a level that goes beyond the scoreboard. Audiences were captivated by the non-toxic positivity that Sudeikis, Hunt, Juno Temple, and the rest of the cast convey.
Season one was Apple TV's breakout hit, with millions of fans across the world falling in love with the titular character. Sudeikis takes it to another level with season two by doubling down on what made season one so memorable.
'Ted Lasso' is back
Sudeikis needed something positive after a high-profile break-up with his long-time partner, Olivia Wilde when Lasso premiered. He spoke about coping with his darkest moment candidly in a recent interview with GQ.
"I'll have a better understanding of why in a year, and an even better one in two, and an even greater one in five… It'll go from being … a book of my life to becoming a chapter to a paragraph to a line to a word to a doodle," Sudeikis told the publication. That's an experience that you either learn from or make excuses about. You take some responsibility for it, hold yourself accountable for what you do, but then also endeavor to learn something beyond the obvious from it."
As The Hollywood Reporter notes, Lasso ended up being exactly what he needed. The audience was well-on-board. Comedy can often be mean-spirited, with popular shows such as The Office constantly poking fun at the expense of others. Ted Lasso is the antithesis. When the show appears to be headed toward a mean-spirited jab or joke, it often ends up being a profound moment of introspection. This is why the series, now in its second season, still strikes a chord with fans.
Lasso ropes us in again
Season one was already a massive success story, but season two shows that Sudeikis and company are no fluke. NBC notes that Lasso's second season, which airs every Friday on Apple TV+, receives massive praise from critics and fans alike. The characters in Lasso are not saints. Lasso's marriage and parenting woes are at the forefront of his upbeat tone. However, what makes the show special is its ability to show the humanity beneath these faults.
Sports and shows about them often paint competition as a haven for toxic masculinity, bloodlust, and the worst that humanity has to offer. Ted Lasso is not that show. By acknowledging that tendency and shaping it to be something positive, Sudeikis, Hunt, and the rest of the crew have spoken to the masses in ways that comedies seldom do.
RELATED: 'Ted Lasso': Phil Dunster Says Jamie Is 'Having a Quarter-Life Crisis' in Season 2