'Ted Lasso' Star Jason Sudeikis Accidentally Injured Himself in a Hilarious Season 1 Scene
Apparently, it hurts playing one of TV's most lovable characters. Ted Lasso's Jason Sudeikis, the actor who not only plays the title character but also created the Apple TV+ original series, injured himself filming season 1. 
Jason Sudeikis accidentally hurt himself filming a scene with Hannah Waddingham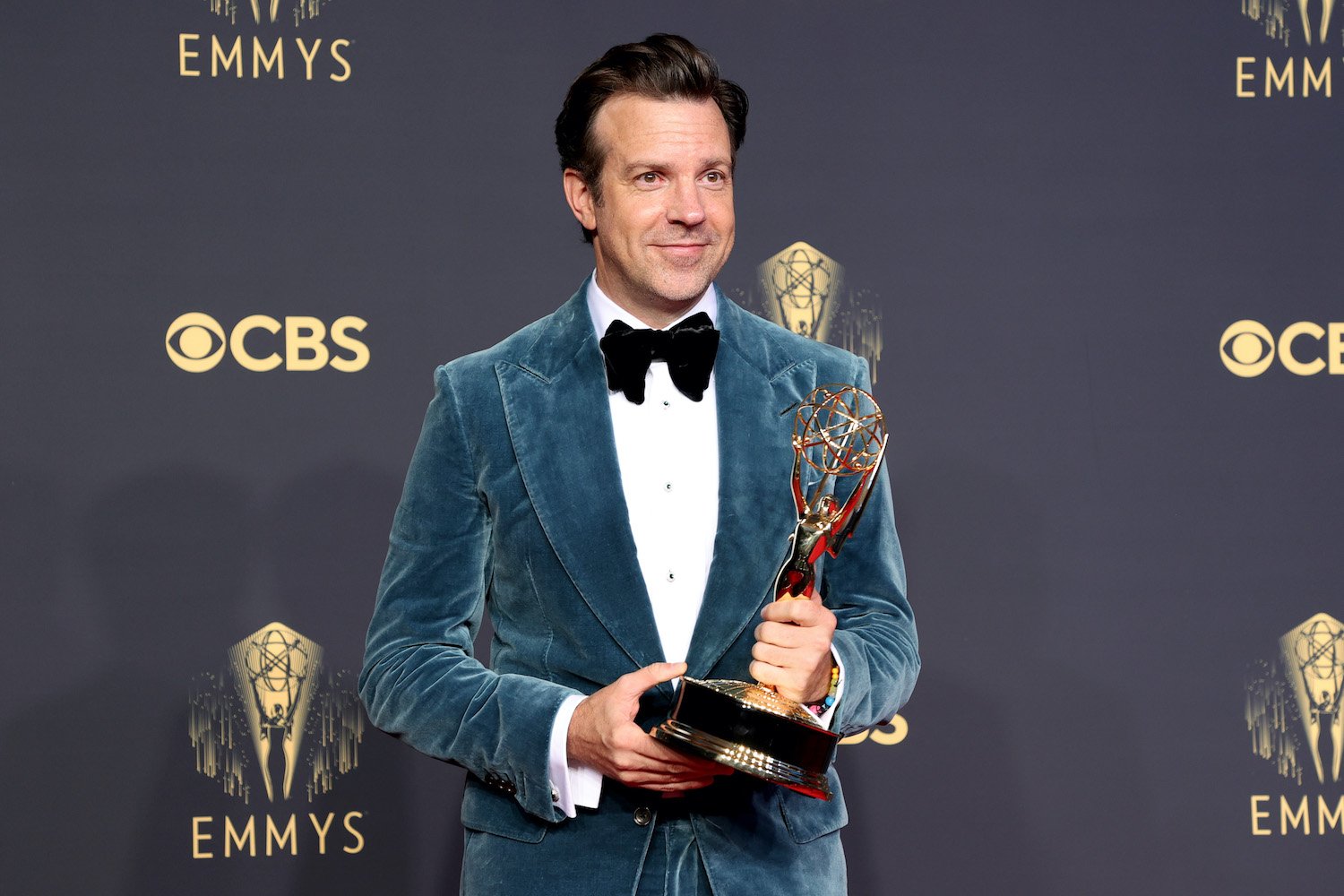 From Rebecca Welton's (Hannah Waddingham) performance of Frozen's "Let It Go" to that gut-wrenching goal in the finale, there are a lot of memorable moments in Ted Lasso Season 1. But filming none of the aforementioned scenes involved Sudeikis sustaining an injury. On the contrary, it was another lesser-known scene that resulted in Sudeikis getting injured.
While filming a scene with Waddingham, Sudeikis hit his head — or as his character might say, bumped his noggin — during a conversation in Rebecca's office. After getting advice from his boss — Rebecca told Ted to use his lack of soccer knowledge to create chaos on the field — Sudeikis' character jumps for joy and clicks his heels. In doing so, Ted hits his head on the door frame and falls to the ground. Assuring Rebecca he's "fine," the Richmond coach gets up and moves on. 
The 'Ted Lasso' star didn't know anything was wrong until he walked off stage
Sudeikis explained how he hurt himself filming that particular scene from Ted Lasso Season 1 in an October 2020 interview with Drew Barrymore.
"I jumped up and then I, boom, cracked my head. I roll like I do, I stand up, I think I'm fine, I go off stage," Sudeikis recalled on The Drew Barrymore Show. But a moment later he realized he wasn't fine. "I reach up, and there's a little bit of blood on my finger. I look down, and then a pool of blood starts dripping down, pooling in my hand, and I'm like, 'Oh no.'"
The actor continued, saying he "really hit [his] head there." A "complete accident," it ended with the wound being glued shut.
So when watching that scene between Rebecca and Ted, remember the road to winning an Emmy for Ted Lasso — Sudeikis took home the award for Lead Actor in a Comedy Series — involved him actually hitting his head.
'Ted Lasso' Season 2 is over with another season on the way
Another season of Ted Lasso has come and gone. Season 2 of the heartwarming comedy series premiered in July 2021, and 12 episodes later it came to a close. Described by Coach Beard's Brendan Hunt as "darker" than the average sitcom, it ended with a transformation for Nathan Shelley. And, of course, there was a big change for Ted and everyone else at AFC Richmond.
Ted Lasso Season 3's release is slated for summer 2022. But what about going beyond the creators' planned three-season storyline? It seems to be anyone's guess. One creator on the series has said Ted Lasso's future is up to Sudeikis. In the meantime, fans can stream seasons 1 and 2 on Apple TV+.