'Ted Lasso': Trent Crimm and Dr. Sharon Will 'Have Significant Roles' in Season 3
On Oct. 8, the season 2 finale of Ted Lasso premiered on Apple TV+. The episode, titled "Inverting the Pyramid of Success," featured lots of changes for the characters of Ted Lasso. In an interview with Deadline, the show's executive producer Bill Lawrence revealed that Dr. Sharon Fieldstone (Sarah Niles) and journalist Trent Crimm (James Lance) will "have significant roles" in the series' third season.
[Spoiler Alert: This article contains spoilers for season 2 episode 12 of Ted Lasso.]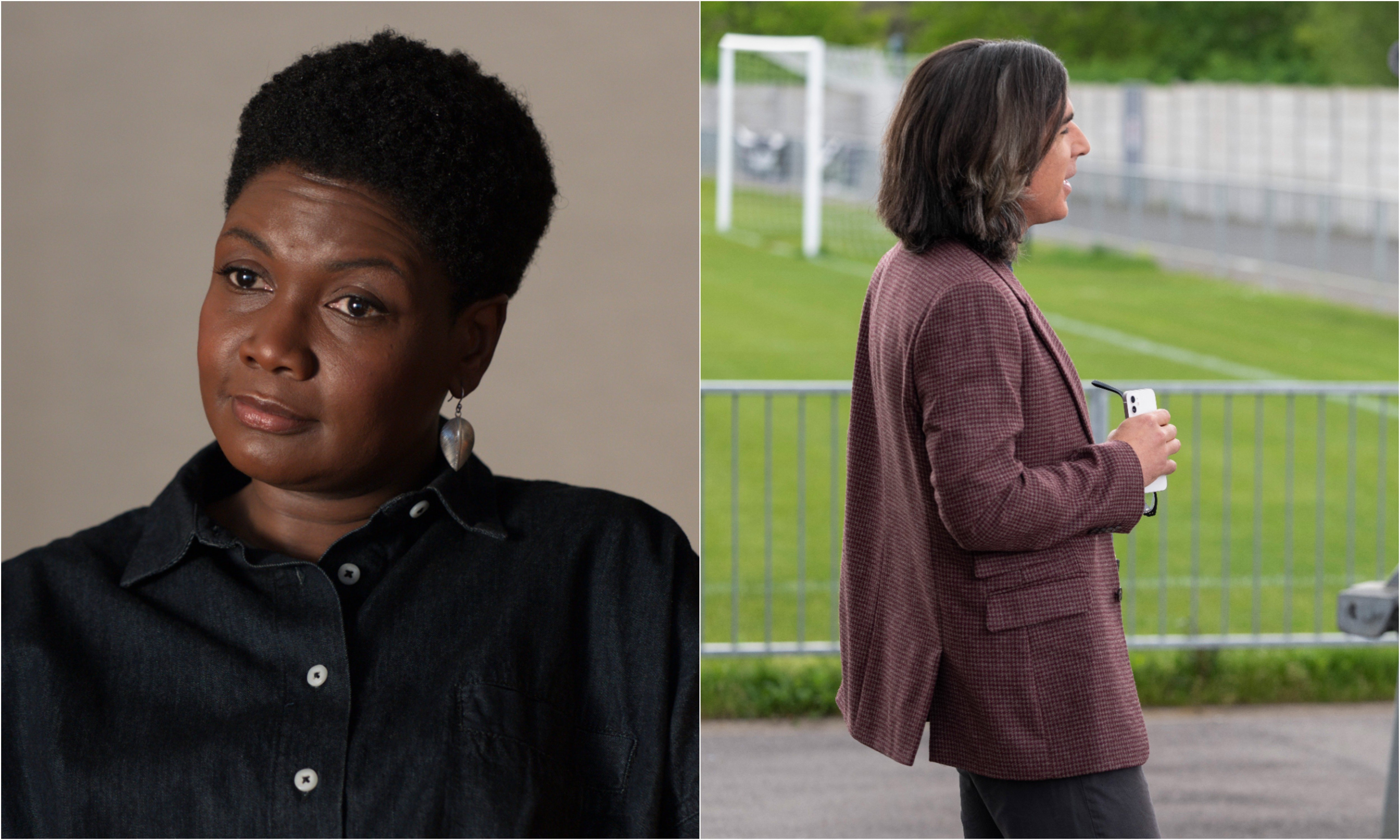 Trent Crimm and Dr. Sharon are characters in 'Ted Lasso'
In the show's second season, Dr. Sharon departed in season 2 episode 11, "Midnight Train to Royston." For most of the season, Dr. Sharon served as a sports psychologist for AFC Richmond.
While Ted (Jason Sudeikis) was hesitant about Dr. Sharon at first, he eventually decided to try therapy and the two became close colleagues by the time Dr. Sharon was done working for the team.
Trent Crimm has been a part of Ted Lasso since the first season, and he frequented the press room after games while working for The Independent. In "Midnight Train to Royston," Trent publishes an article revealing that an anonymous source claimed Ted had a panic attack during a match.
Trent then tells Ted that Nate (Nick Mohammed) was his anonymous source. The season 2 finale reveals that Trent told The Independent he gave away an anonymous source, resulting in The Independent firing him.
The episode ends with Trent letting Ted know he is looking to change careers. After Ted walks away, Trent realizes he accidentally locked his keys in his car, hinting his new career could have something to do with AFC Richmond.
RELATED: 'Ted Lasso': Nick Mohammed Thinks Nate Possibly Went 'Too Far' to Be Redeemed
Both Trent Crimm and Dr. Sharon will appear in season 3 of 'Ted Lasso'
For fans of Ted Lasso who enjoyed watching Dr. Sharon and Trent Crimm this past season, it is confirmed both characters will be back for the show's third season.
"I can tell you both of them have significant roles next year," Lawrence told Deadline.
The first season of the show premiered on Apple TV+ in August 2020, and the second season premiered in July 2021. Lawrence tells Deadline that the wait for season 3 of Ted Lasso will hopefully not be too long.
"We always try to be close to a year apart, so I would hope to see the show back in the August-type area. We worked around the Olympics for this past season," he said.
RELATED: 'Ted Lasso': Jason Sudeikis Thinks Rebecca Has a Soulmate — But Her Soulmate Isn't Sam
How many seasons of the show will there be?
At the end of the second season, Nate continues his betrayal against Ted and AFC Richmond by going to work for West Ham United. Other characters' stories remain up in the air even though AFC Richmond was promoted back to the Premier League.
"What's tough to process for me as a writer who is used to writing network comedy, is, this was the end of the season, but the midway point of the show," Lawrence told Deadline about the second season.
Lawrence also shared that while the intention was for Ted Lasso to have three seasons, the show could go longer.
"When we first pitched this particular story, we said this series was only going to be three seasons," the producer told Deadline. "And I would probably stay clean and say that even if Ted Lasso goes on, the story the writing staff has been telling had a beginning, middle and end for the first three seasons. And then it might veer off from that."
Both seasons of Ted Lasso are available to stream on Apple TV+.