'Ted Lasso': What Does Jason Sudeikis' T-Shirt 'Joe Arthur Gate Stack' Mean?
Ted Lasso is a feel-good comedy that was inspired by an NBC Sports promotional video from years ago. The series stars Jason Sudeikis as the titular character — a Division II college football coach from Kansas who takes a job in England as a professional soccer coach.
Ted is a sweet, wholesome character who always has a positive attitude. He recently wore a T-shirt that got fans talking. What in the world does "Joe Arthur Gate Stack" mean?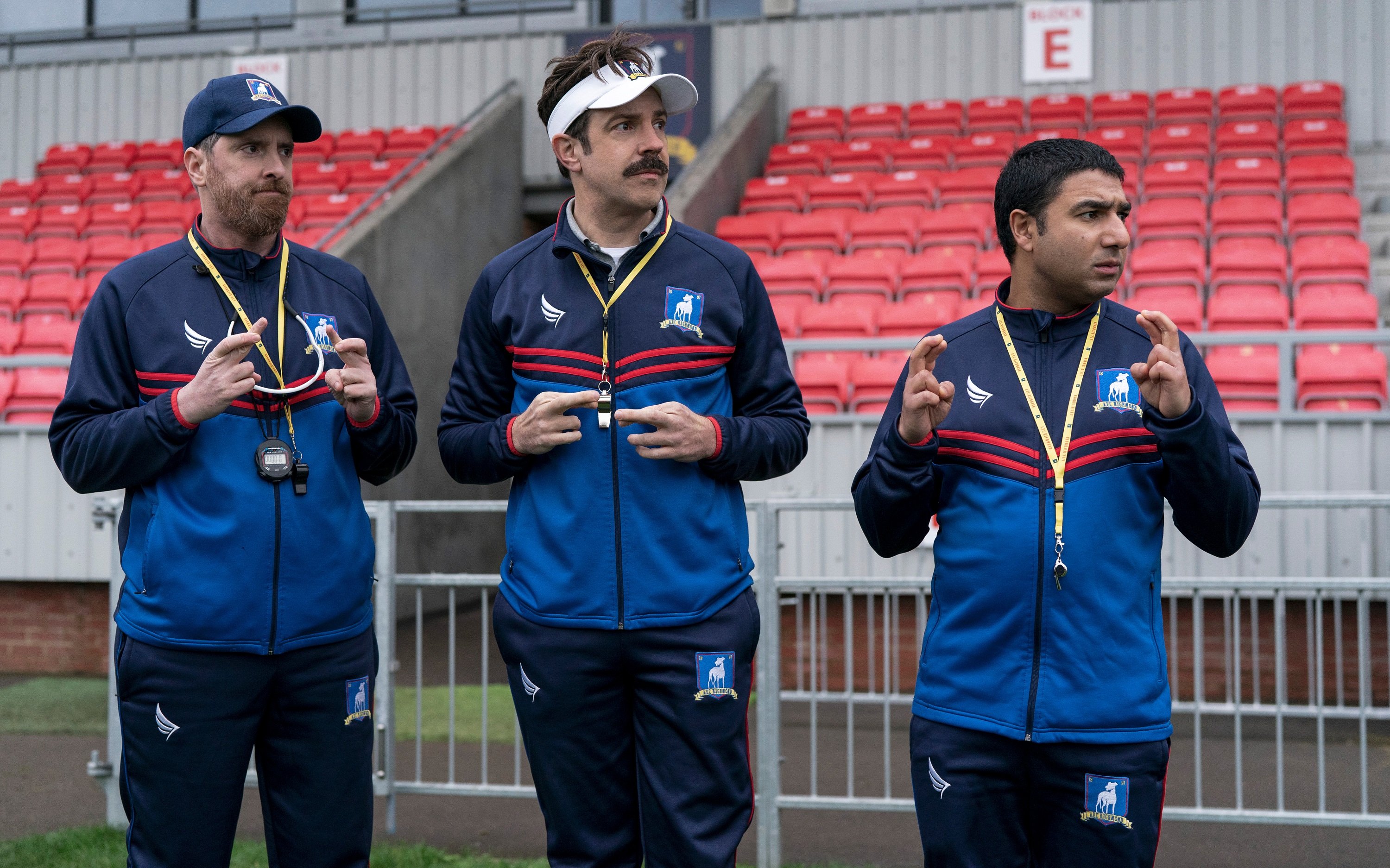 Jason Sudeikis is 1 of the co-creators of 'Ted Lasso'
The character of Ted Lasso made his debut way back in 2013 when he appeared in a series of NBC Sports commercials promoting coverage of the English Premier League. Sudeikis was brought in to portray the character after his 10-year run on Saturday Night Live.
In 2017, Sudeikis teamed up with Scrubs creator Bill Lawrence, Joe Kelly, and Brendan Hunt (Ted's assistant Coach Beard) to create a TV series based around the character. According to KCUR radio in Kansas City, Sudeikis has a lot in common with the character he plays.
The Kansas City connection
Sudeikis is from Overland Park, a suburb of Kansas City on the Kansas side. Both Sudeikis and Ted are enthusiastic ambassadors for the Midwestern city. So the actor added some details to his character based on people he knew growing up.
"I believe he [Ted] grew up in unknown parts of Kansas City. We'll say on the Kansas side because I know it better," Sudeikis explained.
The actor found inspiration for Ted's "Midwestern nice" attitude from his high school basketball coach. That's where he gets lines like "that fella looked like a kitty cat when he gets spooked by a cucumber." When it comes to Ted's neverending positivity, Sudeikis credits his dad.
"Ted Lasso is not just a show. It is not just a man. It's a vibe," Sudeikis said.
What does the 'Joe Arthur Gate Stack' T-shirt mean on 'Ted Lasso'?
Sudeikis didn't just bring Midwestern character traits to Ted Lasso. He's also representing Kansas City barbecue. In the pilot episode, Ted wore a T-shirt that reads "Joe Arthur Gate Stack."
The tee was created by Sudeikis' longtime friend Brendan Curran — who lives in the Kansas City suburb of Lenexa, Kansas. It gives a shoutout to the top four barbecue joints in Kansas City — Joe's, Arthur Bryant's, Gates, and Jack Stack.
The Kansas City references are everywhere
The T-shirt isn't the only Kansas City reference in Ted Lasso. He has a shot of Arthur Bryant's as his computer background photo. And when he receives a care package from home, it includes a bottle of Arthur Bryant's barbecue sauce.
"You know, this right here is some of the best barbecue sauce in Kansas City, which makes it some of the best barbecue sauce in the world," Ted notes.
He also mentions "the rough-and-tumble playgrounds of Brookridge Elementary School," which is where Sudeikis actually attended elementary school. It's located in Overland Park and is still open.
1 improvised line in 'Ted Lasso' was a shoutout to Jason Sudeikis' teacher
In the season 1 finale, Ted calls a late-night meeting with his assistant coaches that takes place at his apartment. When Ted gets frustrated and loud during the meeting, his neighbors bang on the floor. Ted quickly replies, "Sorry Mrs. Shipley!"
According to The Kansas City Star, Ted Lasso editor AJ Catoline revealed that line was improvised. It was also a nod to Sudeikis' teacher at Shawnee Mission West High School in Overland Park.
"That wasn't scripted, that was completely created in post. … It's a little homage to her, the show is all about mentorship," Catoline said.
New episodes of Ted Lasso drop every Friday on AppleTV+.