'Ted Lasso': Why Jamie Tartt Is Suddenly a Reality TV Star
In Ted Lasso on Apple TV+, Phil Dunster plays Jamie Tartt, an ambitious yet arrogant soccer player for AFC Richmond and later Manchester City. During the first season, Jamie repeatedly clashed with Ted Lasso (Jason Sudeikis), but he appeared to take Ted's lessons to heart toward the end of the season.
At the start of the second season, Jamie appears as a contestant on a fictional reality dating show called Lust Conquers All. In an interview with TechRadar, Dunster explained why Jamie is on a reality TV show in Ted Lasso instead of playing soccer.
[Spoiler Alert: This article contains spoilers for season 2 of Ted Lasso.]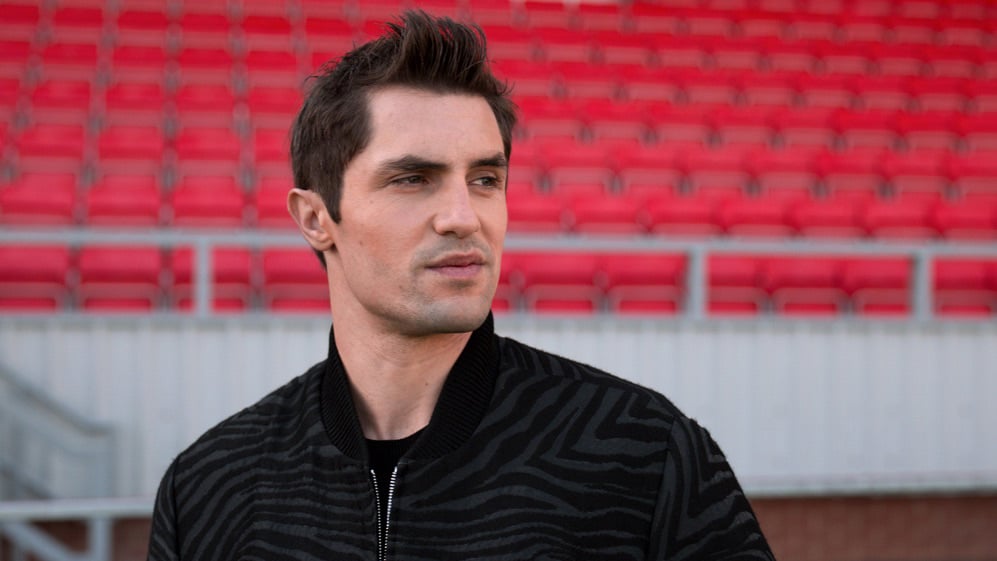 Jamie Tartt is possibly struggling in 'Ted Lasso'
Throughout the first season of Ted Lasso, Jamie and Ted clashed because Jamie was not a team player. After Ted began to make some progress with Jamie, he was returned to play for Manchester City.
In the season 1 finale of Ted Lasso, Jamie decided to pass the ball instead of scoring himself, resulting in Manchester City beating AFC Richmond. This choice by Jamie showed that he took some of Ted's lessons with him even after leaving.
"Jamie spent the first season tussling with emotional growth and doing some emotional heavy lifting for the first time in his life," Dunster told TechRadar. "His shift in location [back to Manchester City] means that he's no longer around those people who were helping him try to grow."
Because Jamie is no longer surrounded by the support system he had when he played for AFC Richmond, Dunster thinks the character is at a "crossroads" in season 2 of Ted Lasso.
"I think by doing that [emotional growth] on his own, by this point, he's been trying too hard and he's tired of doing it, and that's one of the reasons why we see him at this crossroads [in his life]," he said.
Jamie might be 'stepping away' from soccer
The first episode of season 2 of Ted Lasso is titled "Goodbye Earl." Jamie is not seen for nearly the entire episode. At the end of "Goodbye Earl," a newly retired Roy Kent (Brett Goldstein) joins his yoga group to watch Lust Conquers All, a reality show that parodies the real-life TV show Love Island.
As they watch the show, Jamie appears and brags about being one of the most popular contestants on the show. To Roy's chagrin, his friends love Jamie.
Speaking with TechRadar, Dunster hinted that Jamie is briefly "stepping away" from soccer in the second season of Ted Lasso.
"Jamie's at this place now where he's trying these different avenues," Dunster said. "Maybe he feels like he couldn't continue to do all that work on his own [without Ted]. Perhaps he's stepping away from football and maybe trying something that is less to do with his talent."
Jamie will continue to grow as a character in 'Ted Lasso'
Based on what Dunster told TechRadar, it seems that Jamie is lost as a character because of his conflicting journey from the first season. However, Dunster assured TechRadar that Jamie will continue making an effort to grow throughout the second season of Ted Lasso.
Dunster said, "You'll see a more emotionally evolved character [in season 2]. I think Jamie will continue to tussle with his issues as we go forward and, just maybe, start to understand that the work is rarely finished."
Season 2 episode 2 of Ted Lasso will be available to stream on Apple TV+ on July 30.