'Teen Mom 2': Is Jenelle Evans New Romance Over Already?
Former 'Teen Mom 2' star, Jenelle Evans, shocked the world when her new romance with Herb Wilkinson was discovered, but is it over already?
Everything in Jenelle Evans' life is subject to change at a moment's notice. The chaotic mother of three has made a lot of changes recently. First, she announced a split from her husband of two years, David Eason, then she set down roots in Nashville, Tennessee. Since she moved to the country music capital of the world in November 2019, Evans has been keeping a low profile, but fans couldn't help but notice that Evans appeared to have a brand new beau. Now, however, it would seem the relationship might already be done. What happened to lead fans to believe the barely-acknowledged couple has called it quits?
Who was Jenelle Evans rumored to be dating?
On Dec. 30, Evans showed up in an Instagram Story of an unknown man. It was later revealed that the man is named Herbert Wilkinson. While there is some debate about his age, it would appear that he's in his early 30s, and he originally hails from the Boston-area.
It is not known were Wilkinson currently resides, but his LinkedIn profile seems to pinpoint his current location to the Boston area. More specifically, it looks like Wilkinson is still hanging out in the same area he grew up in, and the same area he got into some legal trouble. Evans doesn't live in the Northeast, though, leading to some questions about the pair.
It is unknown how the pair met, but according to The Ashley Reality Roundup Group, Evans is regularly jetting off to visit her new man. Who watches her two young children while she is gone is unknown. Evans currently has custody of both Kaiser Griffin, the 5-year-old she shares with her ex-boyfriend, Nathan Griffith, and 2-year-old, Ensley Eason. Ensley is the only child Evans shares with her soon-to-be ex-husband. Evans' eldest son, Jace, currently resides with his grandmother in North Carolina.
Troubling Twitter posts have fans worried about Jenelle
Initially, fans didn't seem to think Wilkinson was a particularly bad choice in partners for Evans. In the past, her taste in men has been a bit suspect, but it didn't take long for some troubling information to unearth itself. It would seem that Wilkinson, who has previously appeared on a reality TV show, liked to spend some of his time trolling reality stars on Twitter. One of his targets was none other than this rumored new lady.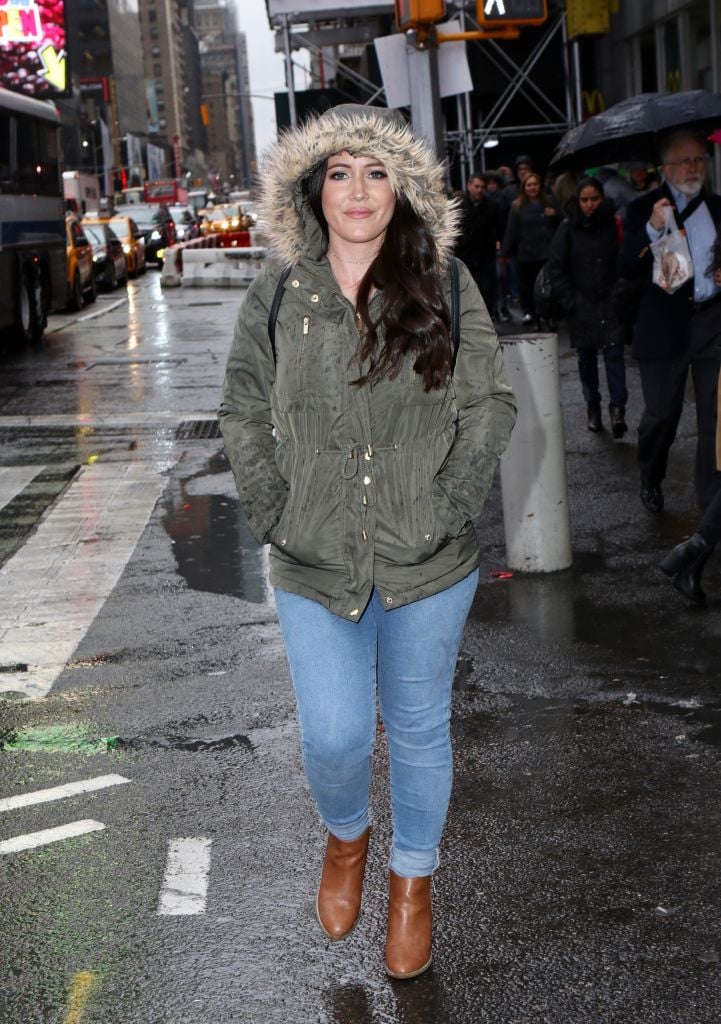 Teen Mom 2 fans quickly uncovered a Twitter account that appears to belong to Wilkinson. The name checks out, at the very least. The user behind the profile posted regularly about their hate for Evans. In one post, the user advised Evans to keep her legs closed because she was "attracting flies." He also went on to suggest she should kill herself. It doesn't seem as though Evans ever responded to any of the posts, and they date back to 2007, according to The Hollywood Gossip, so it's unlikely it is part of some strange, elaborate hoax.
The Twitter account attributed to Wilkinson has since been suspended. No other Twitter account has been attributed to the Massachusetts-native.
Jenelle is denying the romance
Evans took to Twitter on Jan. 2 to tell fans not to believe everything they hear. Many fans took it to mean that she was denying her alleged romance, but some fans think that the couple is just no longer seeing one another. The post came shortly after several media outlets uncovered Wilkinson's tweets, and both have seemingly gone dark on Instagram.
Wilkinson's last post came around Christmas. He added to his Instagram Story on Dec. 30, but nothing has been added since. Evans, for her part, shared her last Instagram snapshot on Dec. 25. She was active on Twitter on Jan. 2 but hasn't added another tweet since.
If she and Wilkinson are still seeing each other, it's obvious she's not keen on sharing that information with the world. Considering Evans' past behavior, which includes introducing her new beaus to the world quickly, it's like she doesn't see her current tryst as a serious, long-term thing. That's probably a good thing, too. Evans and Eason have yet to finalize their divorce. They will face off in court again in January 2020.