'Teen Mom 2': Is This Proof That Jenelle Evans and David Eason Have Reconciled?
Between March 2019 and October 2019, Jenelle Evans lost the support of most of her fanbase. She was fired from Teen Mom 2 and lambasted on forums for choosing to stay with her husband, David Eason, after he shot and killed the family dog, Nugget. She was further criticized for remaining with him after three of their five children were removed from the family's home following the dog's death. That all changed in late October 2019 when she announced her separation. Healthy, happy and seemingly at peace, fans began to rally around Evans, but it looks like they may have been a little too quick to sing her praises. Recent evidence has surfaced to suggest Evans and Eason may be on the road to reconciliation.
Jenelle dropped her restraining order against David
Evans and Eason were set to face off in court on Jan. 14 to further discuss the existing order of protection that was put in place shortly after Evans fled North Carolina. According to Radar Online, the order of protection was extended twice before the set Jan. 14 hearing. Jan. 14 came and went with no hearing.
There was a good reason for it; on Jan. 10 Evans requested that the order of protection be dismissed. A judge granted the request and canceled the hearing. With the order of protection lifted, Eason was free to contact Evans as he wished, and it looks like the former flames didn't take long to reconnect. Within days they were spotted hanging out together.
Jenelle and David were spotted together in Nashville
Evans and Eason were located out and about in Nashville with their daughter, Ensley, shortly after the order of protection was lifted. The photo, published by TMZ, shows Eason and Evans walking through the country music capital of the world together with Ensley. Evans' son, Kaiser Griffith, who also resides with her in Nashville, was not spotted during the outing.
TMZ alleges that a source close to the situation insists that the couple isn't rekindling their relationship. Instead, they claim that Evans dropped the order because she was tired of going to court and wanted her daughter to be able to see her father. Fans, however, aren't buying it. Evans has fought Nathan Griffith, the father of Kaiser, for years over custody. It seems unlikely that Evans would just welcome Eason back into the fold without an ulterior motive, and most Teen Mom 2 aficionados believe that motivation is romance.
Jenelle is spotted wearing her engagement ring
If the reunion photos weren't proof enough of a potential reconciliation, Evans' Instagram feed has further fueled the rumors. The mother of three took to her Instagram Story to announce she was joining Cameo. That in and of itself isn't odd, many celebrities have added Cameo to their list of income streams. Evans, however, called herself Jenelle "Eason" in the announcement. She also appeared to be wearing her engagement ring in a different story.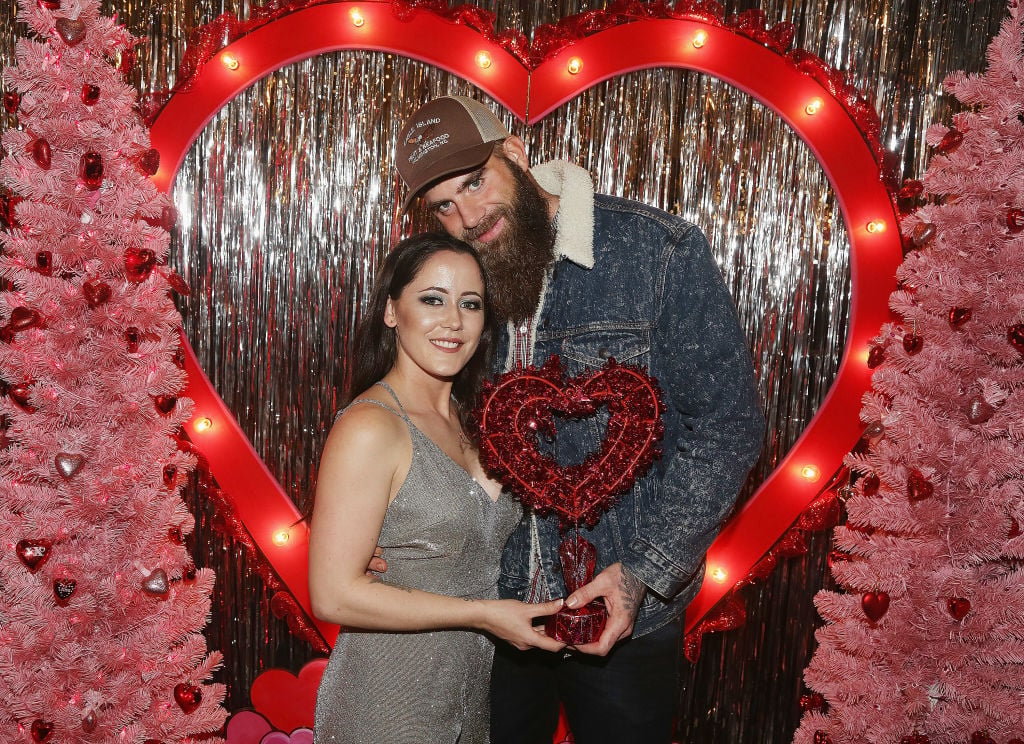 Okay, so Evans' legal name may be Eason right now, but that's not how she's known professionally. Calling herself Jenelle Eason after everything she claimed to have gone through at the hands of her ex was off-putting to most fans. It would seem that Evans' rumored new boyfriend, Herbert Wilkinson is out, and Eason is back in.
Aside from going by the name Eason, Evans appears to have slipped her engagement ring back on. While the story where she is wearing the ring has since expired, fans seem sure that the ring she was wearing is the same one she is pictured wearing in previous Instagram posts. If it is the same ring, it is her engagement ring from Eason. Adding everything up, it would appear that Evans' relationship is back on. If that's the case, any hope she had of rejoining the Teen Mom 2 cast has likely evaporated.