'Teen Mom 2': Kailyn Lowry Claims MTV Tried to Fake Her First Meeting With Javi Marroquin
Teen Mom 2 star Kailyn Lowry and Vee Torres (now Vee Rivera) – Jo Rivera's wife and Isaac's stepmom – recently launched the already-popular Baby Mamas No Drama podcast in honor of their positive co-parenting relationship. While Vee, now mom to daughter Vivi, and Kailyn, now a mom of four, have hit many rocky patches along the way, they've grown up together and eventually made it to a healthy place.
On a recent episode of Coffee Convos – the podcast Kailyn hosts with Lindsie Chrisley – the two moms discussed their feelings about MTV in the early days of Teen Mom 2. Both Kailyn and Vee claimed that they sometimes felt pushed to film scenes they didn't always agree with in the beginning.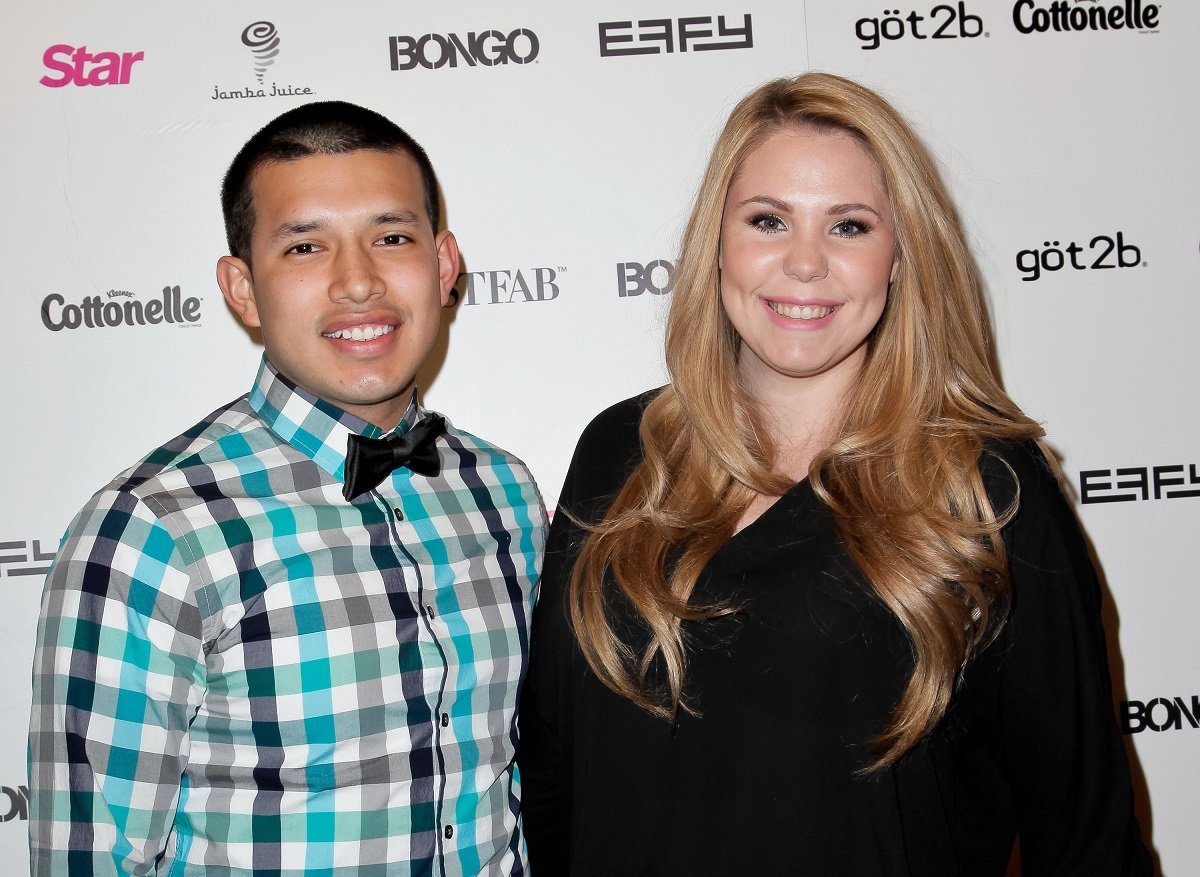 Vee and Kailyn talked about feeling forced to film
After Kailyn and Jo broke up shortly after high school, Jo moved on to date Vee, who was 19 at the time. Vee was head over heels for her new boyfriend, but, she admitted on the podcast, she was "nervous as hell" to film scenes for Teen Mom 2.
Kailyn, who has since built a stronger relationship with MTV producers, recalled feeling like she didn't have a choice of what or when to film during 16 and Pregnant and the first few seasons of Teen Mom 2.
"Did they make you feel like you had to film?" the Coffee Convos podcast host asked Vee. "Because I remember, in the beginning, nothing was ever a choice…They were basically threatening us…They made us feel like we did not have a choice but to film it, and we were so young."
Vee agreed, saying with respect to MTV, "They kind of ran us back then."
Jo's wife refused to talk badly about Kailyn on camera
When she was just starting to date Jo, Vee added that she sometimes felt pressured to film often because Jo didn't have many people to film with after his breakup from Kailyn. The 28-year-old felt that – especially because she and Kailyn, also 28, didn't get along at first – she was expected to stir up drama.
"Because I was new, and we had beef, I feel like they just pushed it so much," Vee said of her early days on MTV.
But Vee stood her ground, insisting that she didn't want to spend most of her time on Teen Mom 2 complaining about the mother of Jo's child. She told producers at the time, "I don't want to sit here and talk about her."
Vee argued that she didn't think it would be doing anyone in the situation any favors for her to be drawing too much attention to herself. As a result, she often purposely faded into the background.
"I didn't want to be all up in the camera," Vee told her co-host. "I'm fine being background noise to what he's doing…but I didn't want to ever be a focus."
Jo's wife was ultimately happy with her decision not to get into too much onscreen drama. When she and Kailyn did talk about each other behind each other's backs, they often had to relive the conflict when those scenes aired – which wasn't healthy for anyone involved.
"I don't think I've ever done anything super bad on camera," Vee mused, with Kailyn agreeing.
Kailyn claimed that MTV pushed her to film scripted scenes with her ex-husband Javi
To demonstrate her point about feeling forced to film scripted or fake scenes at first, Kailyn revealed that the Teen Mom 2 scene in which her friend, Gigi Hanna, appeared to introduce her to her former husband, Javi Marroquin, was completely false.
"I remember when I met Javi, I met him at the mall when I was working," Kailyn remembered. "They obviously weren't there to capture it, and they couldn't film at the mall. So they made up a whole scenario."
The MTV star continued, "They said that Gigi introduced me and Javi at a bowling alley, which never happened. It was completely made up…It felt so forced, that we had to film this piece."
Later, Kailyn and Javi were asked to film a scene in which they got to know each other over a meal, which was "completely not a thing," the Baby Mamas No Drama and Coffee Convos host added. The couple was already dating at that point and had long since been introduced.
The mom of four revealed that she often felt somewhat powerless when she started out on Teen Mom 2. She was made to feel that she didn't have a way out of any filming choices the network made, whether she approved of them or not.