'Teen Mom 2': Kailyn Lowry Opens up About the Time Jo Rivera Tried to Get Her Back When She Was Married to Javi Marroquin
Teen Mom 2 star Kailyn Lowry divorced Javi Marroquin after two years of marriage. She's since spoken out about how she felt rushed into the relationship, and has even suggested that Marroquin was with her for the fame. But, at one point, she loved Marroquin deeply. Or at least that's what she wrote in her 2014 book, Pride Over Pity.
In her book, Lowry opens up about when Jo Rivera, the father of her first child, attempted to get her back when she was with Marroquin.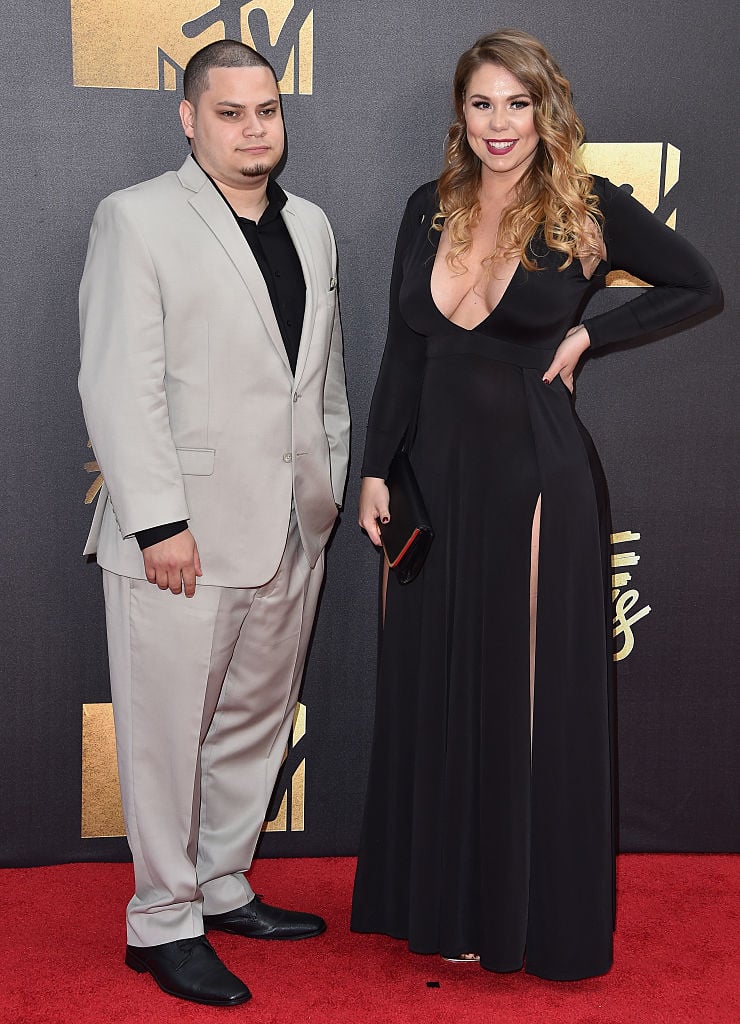 Jo Rivera's attempt to get Kailyn Lowry back
"Leading up to the day I left for Texas, Jo sat me down to talk. We weren't having many heart-to-hearts recently, so I was a little shocked to hear that he wanted to talk about more than just what Isaac did that day. I was a little uncomfortable as Jo began to express his true feelings. "I want my family back," he said defiantly," she wrote.
The statement was confusing to Lowry for a few reasons. There was a time when she wanted nothing more than to be with Rivera.
"I had wanted us to be a family so badly. I had cried. I had whined. It seemed like the only way to be happy at the time. But I was so wrong," she wrote.
Apparently, missing Lowry and their son Isaac had been weighing heavy on Rivera's heart.
"Jo went on to say he couldn't sleep straight for a year. I almost gasped at the serious tone his voice had taken on," she wrote.
But something struck Lowry as odd. Rivera had a girlfriend (his now-wife Vee Torres), who he wasn't bringing up.
"I couldn't help but notice he didn't mention his girlfriend once. He didn't even acknowledge the fact that he wasn't single. Why? I think she had no idea what his true feelings were because he kept them buried deep. He never admitted any of this on television. I think Jo didn't want to reveal his wants on camera because he didn't want his girlfriend to find out," she wrote.
Kailyn Lowry had moved on
Despite Rivera's honesty, it was too late.
"Jo wanted the three of us to be together again, but I had been done with this notion for a while. It wasn't realistic. It wasn't what made me happy. We didn't work. The manner in which he presented the idea, made me feel like Jo didn't take my marriage seriously and that he failed to see it was the world to me, not some temporary situation. I was so taken aback, I didn't know what to say. All I could muster was, "I'm sorry you feel that way, Jo,"" she wrote.
Lowry had made up her mind. She was devoted to Marroquin.
"Jo's words were weird, but it didn't change anything. Marriage is serious to me. I wouldn't have gone months and months without Javi [while he completed the United Stated Air Force Basic Military Training] if I didn't plan on seriously staying in a committed, legal bond to him. The distance had tested our love and we had passed," she wrote.
Nothing came of Rivera's conversation with Lowry. The Teen Mom 2 star continued to work on her relationship with Marroquin until their divorce in 2017.
Read more: 'Teen Mom 2': Why Jo Rivera Thought Kailyn Lowry's Marriage to Javi Marroquin Was 'A Sham'