'Teen Mom 2': Kailyn Lowry Teases Fans With 'Baby News'
There's a rumor going around that Teen Mom 2 star Kailyn Lowry is pregnant again.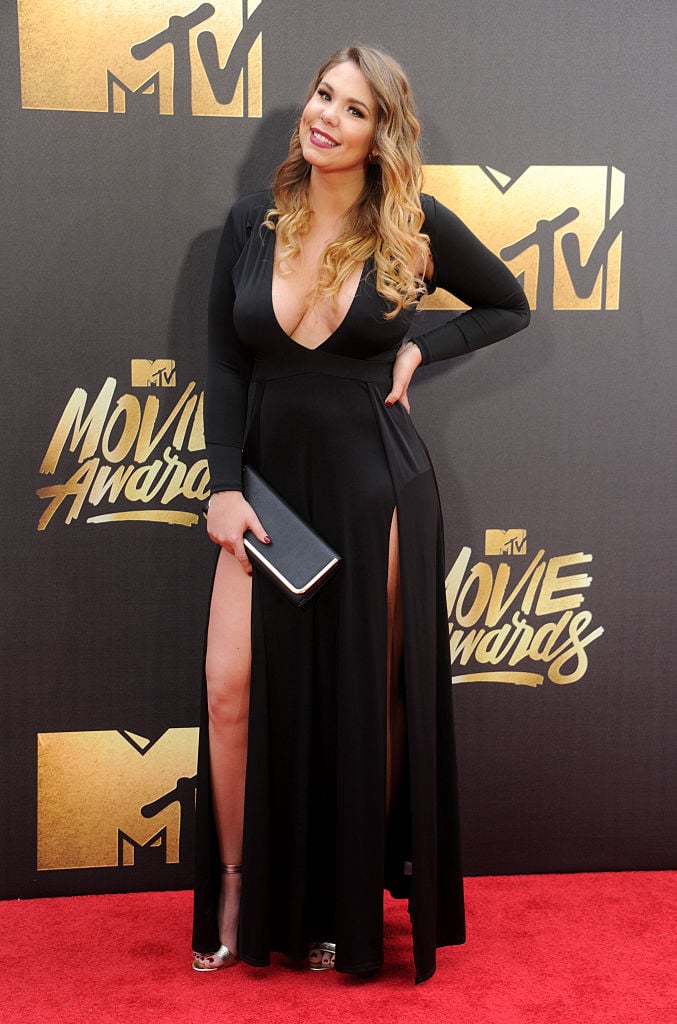 Yesterday, the reality star posted a selfie to Instagram along with the caption "So here's the baby news!" directing her fans to click the link in her bio. The photo Lowry posted was a classic bathroom selfie, which included a makeup counter covered in makeup and other toiletries. She's looking at herself through her phone with her hand hovering just above her waist.
Kailyn Lowry misleads fans with 'baby news'
Though Teen Mom 2 fans probably assumed the link Lowry posted would take them to a blog post or podcast episode sharing whether the baby rumors were true or false, it landed readers on an article that had nothing to do with Lowry and her being pregnant. The story the reality star linked was about the Teen Mom OG cast, including Maci Bookout, Amber Portwood, Catelynn Lowell, and Cheyenne Floyd. Lowry wasn't even mentioned in the article.
Today, if Lowry's followers click on the Instagram photo she shared yesterday, she edited her caption to read: "sweater x @freeyourheartapparel," removing the "baby news" tease. She also replaced the article link in her bio with a link to her Amazon shop.
Since the pregnancy rumors began, Lowry's been turning off the comments on some of her Instagram posts. Unsurprisingly, Instagram users can't comment on her most recent post.
Here and there, though, fans will comment on Lowry's potential pregnancy via the photos they can still comment on.
"Ur pregnant again," wrote one Instagram user on a recent post of Lowry's.
"Congrats on the baby. I hope you get your girl," commented another. (Lowry has said before she hopes to have a girl someday.)
"me too I want her to have a girl," wrote another.
Chris Lopez denies Kailyn Lowry pregnancy rumors
Chris Lopez, Lux's father, says Lowry isn't pregnant.
"Nobody is pregnant," he said on his Instagram, according to The Sun. "I don't know about these rumors you all are hearing about."
"I want to be done with the drama. I'm done with the drama. I can't f*ck with nothing Teen Mom no more," he added.
Lopez continued: "Can ya'll just leave me alone? Please? I'm done. Everyone unfollow me. I just want to be forgotten. Life is crazy. Half the sh*t being said about me isn't true. I just want to be done with all this sh*t."
According to the publication, Lopez's aunt allegedly posted Kailyn's suspected ultrasound to her private Instagram page. The caption (obtained by Teen Mom Shade Room) read: "Wanna give a big congratulations to @kailynsfamily on the new addition [due] July 25. Can't wait to meet baby number 2 for us – 4 for her."
In the post, the woman holding the sonogram had the same nails Lowry was pictured having (pink with gold tips) back in December.
We'll have to wait and see if Lowry really is pregnant. So far, she hasn't confirmed or denied the rumors either way.
Read more: 'Teen Mom 2': A Look Back At Kailyn Lowry's Brief Engagement To Jo Rivera