'Teen Mom 2': Vee Torres Reveals How She Fell in Love With Jo Rivera on the Set of His Music Video
Vee Torres Rivera opened up to 'Teen Mom 2' star Kailyn Lowry about how she fell in love with Jo Rivera on a recent episode of the podcast 'Coffee Convos.'
Vee Rivera (formerly Vee Torres) and Kailyn Lowry of MTV's Teen Mom 2 didn't get along right away after Vee started dating Jo Rivera, the father of Kailyn's son Isaac. Since then, though, Vee and Kailyn have come a long way – even launching their own podcast, Baby Mamas No Drama, in recent weeks to celebrate their positive step-parenting relationship.
As for Jo and Vee, they got married in 2018 after several years of dating. They are also doting parents to their young daughter, Vivi.
But long before they tied the knot, Jo and Vee fell in love on the set of Jo's music video for "Unthinkable Remix." At the time, Jo was an aspiring rapper who used the stage name N.I.C.K. B. On a recent episode of Coffee Convos, the podcast Kailyn hosts with Lindsie Chrisley (formerly of the USA Network's Chrisley Knows Best), Vee opened up about how she fell in love with Kailyn's ex-boyfriend at a young age.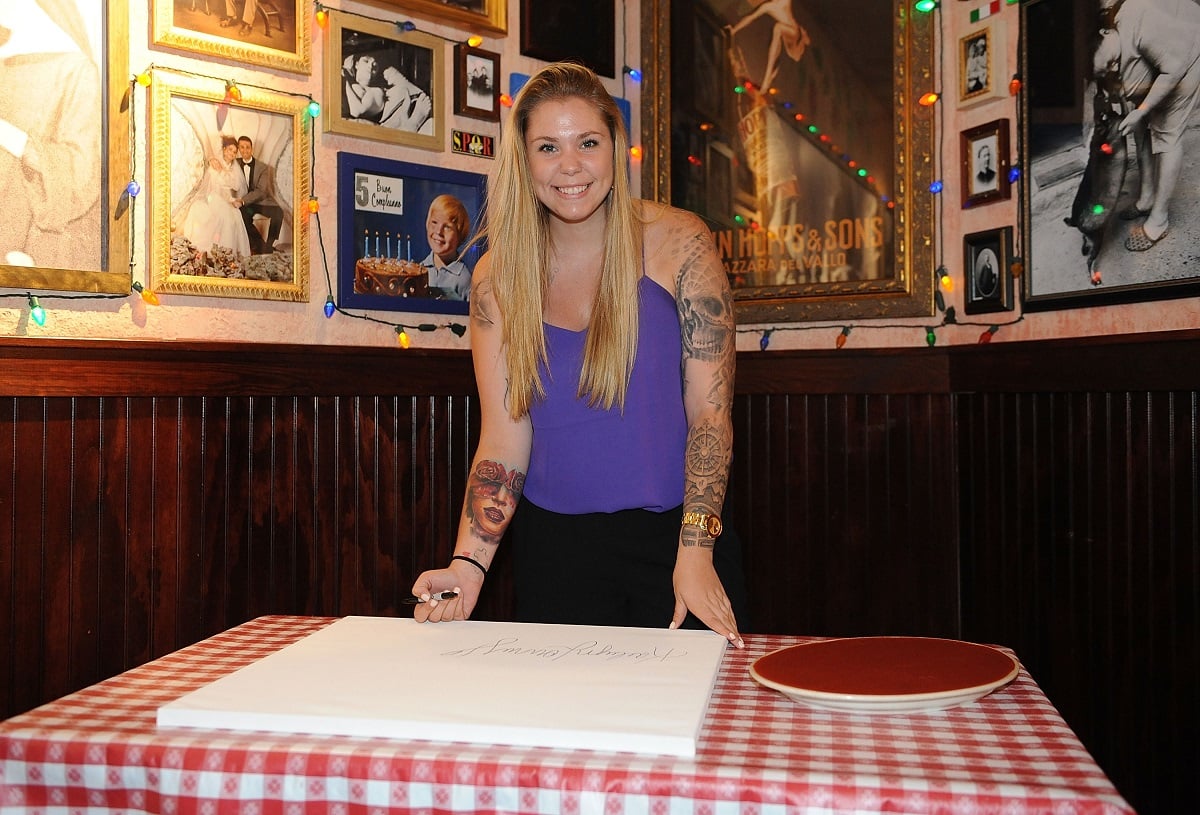 Vee was immediately attracted to Jo
On Coffee Convos, Vee told Kailyn and Lindsie that she fell for Jo not long after she was hired to be a model on the set of his first music video. At the time, Vee knew of her future husband because of MTV's 16 and Pregnant, although she said she wasn't a "diehard fan" of Teen Mom 2.
Vee was immediately attracted to Jo on a physical level, she told a curious Lindsie.
"He just looked so tough and hood, a little bit, to me at the time," Vee said of teenage Jo. "He had that little crazy a** attitude. So that kind of turned me on, I was like, ooo, he's a little crazy."
Still, Vee just thought of the gig as a modeling opportunity at first. She hoped the gig would be a segue into a bigger career for her – and she wasn't thinking of Jo as a potential boyfriend at all.
Jo and Vee met up before they filmed Jo's music video together
Before filming Jo's music video, Vee texted him to see if he'd be willing to meet up with her. She'd been told she'd have to cuddle with him in a hotel room bed wearing lingerie. While Vee wasn't willing to wear full-on lingerie for the scene, she was still nervous about getting somewhat intimate with someone on set. After all, this was her first-ever acting gig.
"Then I hit him up, and I was like, 'I really want to meet you, because I don't want that to be the first time we meet and have it be awkward,'" Vee said on Coffee Convos.
The Teen Mom 2 star agreed to meet Vee at his aunt's baby shower in New Jersey. While Vee thought of the meet-and-greet as a strictly professional moment, Jo's mom, Janet Rivera, seemed to have other ideas.
"I remember Janet grabbing me and showing me off to everyone like I was already his girlfriend," Vee laughingly told Lindsie and Kailyn. In fact, she met Jo's whole family that day. They hung out with his brother and friends and ended up getting along well.
Vee added that she was surprised Jo was so friendly and chill in person – especially after what she'd seen of him on MTV.
The couple grew closer on the music video set
The day of the music video shoot, Vee revealed that she was "super nervous" and didn't know what to expect. But Jo made her feel safe and comfortable.
"I remember being really uncomfortable during the hotel scene, but then he looked at me and he was like, 'I got you. You don't have to be nervous,'" Vee told Kailyn and Lindsie on Coffee Convos. "He was just giving me so many compliments and being super sweet."
The Teen Mom 2 star even accidentally walked in on Vee while she was changing into her more revealing outfit for the scene. After apologizing, he turned to her to let her know, "You look great, by the way."
That moment seemed to break the ice. Vee and Jo soon began talking like they'd known each other forever.
Jo took Vee on her 'first date ever'
After the shoot wrapped, Vee and Jo exchanged numbers, but she didn't know if anything would come of it. After all, the 28-year-old mom explained, she wasn't sure if he would text her back at all.
As it turned out, though, Jo wasted no time in asking Vee on a date. The future couple ended up going on Vee's "first real date" ever.
"He took me to Friday's," Vee said, fondly reminiscing on the sweet memories. "But I never used to go out to eat, and I'd never been taken out on a real date." She thought the Teen Mom 2's old-fashioned request was "so cute" that she ended up getting incredibly nervous.  
After frantically combing through her outfits to pick out the best option, Vee headed out to dinner with Jo before spending the evening walking around his hometown.
"It was just planned out really nicely," Vee gushed. "It wasn't overdone, but it was the sweetest touch. I got home, and I was like, oh, f*ck, I'm going to fall in love with this guy."
Even now, Vee told the Coffee Convos co-hosts, she looked back on that night fondly – even getting "butterflies in her stomach" when she remembered how magical it all was.