'Teen Mom': How Old Is Farrah Abraham's Daughter, Sophia, Now?
Farrah Abraham has been in the limelight since she got pregnant with her daughter as a teenager. But just how old are the mother-daughter pair today?
Farrah Abraham definitely is someone who attracts a lot of controversy. The reality TV star first rose to fame back in 2009, when she starred in the hit, MTV show, 16 And Pregnant. From there, she was cast in the spin-off show Teen Mom, where her day-to-day life and parenting skills were documented. Now, a decade later, Abraham remains a household name despite being fired from the show. She and her daughter, Sophia Abraham, are still both widely popular on social media, mostly due to Farrah Abraham's interesting antics. But just how old is this mother-daughter pair now?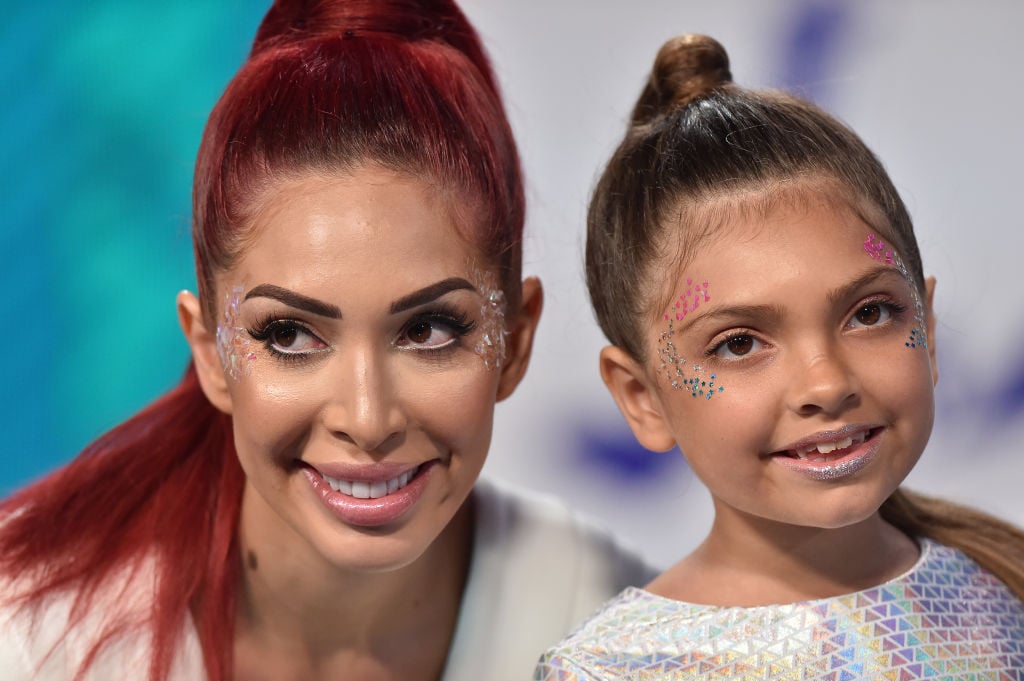 Farrah Abraham's daughter
Farrah Abraham suffers a lot of criticism in her everyday life. The Couples Therapy star can't even seem to post one photo to her Instagram page without receiving a flood of hate from her fans and followers. Farrah Abraham is ofter critiqued for her fashion sense, her personality, her decision to get plastic surgery, and her career choice to be an adult film star. But perhaps the thing she gets criticized on most is the way in which she chooses to parent her daughter, Sophia Abraham.
Sophia Abraham
Fans and critics alike have long since called Farrah Abraham out for how she chooses to mother her own child. Critics have accused the reality star of not spending enough time with Sophia Abraham and setting a bad example for her child by making poor life choices. For Farrah Abraham's part, she seems to be able to ignore most of the criticism that she receives, but it's harder to do that when it involves Sophia Abraham. "There's always so much gossip. I really don't like to listen to any of it. Umm maybe that I don't spend time with my daughter. But I think that's the only thing that would get to a mom," Abraham said in a recent interview when she was asked the craziest gossip she'd heard about herself lately.
Mom-shaming
But not spending enough time with Sophia Abraham isn't the only critique that Farrah Abraham receives as a mom. Other fans have cited that Sophia Abraham's life lacks structure and that she's engaging in inappropriate behavior like having an Instagram page, and dressing in a way they feel is not age-appropriate. "This girl needs to be in school. Needs some type of structure of normality in her life. This child may have food water shelter but she is getting mentally jacked up," one user wrote on a recent post. "Please get real therapy. You're destroying the life you gave birth to," another user declared.
Farrah Abraham's daughter's age
Though fans may have concerns, they likely don't have enough information to judge whether 28-year-old Farrah Abraham is a good mother to her 10-year-old daughter, Sophia. Though it's true the Farrah Abraham makes poor choices consistently, that doesn't necessarily mean that she's a bad mother. For all of her flaws, she does seem to love Sophia Abraham a great deal. Farrah Abraham recently penned a message of support to her daughter and shared it with her 2.2 million Instagram followers.
Instagram love note
"I love you. I love supporting you. You're winning in life and you have had one of the biggest weekends in your life beyond this pageant. I'm proud of you creating your own brand, taking interviews, meetings, having your own agents, and your own companies. You are self-made and you are 100% you – do not ever change. Cheers to one of your biggest years of success," the 28-year-old wrote. While it may be odd to praise a 10-year-old for her "brand", we can't negate the love behind the message, and really that's the most important thing about parenting.