'Teen Mom' Fans Are Mom-Shaming Farrah Abraham; "Save This Child"
Former Teen Mom star, Farrah Abraham, is under fire yet again, but this time it's for how she chooses to parent her 10-year-old daughter, Sophia. The 28-year-old is no stranger to constant criticism, but this time it's for something seemingly innocuous. A recent video that Abraham posted to her Instagram is receiving a ridiculous amount of hate and we're pretty baffled about why.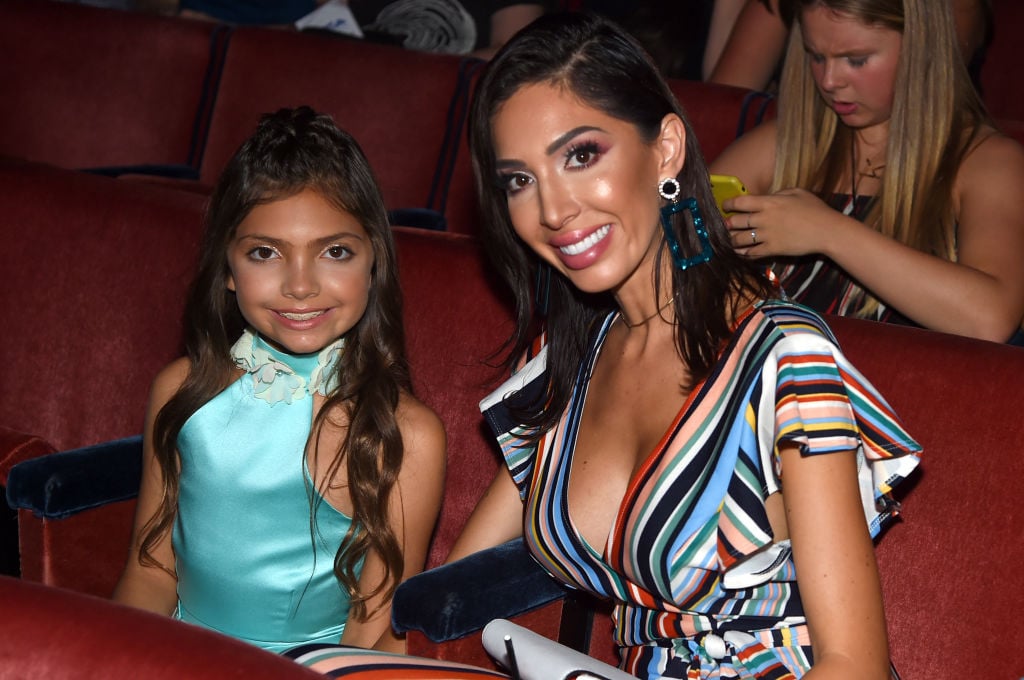 IG video
Late last night, Abraham posted a video to her Instagram page. In the video, she and her daughter are dancing to a strange square dancing song. The 28-year-old links elbows with her daughter and the two skip around in a circle together before walking up to the camera and giving a little shimmy. "Because I'm not like the other moms…I'm a cool mom," the Teen Mom alum captioned the video.
That caption was all it took for critics to come out in droves. "You literally steal Sophia's spotlight in that clip. It's all about you… Again," one Instagram user wrote in the comments citing Abraham's need to be the focal point of the video. "Kids don't need "cool" moms, they need responsible role model moms. Try being that for a while, Farrah Abraham. Your daughter will thank you," another wrote, calling out the way Abraham chooses to parent her child.
The comments only got harsher from there. "DESPERATE. Even Sophia is getting embarrassed of you and your behavior. When you started attempting to twerk, she got in front of the camera as if she was blocking you on purpose. You need mental help #frankenfraudfarrah you are not a celebrity! You are a reality tv has been who everyone hates and you're desperate to extend your expired 15 minutes. Pay you lawsuits, stop doing drugs, and PARENT your daughter instead of using her to gain $/relevancy," one critic wrote insinuating that even Abraham's daughter was embarrassed by her behavior and life choices.
Concern for Abraham's daughter
Others were quick to state that the former Teen Mom didn't have any morals and that her daughter had nobody to look up to."Farrah Abraham got it right. She not like other moms because other moms work, take care of their kids, don't do porn, don't exploit their kids, and give their child a positive role model to look up to. All this one has done is shown her everything her mother has done for fame and money. That's not a cool mom. It's a mother with no morals," another Instagram user wrote. Meanwhile, others seemed concerned that Abraham's behavior was having a damaging effect on Sophia's well-being. "Someone help this woman. Save this child," a critic wrote.
Of course, Abraham did have some support for the video. Many fans questioned why so many people were being hateful about a mother who is simply spending time with her daughter. "Why everyone hates so much? At least she spends a lot of time with her daughter, that love is missing from a lot of people's lives nowadays.. maybe its why you guys are so bitter," one fan quickly clapped back to haters.
The bigger picture
Honestly, what we're most confused about is that there are people over the age of 14 who actually use Tik Tok. But, that's neither here nor there. We certainly would never call ourselves fans of Abraham's and we're the first to admit that she's down some pretty questionable things over the years. However, we can't see the harm in the former teen mom spending some quality time with her daughter. Sure the dance is a little awkward to watch, but not having rhythm is hardly a crime.