'Teen Mom' Farrah Abraham Said She Cut Back on Plastic Surgery
Former Teen Mom star Farrah Abraham is known for starring on the hit MTV reality show. She's also known for having major cosmetic procedures done to her face and body. Abraham isn't shy about the fact she's had some work done. She openly discusses the procedures she had. In one interview, Abraham said she had …
Former Teen Mom star Farrah Abraham is known for starring on the hit MTV reality show. She's also known for having major cosmetic procedures done to her face and body. Abraham isn't shy about the fact she's had some work done. She openly discusses the procedures she had. In one interview, Abraham said she had to tone down some of the work she had done. Here are the procedures she cut back on and why.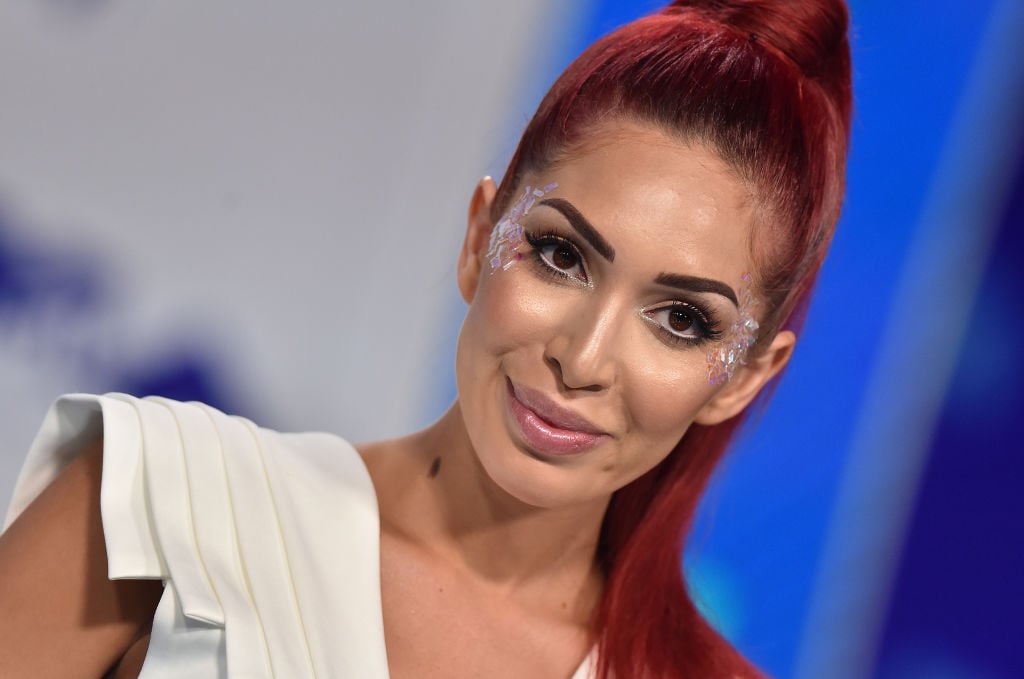 Which plastic surgery procedures did Farrah Abraham have?
Abraham has had a lot of cosmetic procedures done over the years. In 2012, she had nose and chin implants. She later had three breast augmentation procedures. Abraham also admits to having a lip filler procedure. In Touch Weekly reports the nose and chin surgeries cost roughly $16,000. Her 2012 breast augmentation cost $5,000.
Fans begged Farrah Abraham to stop getting plastic surgery
Fans have expressed their opinions about Abraham's procedures, telling her to put an end to the plastic surgery. One Teen Mom viewer questioned how one person could get so many fillers. "How many fillers can a face hold? I'm telling you woman to woman your face looks like you just got stung 100 times in a row by a swarm of bees!" said the commenter.
Farrah Abraham said she toned down the plastic surgery
During a 2016 interview on the Allegedly podcast, Abraham said she decided to take a step back when it came to plastic surgery. One listener told the hosts she thought Abraham looked like Hilary Clinton before she got plastic surgery. Abraham didn't seem to mind the comparison and said she "loves Hilary Clinton." When asked who she thinks she looks like now, Abraham said she doesn't know, but that she did have to take the plastic surgery procedures down a notch:
I took a chin implant out. I've dialed down on the injections because I thought they were too much. There was a lot of stuff. Plastic surgery turns out to be more than you bargained for. I can say that for sure. I kind of just let it all go. The only thing I had to fix were breasts because I was getting serious scarring. I felt like I had a heart attack many nights in a row. So, I had to change up my health regimen and some of those other things.
Farrah Abraham's thoughts on plastic surgery today
Almost three years later, Abraham seems to feel differently about having her face and body enhanced. During her interview on The Hollywood Pipeline podcast she said she had no regrets about having plastic surgery. However, she said she regrets not having more procedures done. Here's what Abraham had to say about her surgeries:
I regret not getting more. I think it's good. I always say it's better to prevent when you're younger than when you're older and you've let yourself go. It's more money and you change your look more. I just want to seem youthful and plump and be happy. I don't want to ever look like I have bags because I do stay up late, and I do work a lot.
Read more: Despite Backlash, 'Teen Mom' Farrah Abraham Has Support from Fierce Defenders
Check out Showbiz Cheat Sheet on Facebook!