'Teen Mom': Farrah Abraham Reveals Whether She Still Talks to Her Co-Stars
Farrah Abraham shot to fame alongside Catelynn Baltierra, Maci McKinney, and Amber Portwood on the hit MTV series Teen Mom. She went on to star in a number of spinoffs before being ousted from the show in the late 2010s. Though she's no longer on camera with them, many might wonder whether she keeps in touch with her co-stars behind the scenes.
Fortunately, Abraham herself just answered this question. She said in a recent interview that while she still talks to some people who are connected to the show, she doesn't really have relationships with her former co-stars.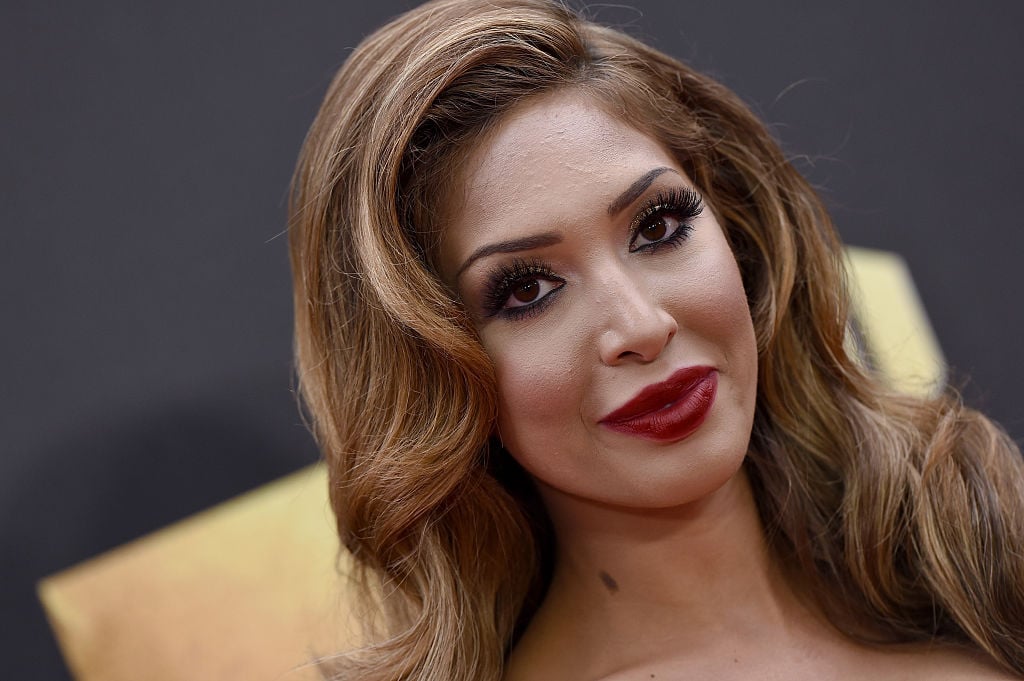 Farrah Abraham talks about her relationships with her co-stars
Abraham, 28, spoke to Us Weekly at an event on Thursday, February 20 and said that she has zero contact with Baltierra, McKinney, and Portwood. But she noted that she hasn't cut off communication with the entire Teen Mom crew.
"I talk to the creators and the executives surrounding that. I'm just on an executive level, and that's where my life is," she told the outlet. "I don't speak to people who don't support me or bash me, who have tried to hurt me or my family."
Even so, she claimed that there are no hard feelings. "I wish all of the women all the best," Abraham continued. "I think that's great — keep doing what they're doing!"
While some fans might be sad to hear the news, it's not exactly a shock that Abraham isn't in touch with her co-stars, given that they were never really close from the beginning. She has had huge arguments with McKinney and Baltierra and even once nearly came to blows with Portwood.
Why Farrah Abraham left 'Teen Mom'
Abraham was reportedly ousted from the spinoff series Teen Mom OG in October 2017 because of her work in the adult entertainment industry and her alleged bad attitude. Fans got to watch part of the drama in a March 2018 episode of the show when producer Morgan J. Freeman confronted Abraham with some of his concerns.
"You had said you weren't going to continue to do the adult videos, that you had decided not to go down that path," he told Abraham, who filmed a sex tape in 2013 and went on to make webcam videos. "Nobody's here to cast judgment on anything, but if you chose to work in the adult industry, we can't continue to film your story for Teen Mom."
Abraham stood by her decision and said she had no regrets. She was eventually replaced on the series by Cheyenne Floyd and Bristol Palin, who announced in 2019 that she was leaving the show after just one season.
Would Farrah Abraham return to 'Teen Mom OG'?
Abraham said in a September 2019 appearance on the podcast Teen Mom Time that she was open to returning to the series as long as it featured the original cast, meaning Floyd would have to leave the show.
"Things must be my way or I don't come back," she said. "I don't share my seasons with newbies. I'll come back if it's OG all the way."
This didn't seem to go over very well with Baltierra, who defended Floyd and sounded off on Abraham for her comments.
"We love Cheyenne and she's a better fit than Farrah was," she told Us Weekly. "She's [a] respectful, loving and caring person, and finally all of us girls can sit on a couch, go out and just have fun with one another. We wouldn't want it any other way."
But she also said she wouldn't protest Abraham's potential return to the series, adding, "Everyone loves a train wreck, so if MTV brings her back, I hope all the fans enjoy watching that, but I would not help them bring her back or petition against her because that's a waste of my time."
It's unclear whether Abraham will ever return to MTV — but if she does, there is clearly drama ahead.