'Teen Mom': Kailyn Lowry Wants to Be on '90 Day Fiancé' and Would Love to Have Dinner With 1 Fan-Favorite Couple
Teen Mom star Kailyn Lowry has been a fixture on the MTV reality series for a decade. During that time fans have watched the 28-year-old go through numerous relationships and break-ups while giving birth to four children. During a recent interview, Kailyn confessed that she is not ready to find love just yet. But when she is, she wants to do it on TLC's 90 Day Fiancé.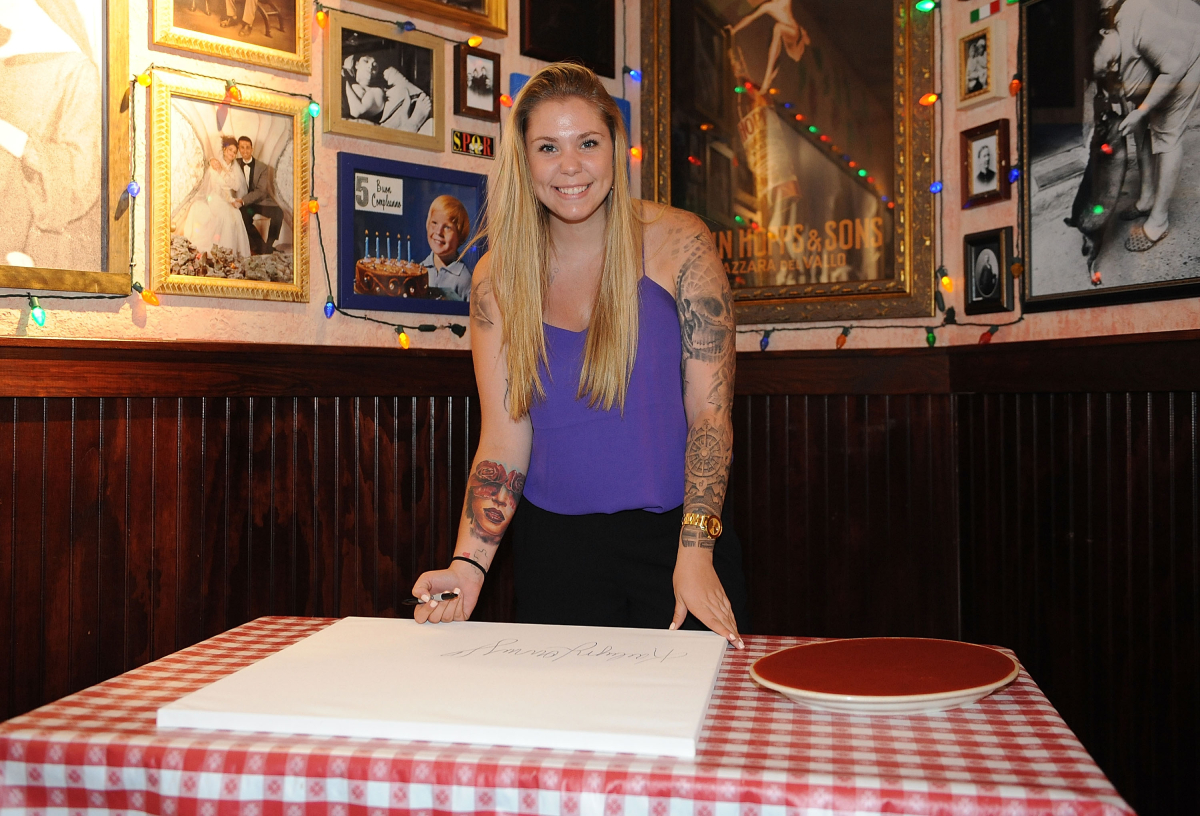 Kailyn Lowry says she's had no contact with Chris Lopez since giving birth to baby number four
The Teen Mom star recently appeared on The Domenick Nati Show, and she dished on the current status of her relationship with Chris Lopez. As fans know, Chris is the father of Kailyn's two youngest children – two-year-old Lux, and newborn Creed. But, she says that Chris has made no effort to see Creed since he was born. .
"We don't communicate at all," Kailyn said. "I can't remember the last time I heard from him. So, he hasn't seen Creed since he was born. Maybe a couple days after."
As for her relationships with Jo Rivera and Javi Marroquin – the fathers of her two oldest boys, Isaac and Lincoln – Kailyn says that she is on good terms with both of them, and she just reached a big milestone with Jo. However, she admits that it does depend on the day when it comes to Javi.
The 'Teen Mom' star doesn't plan on dating in the near future
Kailyn admits that her fourth pregnancy was unplanned. She scheduled a breast reduction with Dr. Miami last fall. But, when she found out she was pregnant, she canceled the surgery.
Kailyn says that she is absolutely certain that Chris is Creed's father because he was the only person she was having sex with in October. She also admitted that Chris was the last person she had sex with. However, she doesn't remember when that happened.
RELATED: 'Teen Mom': Kailyn Lowry Revealed the Insane Amount She Makes for Feet Pics on OnlyFans
As for her love life, Kailyn says she doesn't plan on dating anyone in the near future because her life is "pure chaos."
"Creed has me up at all hours of the night. My kids need me," Kailyn explained. "We've got virtual school coming up. Dating is not on my radar at all."
Kailyn might be focused on her kids right now. But, when she is ready to find love again, she says that she wants to do it on 90 Day Fiancé.
Kailyn Lowry wants to have dinner with David Toborowsky and Annie Suwan
The mom-of-four admitted that she is obsessed with the TLC series 90 Day Fiancé. She says her first reaction to the show was wondering if there was an app that she could "get on to go meet some foreign man or woman."
Kailyn says she loves every couple on the show, and Big Ed is "iconic." But, the one couple she would love to have dinner with is David Toborowsky and Annie Suwan. When Domenick told Kailyn that he was friends with the couple, she asked him to set it up so they could all have dinner together.
David, 52, and Annie, 28, have become unexpected fan favorites on 90 Day Fiancé: Pillow Talk because their relationship has turned out to be much more genuine than fans originally thought.
New episodes of Teen Mom 2 air Tuesday nights on MTV. New episodes of the 90 Day Fiancé franchise air Sunday and Monday nights on TLC.