'Teen Mom OG' Catelynn Baltierra Creates Support System for Fans After Heartbreaking Loss
Teen Mom OG star Catelynn Baltierra (née Lowell) and her husband, Tyler Baltierra, have been an open book since their time on 16 and Pregnant. From their adoption story to their family struggles and relationship hurdles, the Baltierras have shared every aspect of their lives with fans. Now, they're sharing the heartbreaking story of what happened over the Thanksgiving holiday.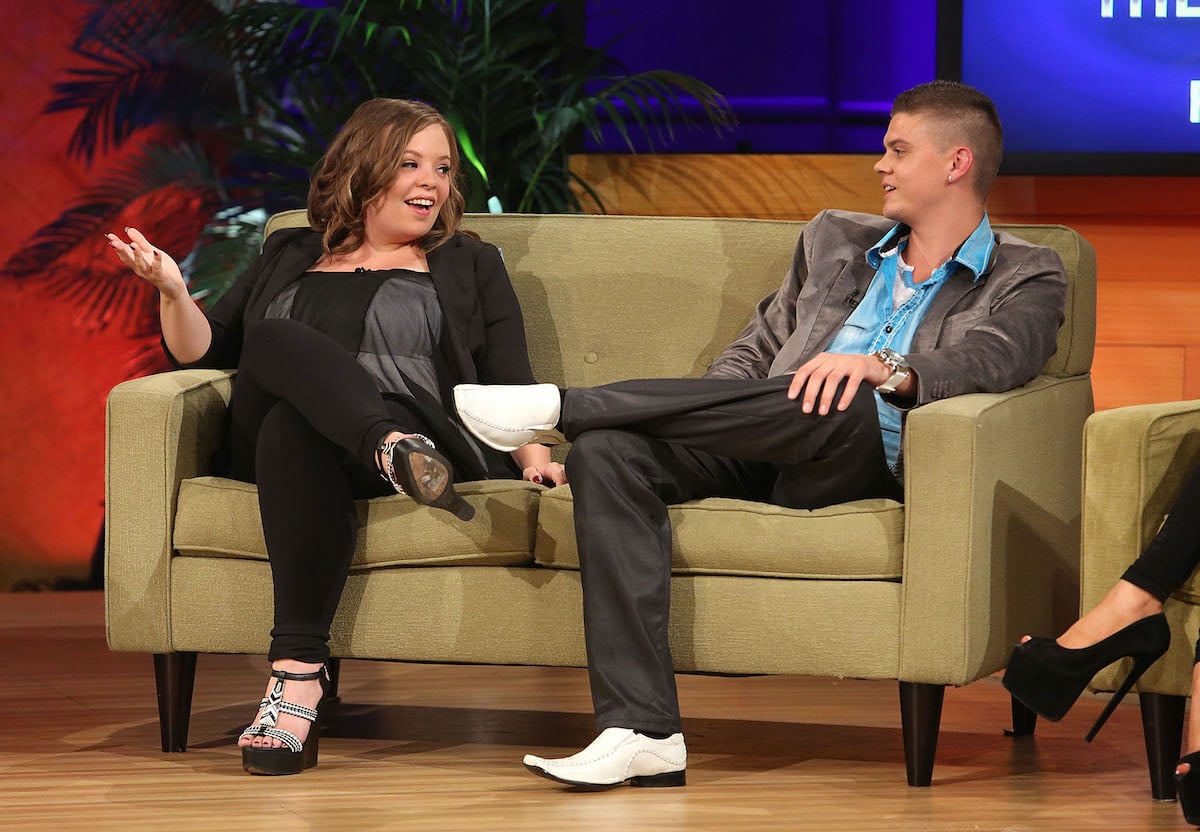 Catelynn and Tyler Baltierra were trying to have another child 
The Baltierra's first child, Carly, was given up for adoption as documented on the MTV series. Later, the couple had two more baby girls, Novalee and Vaeda. More recently, the Baltierras wanted to add a third child to their family, hoping for a baby boy this time. In the beginning of 2020, the couple started trying.
"My baby fever is insane," Catelynn told People in February 2020. 
"We're not done yet," Tyler added. "We just love being parents too much." 
Catelynn Baltierra had a miscarriage in the past 
During a Teen Mom OG episode that aired in February 2018, Catelynn and Tyler opened up about her first miscarriage.
"It's very traumatic," Tyler said of the experience during the episode. 
"When you see her shaking and she's got blood everywhere, it's like … you don't really know what to do," he added. "She kind of cleaned herself up, and we kind of figured out what was going on. Spotting is normal, but all the clotting is not. So we just saw on the bed and cried. We just held each other. There's nothing you can really do."
Catelynn took the loss of their baby extremely hard. Her mental health took a toll, so she sought help at a treatment center in Arizona. After allowing herself time to heal, Catelynn was able to conceive again and carry their second child, Vaeda, to term. 
'Teen Mom OG' Catelynn Baltierra suffered another miscarriage in November 2020
Over the Thanksgiving holiday, Catelynn experienced another miscarriage. She opened up about her experience on Instagram, writing: "I WAS Pregnant and excited to share it with all of you, and I am heartbroken to reveal that I lost the baby." 
Catelynn also spoke directly to her fans and supporters who might be experiencing the same type of loss. "I am sharing this to let you know you are not alone," she said, adding:
We are all in this together and everyone experiences pain, loss, and the recovery from it and I am still in the thick of dealing with this loss as it was recent and all the emotional trauma that follows such a loss in an already horrifically hard year.

Thank you in advance for your prayers, love, and support. Know that I'm there for you and care as much as you guys are there to support me. I opened up about this only to help those who are experiencing the same thing to know that there's someone else every day experiencing this.

This was painful to share… but again, you're not alone.
In an Interview with Champion Daily, Catelynn said she and Tyler found out about the baby three days before Thanksgiving. 
"We were soooo excited!" she told the outlet. "We didn't tell Nova because we wanted to wait a while. I took like 6 different pregnancy tests to make sure!"
Catelynn lost the baby on Thanksgiving. 
"It was super early but like I said before it still hurts and all the excitement goes out the window," she added. "I know that when the time it right it will happen and everything in life has a plan and a destiny. Now we have two beautiful angels watching over us and our children. One day I know I will witness those angels and get to spend eternity with them. Until then I pray they watch over their siblings and us."
At this time, it's unclear if and when Catelynn and Tyler will try again for another baby. 
How to get help: In the U.S. and Canada, text the Crisis Text Line at 741741 to reach a crisis counselor for support.