'Teen Mom OG': Farrah Abraham Has a Late-Night Getaway With a Los Angeles Influencer
Former MTV Teen Mom OG cast member Farrah Abraham seemed to enjoy a rowdy night of partying with a social media influencer over the weekend of Oct. 18.
Both Teen Mom OG's former controversial star and a Los Angeles social media influencer and real estate agent, Kurt Benz, posted a series of Instagram stories about their wild night. They boarded a plane for a friend's 40th birthday party at a packed strip club.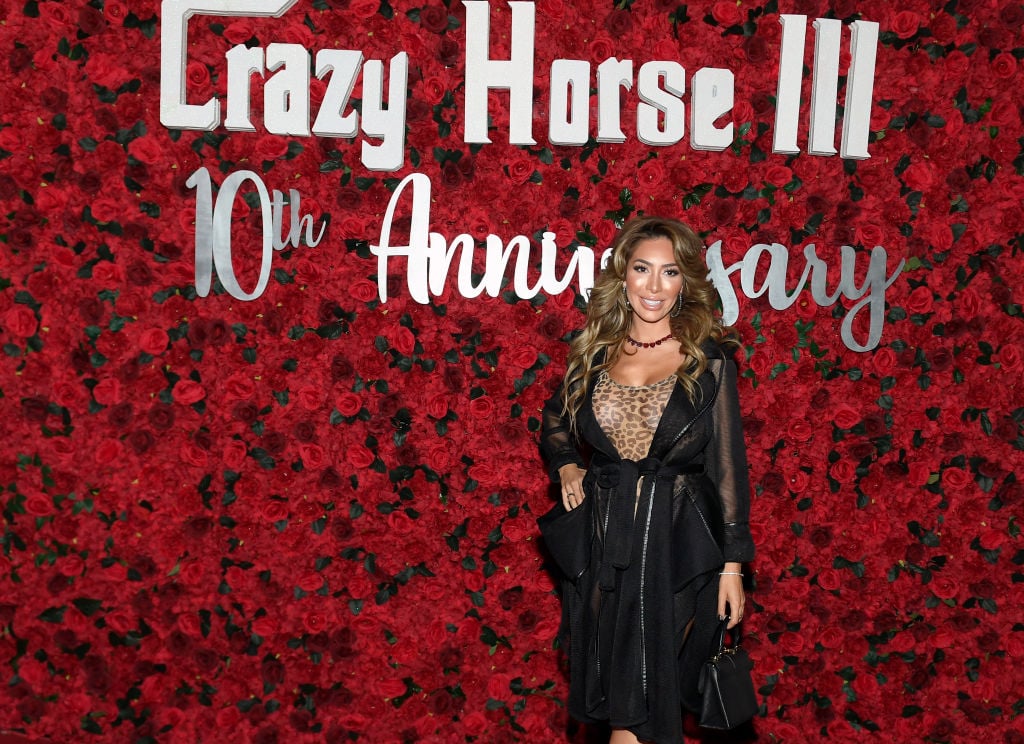 Abraham and a real estate agent headed out for the evening
Kurt Benz, Abraham's party buddy, calls himself the "Wolf of All Streets" in his Instagram bio. Benz is a real estate agent and former nightclub manager in both Los Angeles and Las Vegas.
He and Abraham seemed cozy and friendly as they boarded a plane together to celebrate what appeared to be a 40th birthday celebration for Dr. Aamir Wahab, a well-known cosmetic dentist in Beverly Hills.
"Lookin' like money/Smellin' like sex," Abraham captioned a short Instagram video of the pair lifting off in a plane against the glimmering backdrop of the Las Vegas skyline. "See you soon, my love," Benz wrote on a similar skyline post.
Outside the airport, the pair joked together and gave a shoutout to Heather Rohrer, a cosmetic injector at the Center for Aesthetic Medicine and Human Performance. As Abraham struggled to give Lumify eye drops to Benz, she laughed, "I don't know if it got in, you keep your eyes shut. Do you want me to stab you in your eye?"
"I want to give a shout out to Heather from Aesthetic Medicine LV," said Benz to the camera in an Instagram story. "My eyes are super white with this Lumify, I can see all the haters clearly now."
Abraham added, "He's ready for the night!" Benz continued, "We ready, we poppin' off, let's go."
Benz and Abraham partied at a strip club late into the night
Once they loaded into what appeared to be an Uber or Lyft, Benz kept the jokes going with a faux-pretentious speech to the rideshare driver.
"All right, sir," Benz said jokingly to the driver. "We need some ice cold water, please, some air conditioning on 65, preferably. Your chair scooted up about 2 1/2 feet Fahrenheit. I want some disco balls, and I want some trap hood music…Do you have a hooker in the back?" Farrah Abraham could be heard laughing in the background.
Next, Benz and Abraham listened to Dreamville's "Costa Rica," featuring JID and Bas, as she applied makeup in the car.
Both Benz and Abraham posted a series of party snapshots and videos at a strip club, surrounded by scantily clad dancers wearing thongs and waving glow sticks. Abraham, dressed in a skintight blue minidress, took shots and selfies while dancing with her social influencer friend and posing with models for Dr. Wahab's birthday.
Abraham also snapped photos of a racy neon sign that read, "I f**king love f**king you."
The pair's relationship isn't clear
It's unclear as to whether the former Teen Mom OG and Benz were out on a date on Saturday. They could also be business partners, acquaintances in the same peer group, or just good friends.
They seemed to head back together in another rideshare, and while their energy seemed flirty, neither showed direct PDA or confirmed any kind of non-platonic relationship.
"So much fun last night," Benz posted next to an Instagram story video of himself and Abraham posing for the camera as Tyga's "Rack City" played.
Abraham woke up to breakfast with her daughter, Sophia Abraham, at what looked like a high-end hotel. It wasn't obvious where she and her daughter had been staying or where Sophia had been the night before.
Abraham made headlines recently for selling date nights
Abraham's name was recently splashed across the headlines when fans pointed out that she was selling date nights for $5,000 a pop.
When asked about her date night advertisements at WeTV's Marriage Boot Camp event, TooFab reported that Abraham replied: "My time is worth a lot of money. Honestly I don't really need to go on dates right now. I'm so focused on work and just everything I got going on. So yeah, pulling me away from what I love in my life, I think you can pay me for my time. Other women who don't get paid for their time and who are just giving their time away, well, I don't really see anything great coming out of that so…you should always monetize your time."