'Teen Mom': Why People Continue To Watch
The "Teen Moms" are now in their late twenties. Their children are turning ten. Yet, we keep on tuning in as the 16 and Pregnant franchise keeps churning out more drama.
Fans are pretty invested after watching these women for so long, and since the moms keep causing drama it's hard to tear our eyes away from the chaos that follows these girls.
The moms stay active on social media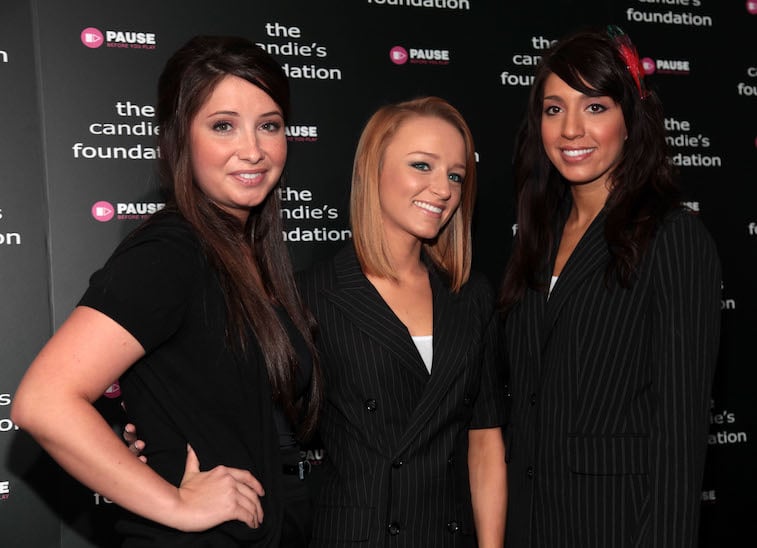 All of the women have vibrant social media accounts to keep their lives in the forefront of their fans' minds. Scrolling through Instagram you'll be able to find images of the girls and their families as they carry out their day to day lives, tag each other as their BFFs, and argue about the best fitness products.
If you're looking for drama, internet bullying and thong bathing suits, look no further than Farrah Abraham's vibrant account. Most recently you can see her daughter Sophia's win in a beauty pageant.
Looking for a little inspiration or just some cute family photos, then fans head over to click through Bristol Palin's social accounts. Neither Bristol, nor Farrah appear on this season of Teen Mom OG.
They're still making headlines
For better or worse, the girls are still captivating their fans with their wild headline-grabbing antics and attention-seeking behavior.
Janelle Evans for instance, was fired from returning to Teen Mom 2 allegedly because her husband, David Eason, was too aggressive and violent for producers to support. She has since worked on building up her YouTube following in order to remain relevant to her fans.
Farrah Abraham still makes headlines too, in a far more negative way. It seems she's recently been accused of drug use, using her daughter to promote her own fame and has been getting in bar fights. Some things never change.
Then there are others, like Amber Portwood who have reduced themselves to selling stick-on nail polish as a side gig in order to continue to support their family. Although, her battles with mental illness keep fans glued to Teen Mom OG as they wonder if she will stay healthy enough to care for her two children. Especially after her recent arrest for domestic violence.
'Teen Mom' is a guilty pleasure for fans
For many followers, Teen Mom is just a guilty pleasure. Fans take comfort in following the lives of stars whom they feel like they know. Since these girls have been on the air, in the most intimate moments of their lives for so long, fans feel like they have become a part of their lives.
The stars of Teen Mom are both the women we love to hate, and the girls we've been rooting for. Watching them become mothers and experience some heartbreaking moments keeps fans feeling close to them. It's hard to walk away from something that has such built-in emotional pull.
'Teen Mom OG' keeps the drama fresh
It has been a full decade after it all began, but most of the girls are appearing on MTVs Teen Mom OG to continue to share their lives with their fans. We keep watching because the train wreck that is their family makes us feel like our lives are a walk in the park.
Plus, the show is good at focusing on current events and issues that get people to tune in. This season, Catelynn give birth to her third baby and Maci continues to face issues with her son Bentley as she works toward promoting a clothing line.
Meanwhile, Cheyenne keeps working on co-parenting and Amber's issues with mental illness keep us guessing about her health. The couples take a stance hot button issues like abortion, consent and parenting styles too. All things which keep people talking.