Tekashi 6ix9ine and His Security Squad Confronted by Angry Stranger But He's Not Fazed
Tekashi 6ix9ine is back to cruising the streets by foot, car, and subway. The "Trollz" rapper is officially off house arrest and has plans to keep dropping new music, videos, and merchandise.
Prior to his prison sentence, 6ix9ine regularly went viral for his antics on and off social media. He also spent time interacting with his fans in person. Now that his jail sentence is over, he's up to his old habits but this time, he has security in tow. And someone tested his protection.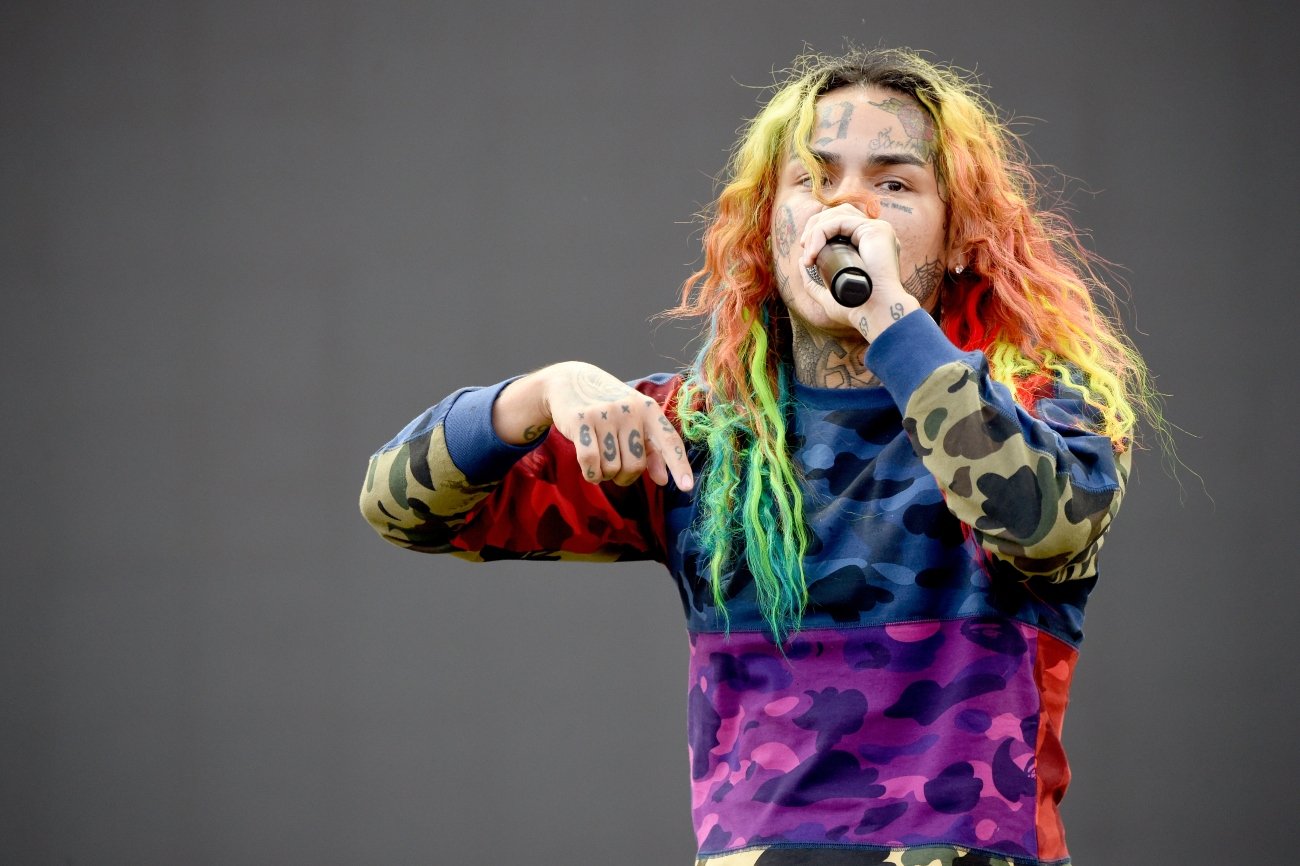 Tekashi 6ix9ine rode the subway and hung out with fans
In addition to shooting music videos in New York, 6ix9ine has been filming himself around the city greeting fans, signing autographs, and trolling. He's posting most of these videos on Instagram to showcase how safe he is roaming his hometown.
His attorneys — and some of his fans — raised concerns about 6ix9ine's well-being in relation to his testimony against Nine Trey gang members. They're worried about threats and his safety. But in multiple videos, the rapper asserted that he has no fear and he's going to keep living his life that way.
Recently, 6ix9ine hit the subway, a playground, and one of his old jobs just for the heck of it but he did have his bodyguards with him.
He also handed out hundred dollar bills to local kids, held a meet-and-greet session for fans, and dined out an outdoor eatery with duffel bags full of cash. In his social media posts, he's sometimes made a point to challenge his detractors. Someone heeded the call.
RELATED: Tekashi 6ix9ine Angers Some Fans Who Think He Dissed Dead Rappers in Instagram Live Video
Tekashi confronted by stranger in New York
Even before serving time for his federal case, Tekashi 6ix9ine was known for trolling. During that time, ran into problems with gang members in other cities but his crew protected him. His recent Instagram videos have been viewed millions of times and some of those views came from those who don't like him.
One man confronted 6ix9ine and his security team when they were out in Harlem, and someone almost got hurt. A clip of the encounter can be viewed here, and it shows a man shouting at Tekashi's security to give him back his phone. The man attacks one of the guards and another one of 6ix9ine's protectors walks up with his gun drawn. That ends it.
In the moments leading up to the confrontation, the man was yelling profanities at the rapper and challenged him to a fight. It's unclear when the non-fan exited his car to engage with security, but Tekashi and his team peeled off in their vehicle after it ended.
Tekashi 6ix9ine and his girlfriend were unfazed
After the clip went viral on Aug. 9, 6ix9ine hit the Instagram chat spaces to throw up the laughing emojis and mock the man.
He believes the person was after clout and his girlfriend Jade agreed. In another part of the internet, artists like The Game continue to take verbal shots at the "GOOBA" rapper.
6ix9ine is making light of his circumstances by posting a stream of videos taking aim at anyone who thinks he's afraid and those who call him a rat.