'Temptation Island' Stars David Benavidez and Kate Griffith Say Negative Backlash Brought Them Closer
After the way David Benavidez behaved on Temptation Island Season 2 and how Kate Griffith stood up to him at the final bonfire, fans thought the two were never getting back together.
However, the couple has since announced they are currently dating much to the dismay of several viewers. After a couple of weeks, David and Kate went on Instagram Live to answer questions and clarify their current situation.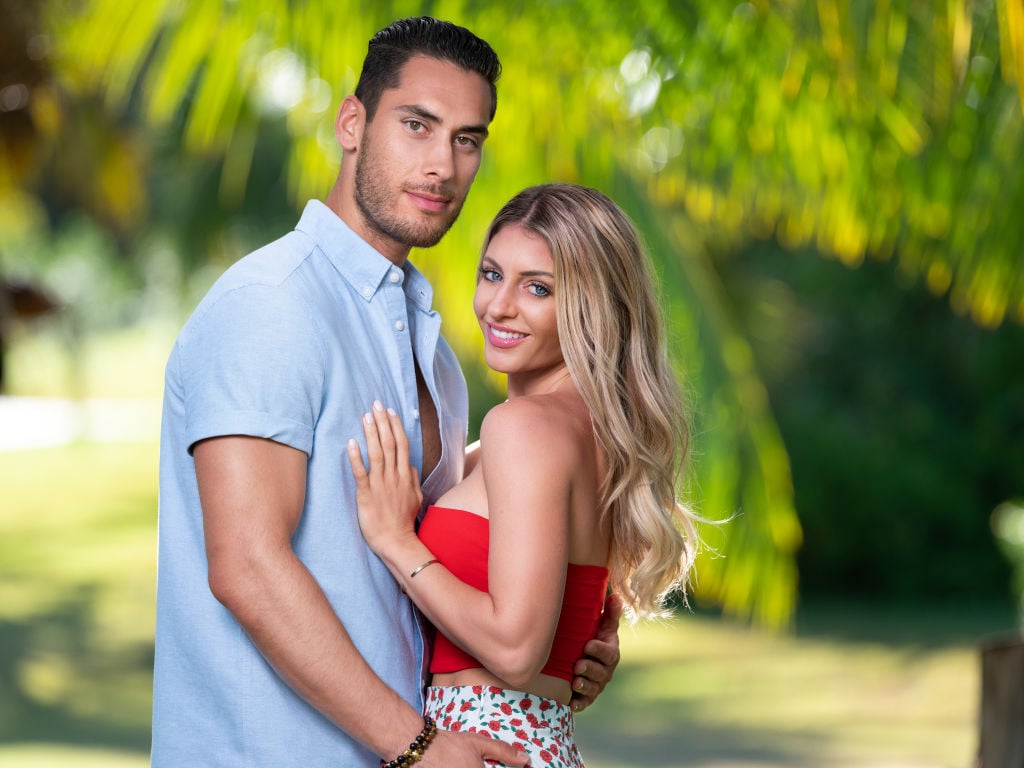 David Benavidez and Kate Griffith on 'Temptation Island'
New Jersey-based couple David Benavidez and Kate Griffith had dated for three years and went on Temptation Island to try to get on the same page. David almost immediately fell into temptation and showered with a girl and then kissed someone else naked.
He then cut things off with both of them and pursued things with another single, Toneta Morgan. When his time on the island came to an end, David chose to leave with Toneta, and they also lived together in Los Angeles for a little bit.
Meanwhile, Kate explored a connection with Dominique Price but left the island single. A few months later, Toneta exposed David at the reunion for using her because he allegedly wanted to become a model and an actor.
Samantha Hoffman, the female he showered with, then claimed she and David had sex while he attempted to fix his relationship with Kate. On Christmas Eve, after a few weeks of speculation, Kate and David announced on their Instagram accounts that they are back together.
David Benavidez and Kate Griffith explained why they went on 'Temptation Island'
On January 16, 2020, the couple went live on David's Instagram account to answer questions. They started off by explaining why they went on the show. According to the couple, Kate was based in Miami, Florida, and David lived in New Jersey, so the two dated long-distance for a while.
Once they decided for Kate to move in with David, it became hard on their relationship as Kate had to deal with new elements and a career change. David agreed and said they underestimated the hit the stress would take on their relationship, so they decided to go on Temptation Island.
David Benavidez and Kate Griffith say the negative backlash brought them closer
When asked how the two handle the criticism from social media, David admitted it is difficult. Kate agreed and said people are mean to her, but she tries to ignore it.
However, she realized she lets it sit with her instead of being able to let it go immediately. Even though the past few months have been rough, David noted it has also brought them closer as a couple.
David Benavidez and Kate Griffith open up about how 'Temptation Island' changed them
Even though they have received a lot of criticism from their portrayal on Temptation Island, the couple admitted the experience changed them for the better.
Kate said they're "stronger, understand each other better, and communicate better," as well as have worked the issues they faced on the show. Additionally, she noted David opens up to her more, and they're having hard conversations for the first time in their relationship. 
David Benavidez and Kate Griffith have no interest in doing press interviews
When Samantha and Dominique appeared on the Reality Steve podcast, the host noted David and Kate ghosted him. In the Instagram Live, Kate said she didn't go through with the interview because it "didn't make sense" to rehash old things she and David have already worked through.
Additionally, Kate feels like writers twist her words. David agreed and said they are in a good place and only want to move forward.