'Temptation Island' Star Evan Smith Publicly Apologizes to Morgan Lolar
'Temptation Island' couple Evan Smith and Morgan Lolar recently parted ways after cheating allegations. Evan publicly apologized to his fiance on Twitter.
Earlier this year, Temptation Island couple Evan Smith and Morgan Lolar ended their nearly year-long engagement due to his alleged infidelity. While Morgan has consistently remained vocal about the situation, Evan didn't comment until February 2020 when he took responsibility for the breakup.
Two months later, he publicly apologized to his ex-fiance on Twitter, again taking fault for the ending of the relationship. Many people, including Morgan presumably, did not accept his apology as it came nearly four months after the fact.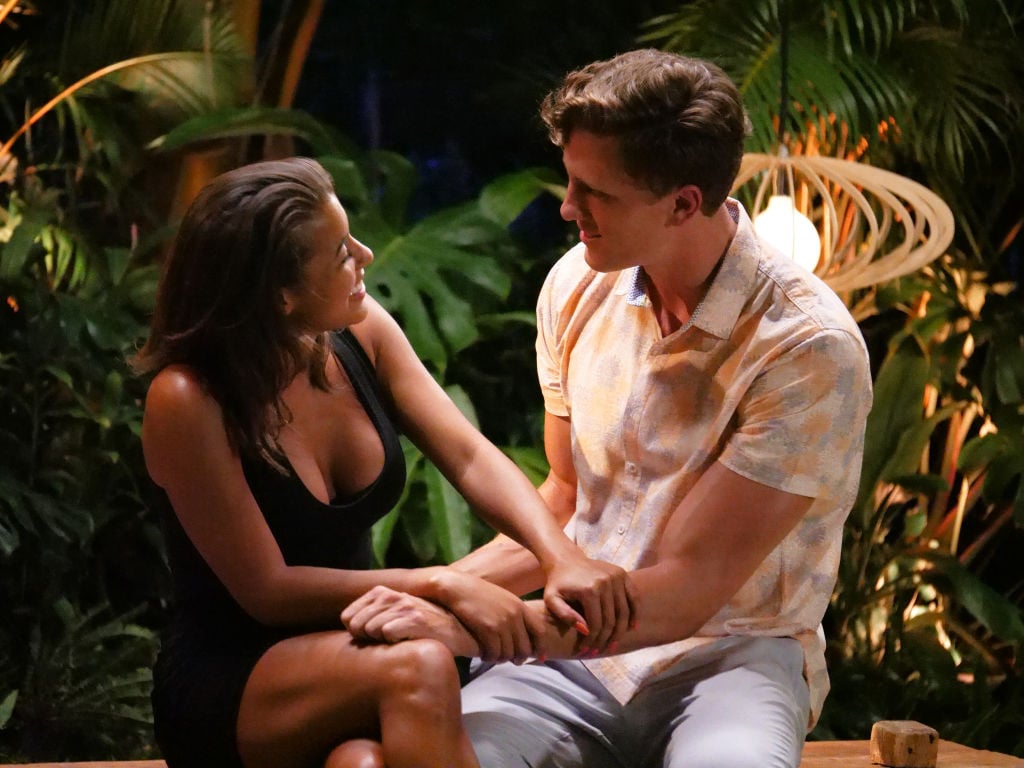 Evan Smith and Morgan Lolar on 'Temptation Island'
In September 2018, California-based couple Kaci Campbell and Evan Smith appeared on the first season of USA Network's rebooted reality series, Temptation Island, intending to leave engaged.
Even though Evan came to the island to prove his dedication to Kaci, he almost immediately fell for Virginia-based real estate agent, Morgan Lolar. Their relationship progressed throughout the season, and Evan asked her to be his girlfriend.
At the Final Bonfire, the former collegiate basketball player admitted he wanted a life with Morgan and ended his five-year-long relationship with Kaci. Immediately after filming wrapped, Evan moved in with Morgan and proposed to her six months later.
Toward the end of 2019, the couple announced they were moving to California. However, Evan left early and allegedly cheated on his fiance.
Evan Smith and Morgan Lolar broke up
On January 2, 2020, fans noticed Morgan wiped her Instagram account clean of all pictures she posted with Evan. A couple of weeks later, she confirmed her fiance had "nightly sleepovers" with "21-year-old Instagram models" while in California and began ignoring Morgan.
She expressed her devastation over the breakup several times on social media, and, surprisingly, Evan's ex, Kaci, has offered her a lot of support. Although the couple broke up before they officially moved, both presently live in California.
However, his alleged infidelity initially left Morgan "technically homeless." Therefore, she is currently living with friend and co-star Erica Steinhauer while Evan seemingly lives in a house with other social media influencers.
Evan Smith publicly apologized to Morgan Lolar
While Morgan has been more vocal regarding her feelings about the breakup, Evan took a little break from social media. Once he became more active, he had an Instagram Question and Answer in February 2020, where he took responsibility for the spit.
The former collegiate basketball player also revealed his mental health has been "pretty awful" since the breakup and promised he's "working on it and taking steps to deal with it."
Two months later, Evan took to Twitter and apologized to his ex-fiance, writing, "I am so sorry, Morgan." Many fans didn't accept his apology and felt like it was "all for show" since his former fiance no longer follows him on social media.
Additionally, they thought he could have been more specific and clarified where he went wrong. Co-star Hannah Rightmire claimed Evan only apologized so "he could come back on Twitter," but the former collegiate basketball player denied those were his intentions.
Someone tagged Morgan in the quote tweet and asked if she thinks he meant to post the apology on April Fool's Day. The real estate agent simply responded with three skull and crossbone emojis.