'Temptation Island' Evan Smith Reveals He's 'Working on a Whole Lot' After Breakup With Morgan Lolar
While Temptation Island star Morgan Lolar has been very vocal regarding her breakup with fiance, Evan Smith, he still has yet to address it. In an Instagram question and answer, the former basketball star didn't confirm or deny the cheating allegations that led to the split, but revealed he's "working on a whole lot."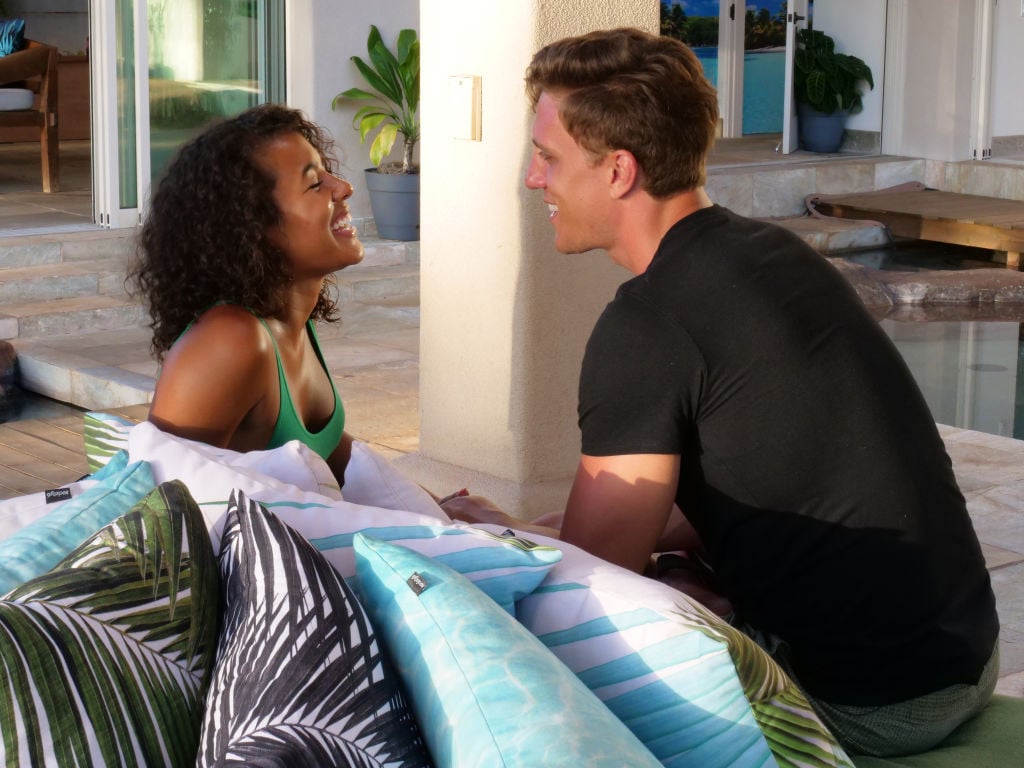 Evan Smith and Morgan Lolar met on 'Temptation Island'
In September 2018, Evan Smith participated in the rebooted USA Network reality dating experiment, Temptation Island, with his girlfriend of five years, Kaci Campbell.
Even though they intended to leave as an engaged couple, Evan quickly fell for Virginia-based real estate agent, Morgan Lolar. At the Final Bonfire, he broke up with his longtime girlfriend and immediately moved out of their Los Angeles place into Lolar's apartment.
Six months later, Evan proposed to Morgan in a March 2019 Temptation Island update special. They continued to live together, seemingly very happy as they both proudly wore engagement rings, and announced they were moving across the country to California.
However, the two broke up in early 2020.
Evan Smith and Morgan Lolar broke up after cheating allegations
On January 2, 2020, Morgan wiped her Instagram clean of all pictures with her ex-fiance. She also removed his name from her bio, and the two unfollowed each other on all social media platforms.
A week later, she revealed Evan left for California early and cheated on her by "having nightly sleepovers with 21-year-old Instagram models" and ignoring her calls.
Morgan also began publicly communicating with Evan's ex, Kaci, on Twitter. Therefore, fans were sure the couple split up. However, Morgan posted pictures of herself wearing her ring, and Evan tagged his ex-fiance in an Instagram post featuring babies. As a result, several people accused them of faking their breakup to get on another show.
Morgan denied she faked anything and insisted her feelings regarding the fresh break up were genuine. She recently arrived in California but revealed she's "technically" homeless as she's staying with friend and Temptation Island co-star Erica Steinhauer.
According to his Instagram, Evan has been living in a house with other social media influencers.
Evan Smith says he's 'working on a whole lot' after breakup
While Morgan has vocalized her feelings regarding the unexpected breakup, Evan has yet to make any public comment. While he also removed her name from his bio and deleted some pictures from his Instagram, namely the one of their engagement announcement, Evan still has several photos with his ex-fiance visible on his profile.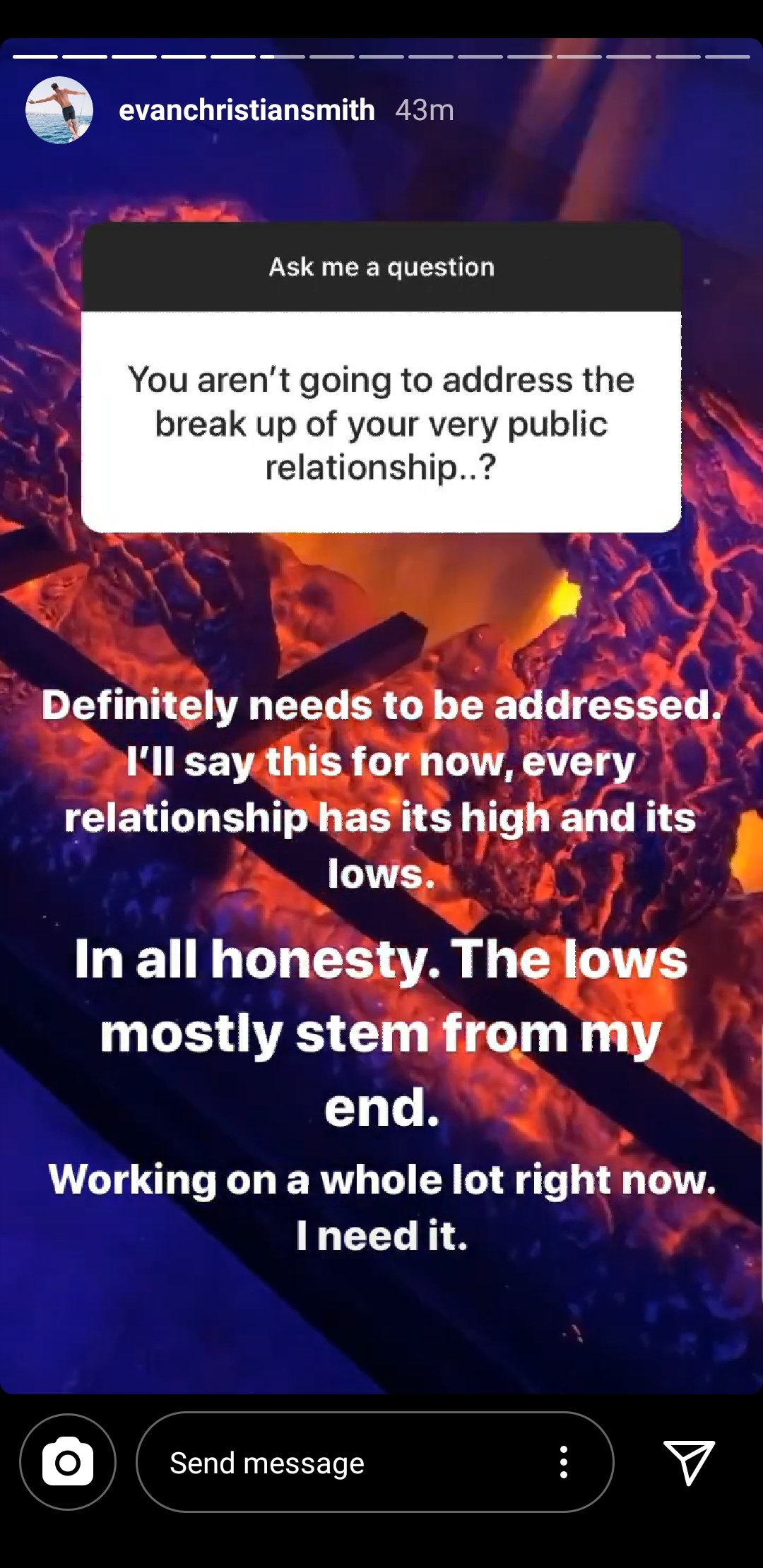 Additionally, the former collegiate basketball player continued to rock his ring after Morgan's cheating allegations. However, he was recently captured in an Instagram story hanging out with Tik Tok star, Brittanie Nash.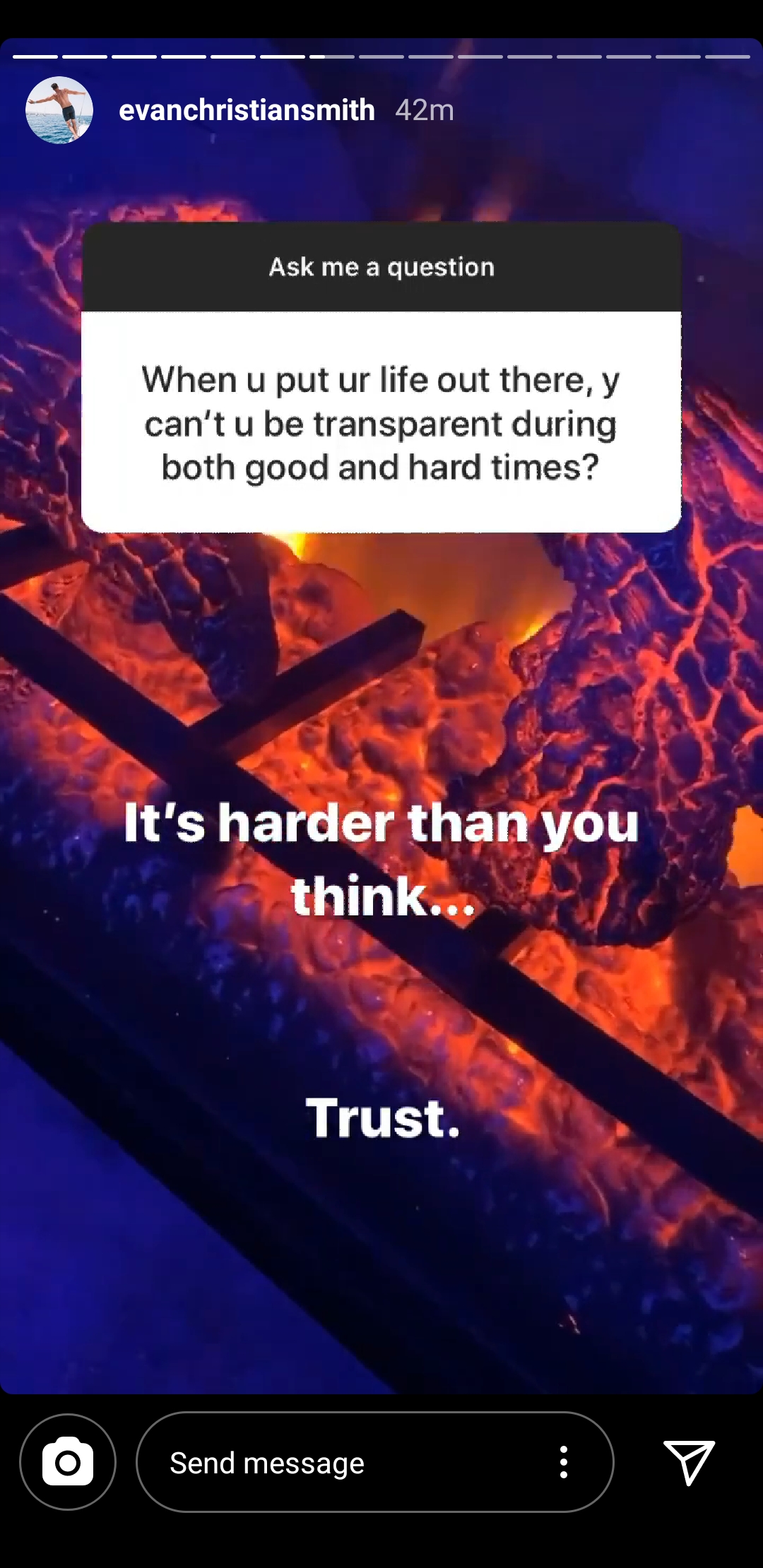 Evan finally addressed the breakup, somewhat, in an Instagram question and answer. One follower asked why he hadn't said anything about it yet. Even though the Temptation Island star agreed he should address it, he answered, "I'll say this, for now, every relationship has its highs and lows. In all honesty. The lows mostly stem from my end. Working on a whole lot right now. I need it."
Another person asked Evan why he can't be "transparent" when he "put his life out there." The former basketball star admitted, "it's harder than you think."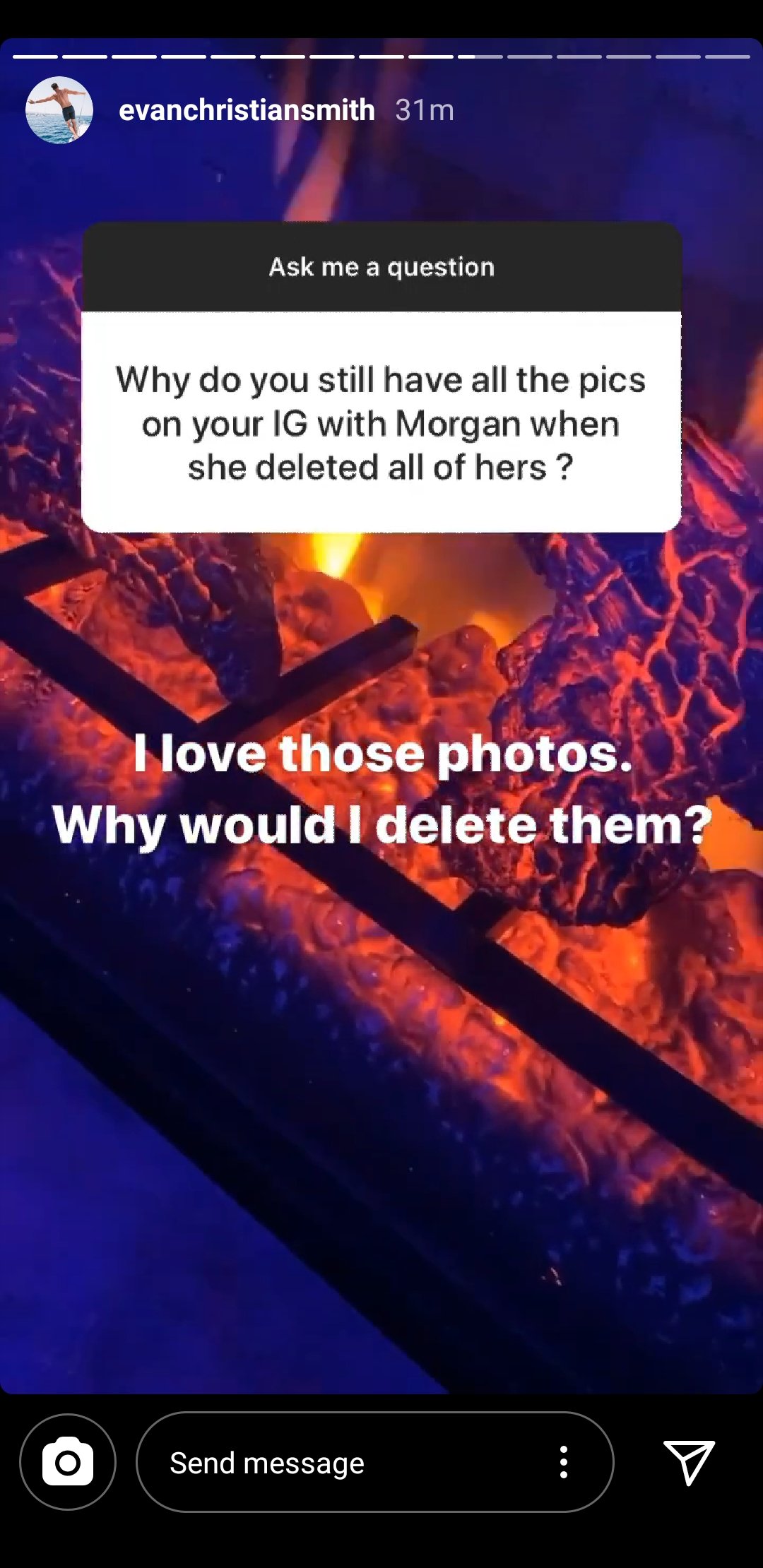 He also noted he still has pictures with Morgan on his Instagram because he "loves those photos. Why would I delete them?" Whenever Evan is ready, he will address the cheating allegations and public breakup with Morgan.