'Temptation Island' Kaci Campbell is Supporting Morgan Lolar Through Breakup with Evan Smith
A little over a year ago, Evan Smith broke off his five-year relationship with Kaci Campbell to pursue Morgan Lolar. However, almost a year after proposing to Lolar, Smith cheated, and the two parted ways.
Even though Lolar wasn't supportive of Campbell when she went through her breakup, the Los Angeles native sent the real estate agent encouraging words after her split with Smith.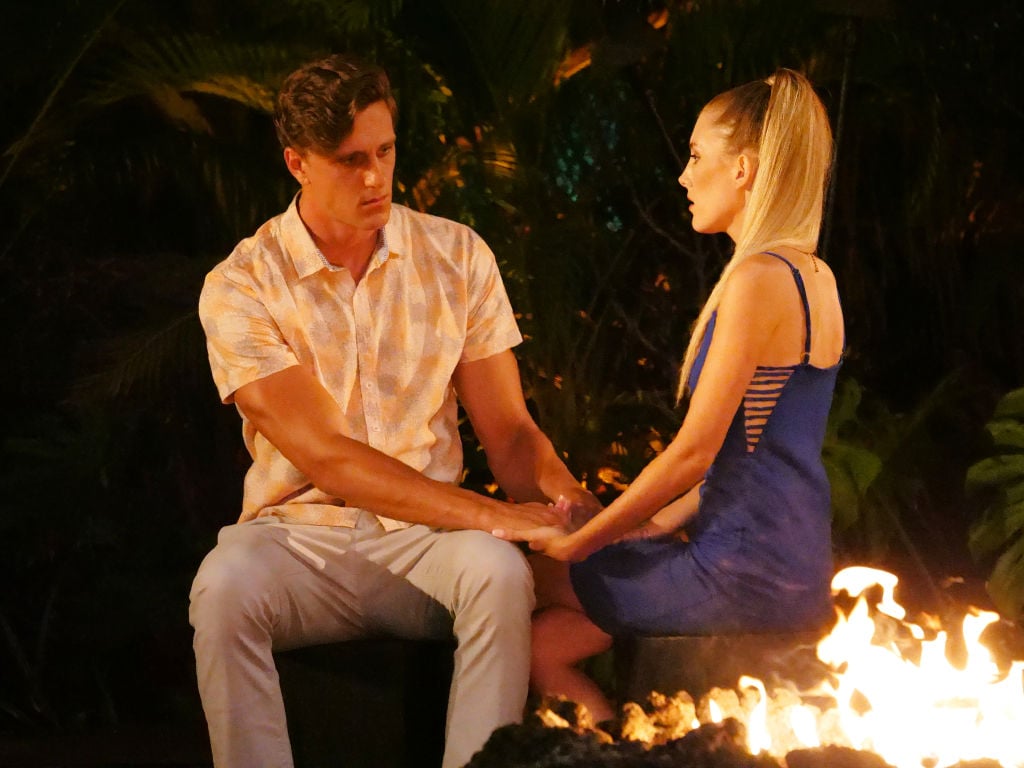 Evan Smith broke up with Kaci Campbell for Morgan Lolar
In September 2018, Los Angeles-based couple Kaci Campbell and her then-boyfriend, Evan Smith, appeared on the first season of USA Network's Temptation Island.
The two had been in each other's lives for nearly a decade, exclusively dated for five, and Campbell wanted a ring. Smith intended to prove himself to his girlfriend, but he ended up falling for Virginia-based real estate agent, Morgan Lolar.
Throughout several bonfires, Campbell watched their relationship progress, until Smith ended their five-year relationship at one of the most memorable Final Bonfires.
He immediately moved out of their home and across the country to Lolar's apartment, and then proposed only six months later. After nearly a year-and-a-half relationship, the couple parted ways.
Evan Smith and Morgan Lolar broke up
While the couple planned on moving to California together, Lolar revealed her fiance left earlier and cheated on her with "21-year-old Instagram models."
She arrived in the Golden State in early February and began staying with Temptation Island co-star Erica Steinhauer. According to his Instagram, Smith has been living in a house with other social media influencers.
Ever since Lolar accused her ex-fiance of cheating, she has deleted all their pictures from her Instagram account and removed his name from her bio. They also both unfollowed each other on all social media platforms.
While Lolar has vocalized her feelings regarding the breakup, Smith didn't publicly comment on anything until nearly two months later. The former collegiate basketball player never confirmed or denied the cheating allegations, but did take responsibility for the breakup in an Instagram Question and Answer.
Lolar also did a Q&A where she revealed she lost weight during the breakup and said her friends and family helped her get through it.
Kaci Campbell has supported Morgan Lolar through her split
In the January 11th tweet, when she accused Smith of cheating, Lolar called herself a "dumb a*s" because "everyone saw it coming but me." Campbell replied to her tweet, writing, "You're not dumb. You were in love and wanted to believe in him."
She then chastised a follower who mocked Lolar and told them, "Be kind. No one deserves to go through this. Especially in the public eye." Lolar quote tweeted Campbell's encouraging tweet, and included, "You already know how I feel about believing him over you from the beginning."
The Los Angeles native responded that all is "forgiven," and she's "praying" for Lolar. A deleted tweet congratulated Campbell on being right about Smith from the beginning, and she replied that she "knew eventually the truth would come out."
Another follower accused Campbell of only being "comforting" to get with Smith, and she clapped back, "Ew, please delete this. Nobody wants Ethan back. Morgan and myself both will be in happy, healthy relationships with men who adore and cherish us."
The following day, Lolar tweeted she "honestly cannot fathom feeling any lower than I do right now," and Campbell encouraged her again, replying, "family family family you got this."
She also defended Lolar against people who accused them of faking their breakup to get on another show. Most recently, Campbell retweeted Lolar's assumed subtweet, "Sometimes I can't roll my eyes hard enough to express how f*****g ridiculous I think you are." She then replied, writing, "Bizarre." In a follow up tweet, Campbell noted, "We have more balls than he does baby. Keep hanging in there."
Overall, Temptation Island fans are happy that Campbell is encouraging Lolar, even though some think she has ulterior motives.