'Temptation Island' Host Mark L. Walberg Confirms Season 4: 'You Don't Wanna Miss It'
'Temptation Island' host Mark L. Walberg confirmed Season 4 in a recent video.
Temptation Island host Mark L. Walberg revealed production recently wrapped on Season 4 in a video filmed live from the location. While he didn't announce a premiere date, the host told viewers they "don't wanna miss it."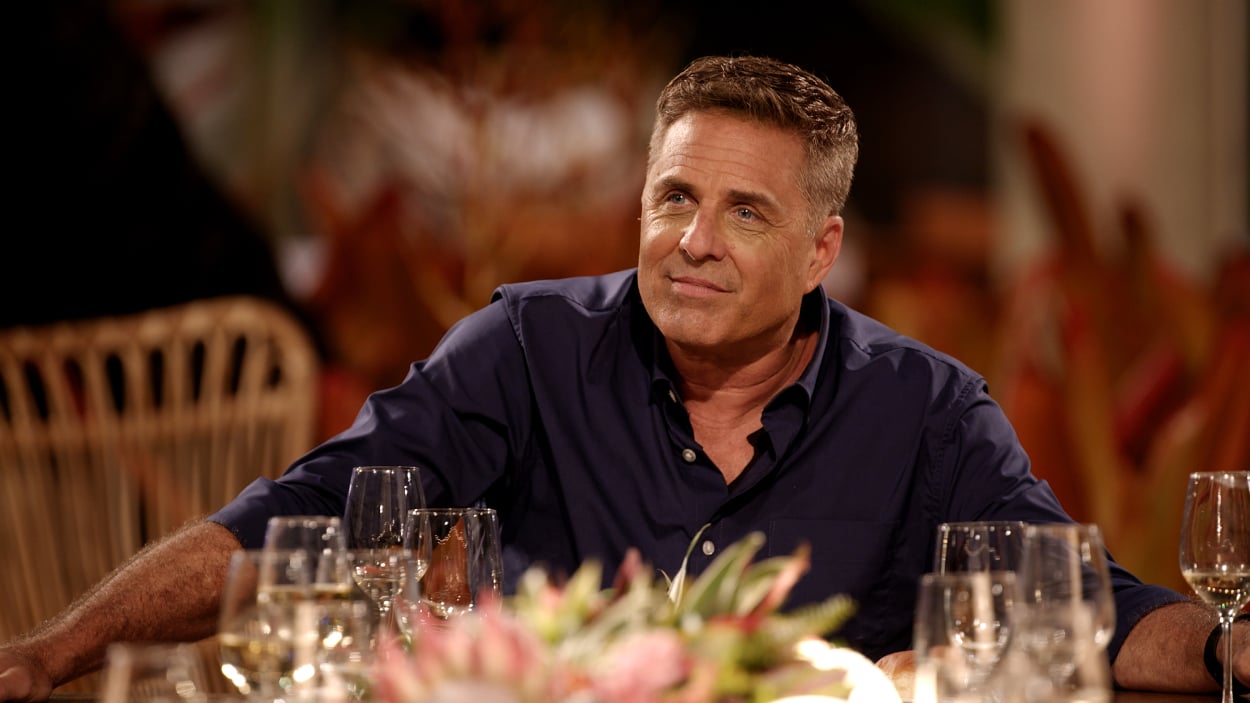 Host Mark Walberg says they're currently 'finishing up' on 'Temptation Island' Season 4
The reality show first premiered on Fox in 2001 with the controversial premise of bringing four couples to an island where they live in separate villas with several members of the opposite sex.
Although the first season had high ratings, they significantly fell for the next two, resulting in the cancellation. USA Network brought it back in 2019, presented by Mark L. Walberg, who also hosted the original series, and its Season 3 concluded in Apr. 2021.
Six months later, the host confirmed Temptation Island would return with another season. Filming live from the location, Walberg said the show is "back."
While he didn't give a premiere date, the host did say the production is "just finishing up right now" and promised a "great" season. He finished the 13-second clip with, "you don't wanna miss it because I've missed you."
Erica Washington and Kendal Kirkland are the only season 3 couple no longer together
Chelsea Orcutt and Thomas Gipson, who went on the show because she felt he flirted too much, decided to leave the island as a couple and are still together.
Although Erin Smith and Corey Sobczyk left the show an item, she didn't think he worked on himself enough and broke up with him at the reunion.
However, they reunited shortly later and are still dating. High school sweethearts Kristen Ramos and Julian Allen left the island as an engaged couple and are also currently together.
Erica Washington and Kendal Kirkland are the only ones from Season 3 who didn't last. She left him at the final bonfire and seemingly hasn't gotten back with him.
None of the couples from 'Temptation Island' season 2 are still together
Throughout his time on the show, David Benavidez fell for a single, Toneata Morgan, ultimately choosing to leave the island with her.
However, they split shortly afterward, and he and Kate Griffith reunited. The two are no longer together. Esonica Veira also picked a single, Kareem Thomas, over her boyfriend Gavin Rocker, but it didn't work out.
Casey Starchak proposed to his girlfriend Ashley Howland at the final bonfire, but she rejected it, not believing he truly meant it. Instead, she chose Ben Knobloch. However, the two didn't last.
Finally, Ashley Goldson and Rick Fleur left the island as an item, but they have since decided to call it quits.
Season 1's Javen Butler and Shari Ligons are the only ones still together
John Thurmond and Kady Krambeer both fell for other singles throughout their time on the show, but they chose to leave the island alone.
At the final bonfire, Evan Smith infamously dumped his longtime girlfriend Kaci Campbell and proposed to single Morgan Lolar six months later.
However, the two separated nearly two years later. After ending their relationship on the show, Karl Collins and Nicole Tutewohl eventually got back together before recently ending things.
A couple of eight years before appearing on the show, Javen Butler and Shari Ligons left as an engaged couple. It seems they are still together. Temptation Island airs on USA Network.