'Temptation Island' Star Morgan Lolar Reveals How Evan Smith Conned Her Into Financially Supporting Him
'Temptation Island' star Morgan Lolar exposed her ex Evan Smith as a con artist, manipulator, and narcissist in tell-all YouTube video.
Morgan Lolar and Evan Smith met in late 2018 while filming reality series Temptation Island. Evan ended his five-year relationship to be with Morgan and proposed to her six months later. However, he abruptly left her a couple of days after Christmas 2019. Morgan broke her silence on the breakup in a July 2020 YouTube video, exposing her ex as a con artist, manipulator, and narcissist. She also explained how he conned her into financially supporting him throughout their entire relationship.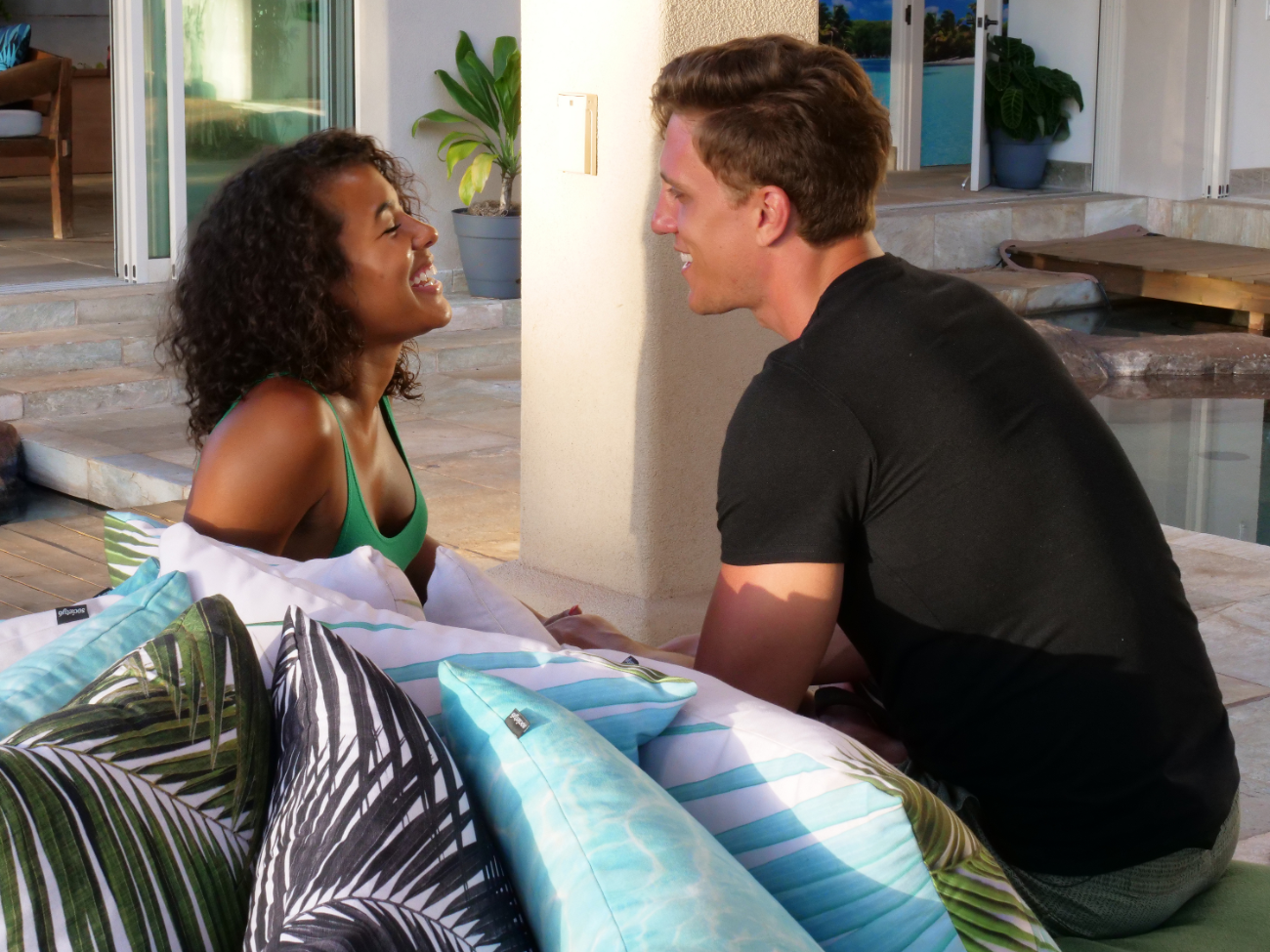 Evan Smith claimed he was a millionaire on 'Temptation Island'
When then 27-year-old Arlington-based realtor Morgan Lolar met then 28-year-old Los Angeles native Evan Smith, she initially didn't like him because he always "bragged about his accomplishments" which turned out to be lies.
For example, Evan claimed he owned three Hawaii-based mansions that he allows his mom and brothers to live on for free, owns restaurant chains, accrued millions of dollars in bitcoin, and has three million dollars in a German trust fund that he can't access until 2020. However, he claimed his then-girlfriend of five years continually stole from him.
According to Morgan, she didn't question what he said because she thought production would "fact check" him as no one had their phones. Additionally, they believed Evan as well and nicknamed him "bitcoin baby."
Even though the LA native claimed to have all this money, Morgan stated she began to fall in love with him when he explained how he uses his "wealth" to provide for his family.
Morgan Lolar supported Evan Smith financially
When the two received their phones back from the production crew, Morgan claims Evan checked his bank information and immediately accused his ex of "draining" his account and turning his phone off.
Therefore, the Virginia-native paid for them to stay a few extra days in Hawaii after filming ended as well as the trips to LA and her hometown. She also noted he carried around a credit card with a worn-down strip and card reader so the machine couldn't read it.
He would then promise to pay her back once he accessed his deceased dad's trust fund in 2020. Ironically, he left her on December 27, 2019. She admitted the situation was extremely embarrassing for her and felt that he faked their entire relationship.
How Morgan Lolar found out Evan Smith's lies
The realtor described their relationship as "really good" for nearly a year after moving in together. However, once they became more serious as a couple, Morgan noted his attitude began to change because his lies were going to come out soon.
In August 2019, 11 months after Temptation Island ended, Evan's mom called Morgan's mom because she felt he was going through a depression. Morgan's mother explained his stress might come from taking care of his family, and Evan's mother revealed she frequently sent him money, not the other way around.
All of his lies came out in the phone call, and she asked Morgan not to leave Evan because "he needs you." She never thought about leaving Evan, even after realizing he lied about everything because they were engaged. However, she felt like his mother was "putting the burden off on her."
According to Morgan, everything changed after that phone call. She says she will release a second video detailing what happened after the call until their separate move to LA soon.