'Temptation Island' Morgan Lolar Revealed She Made a 'Mistake' by 'Never Expecting Anything' From Evan Smith
Temptation Island couple Morgan Lolar and Evan Smith broke up around a month ago when the former basketball star reportedly cheated on his fiance with "21-year-old Instagram models."
Despite the breakup, they both recently relocated to California. For Valentine's Day, Lolar hung out with co-star Erica Steinhauer and admitted the holiday felt "like every other day in 2019" because she "bought dinner and didn't get flowers or gifts of any kind."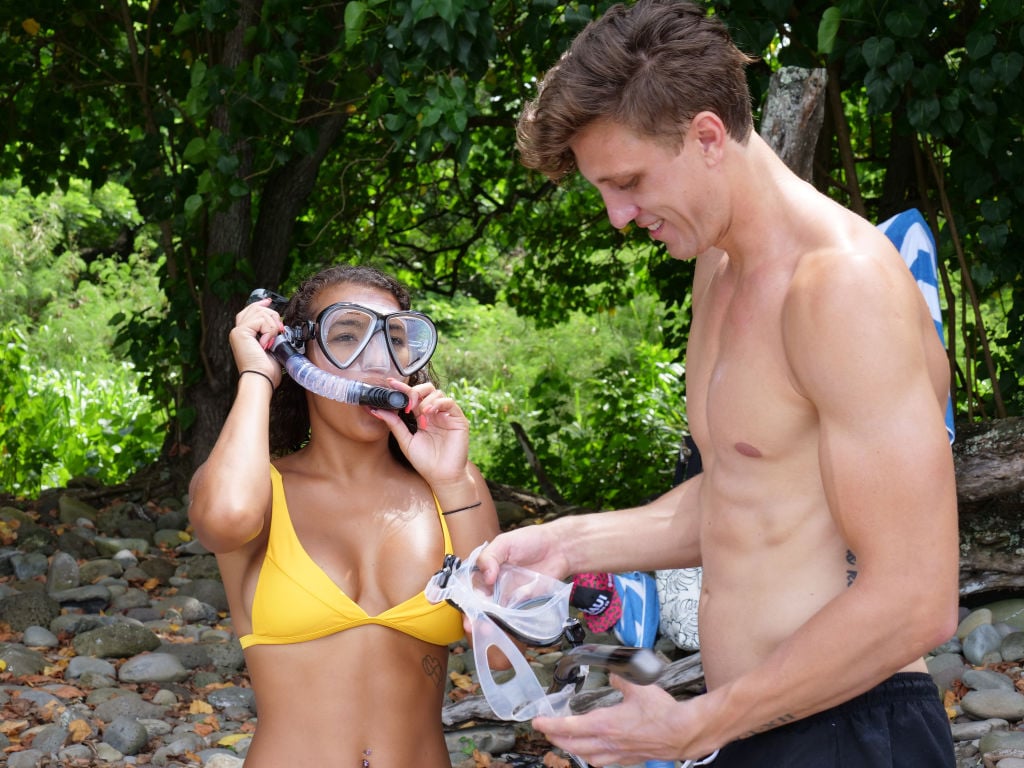 She also admitted she "never expected anything" from her then-fiance, which might have been her "mistake."
Morgan Lolar and Evan Smith on 'Temptation Island'
Wanting her boyfriend of five years to propose to her, Kaci Campbell brought Evan Smith to Temptation Island. Even though the former collegiate basketball player came to the show to prove himself to his girlfriend, he quickly fell for Virginia-based real estate agent, Morgan Lolar.
Their relationship progressed throughout their stay on the island, and Smith asked Lolar to be his girlfriend. He chose not to send a 30-second clip to Campbell regarding his newfound feelings and instead broke up with her at the Final Bonfire.
Smith then decided to leave the Los Angeles home he shared with Campbell and moved in with the real estate agent on the East Coast. Six months later, in March 2019, Smith proposed to Lolar.
However, after about seven months of engagement, the former basketball star left for California to "work" and reportedly had "nightly sleepovers with 21-year-old Instagram models," causing Lolar to end their relationship.
Morgan Lolar and Evan Smith broke up
On January 2, 2020, the real estate agent abruptly deleted every picture on her Instagram that included her ex-fiance. She also unfollowed him, removed his name from her bio, and eliminated virtually all traces of Smith on her social media.
Even though her actions made their breakup evident, Lolar stayed mum until a little over a week later when she revealed Smith went to California early and cheated on her.
She admitted she felt "played' and surprisingly, Campbell comforted her on Twitter. In the weeks that followed, many fans began accusing the Temptation Island couple of faking their break up so they could appear on MTV's Ex on the Beach due to Lolar's bizarre behavior and their self-professed desire to compete on The Challenge.
However, Lolar debunked those theories. During the breakup, Smith has not made any comment and still has his pictures with his ex-fiance visible on his Instagram, although he did remove her name from his bio. The two are also not following each other on any form of social media.
Morgan Lolar revealed she 'never expected anything' from Evan Smith
On the other hand, Lolar vocalizes her feelings on social media and admitted she cried for "weeks" after she became aware of Smith's infidelity.
In another tweet, Lolar claimed this Valentine's Day wasn't different from "every other day of 2019" because she "bought dinner and didn't get flowers or gifts of any kind."
When a follower expressed how "sad" they were "to hear this," Lolar responded, "I never expected anything from him, which was my mistake, I guess. I never ever ever faked any emotions with him, and I was most certainly happy at the reunion."
Temptation Island star Karl Collins also replied to her post and asked if she "got the D," to which Lolar responded, "at least that was always available."