'Temptation Island' Morgan Lolar Reacts to Evan Smith Taking Responsibility for Their Breakup
After almost a year of engagement, Temptation Island couple Morgan Lolar and Evan Smith split after she accused him of cheating on her with "21-year-old Instagram models."
For over a month, the former collegiate basketball player stayed mum regarding the situation before he finally seemingly took responsibility for their breakup in an Instagram Q&A. Lolar then took to Twitter to express her feelings towards his answers.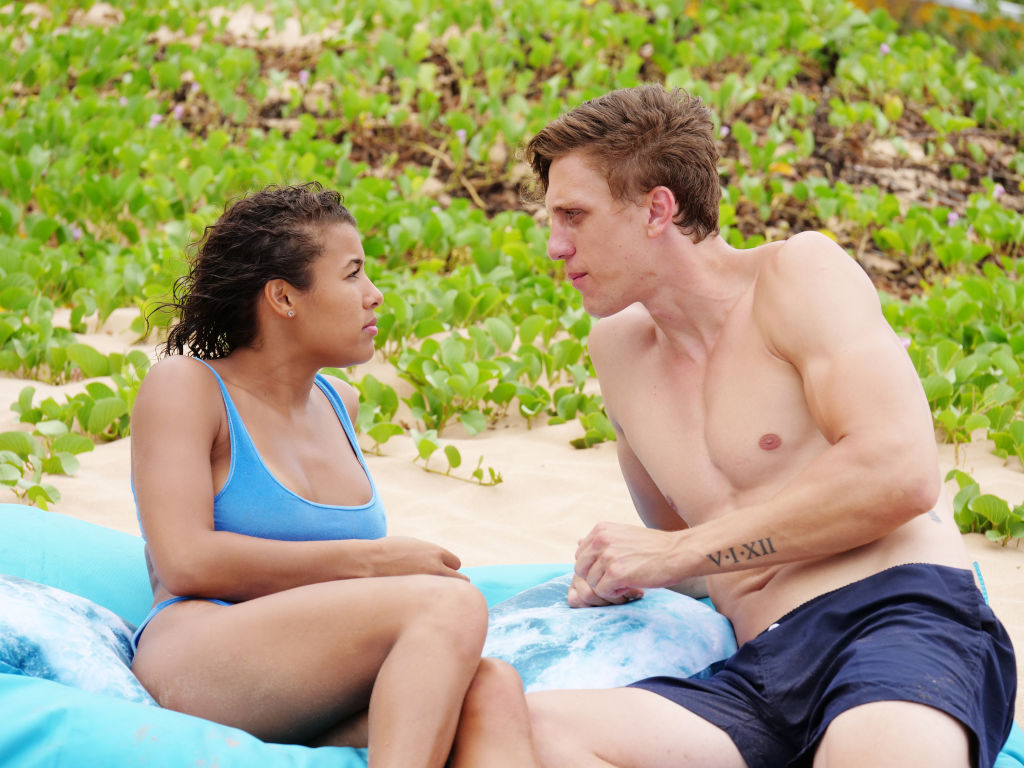 'Temptation Island' couple Morgan Lolar and Evan Smith breakup
In September 2018, Evan Smith arrived at Temptation Island alongside his then-girlfriend, Kaci Campbell. Although he intended on leaving proposed to Campbell, he quickly fell for Virginia-based real estate agent, Morgan Lolar.
At the Final Bonfire, Smith ended his five-year relationship and moved out of their Los Angeles' place to Lolar's apartment. Six months later, the former collegiate basketball player proposed.
The engaged couple then announced their plan to move to California in late 2019. However, Lolar signified something went wrong by deleting all her pictures with Smith from her Instagram account on January 2, 2020.
A week later, she revealed her fiance left for California earlier and cheated on her by having "nightly sleepovers with 21-year-old Instagram models." Lolar arrived in the Golden State in early February and admitted she's "technically homeless" as she's currently living with friend and Temptation Island co-star, Erica Steinhauer.
According to his Instagram, Smith has been staying in a house with other social media influencers but didn't make any public comment regarding his split with Lolar until over a month later.
Evan Smith took responsibility for the breakup with Morgan Lolar
On February 22, 2020, Smith finally, somewhat, addressed the situation in an Instagram question and answer. Without going in detail, he stated, "every relationship has its highs and its lows. In all honesty. The lows mostly stem from my end. Working on a whole lot right now. I need it."
He also said it's "harder than you think" to be "transparent" and revealed he didn't delete all his Instagram pictures with Lolar because he "loves those photos."
Another follower asked about Smith's current mental health, and he admitted it's "pretty awful, but I'm working on it and taking steps to deal with it."
The former basketball star also said he has a history with mental health, which he will speak about "in the future." While Smith never said anything about the cheating allegation, he did confirm he did not cheat with the girl he recently featured in an Instagram story.
Morgan Lolar reacted to Evan Smith's response
A few hours after Smith Instagram storied his answers, Lolar seemingly subtweeted him on Twitter, writing, "Sometimes I feel like I can't roll my eyes hard enough to express how f*****g ridiculous I think you are."
A follower replied and explained they "see it as a big plus on his part" that Smith addressed his mental health. In response to another user, the follower wondered if the former basketball star "refused to work on his issues with a healthcare professional," and Lolar "liked" that tweet.
In a follow-up tweet, the follower wrote, "I will take that as a 'yes' Morgan, being you liked my tweet here, and I find that very sad but not surprised. As I said before, the nature of the beast, men not addressing their mental health sadly."
Lolar also "liked" that tweet. Additionally, the Temptation Island star "liked" a couple of more encouraging tweets, including one telling her she "dodged a bullet."