'Temptation Island': Many Fans Think Only One Couple Will Stay Together After Final Bonfire
Following the premiere episode of Temptation Island season 3, several fans shared which couples they thought would continue their relationship after the final bonfire. Similar to last season, many viewers believe only one couple will leave the island together.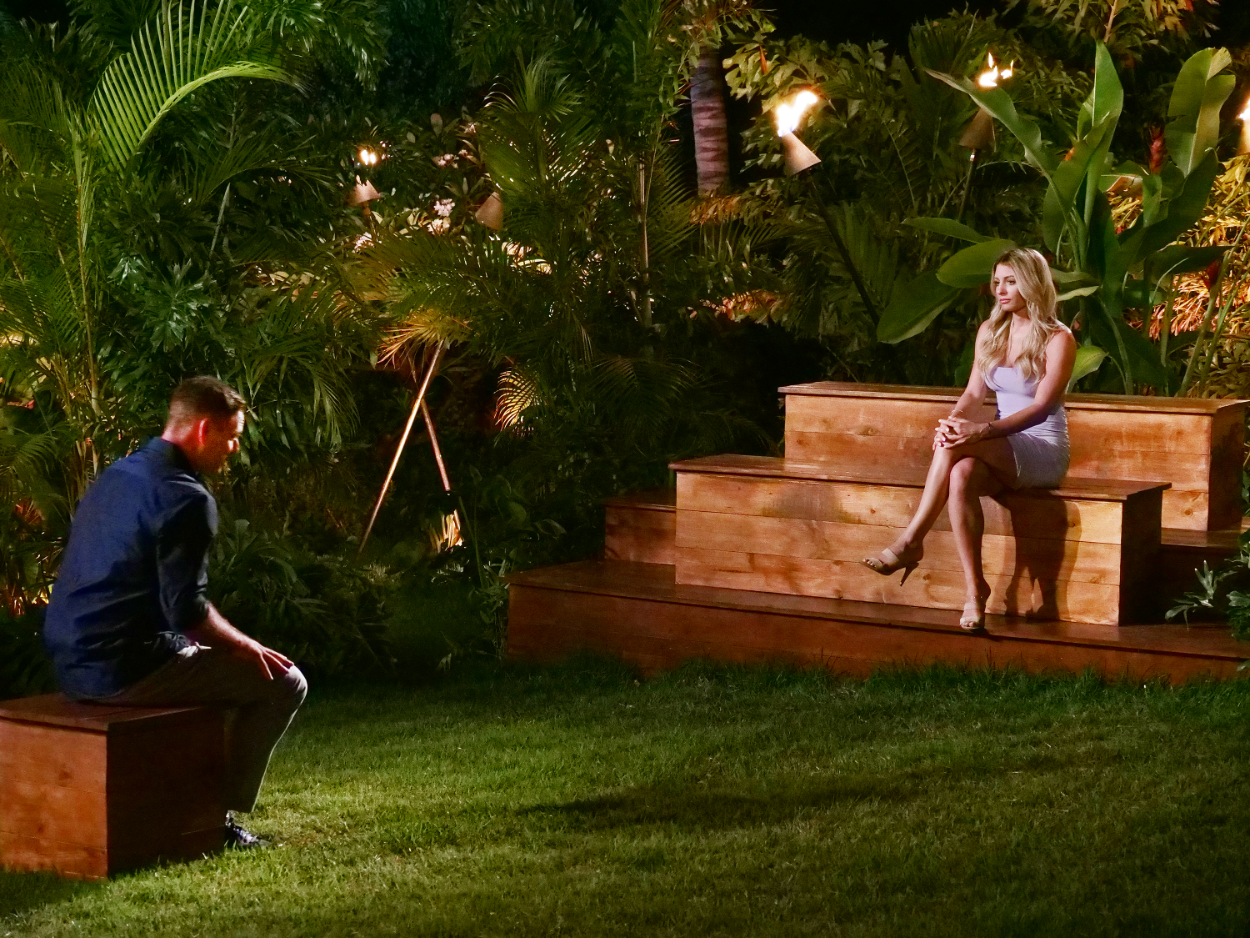 Corey Orcutt and Erin Gipson
Following a history of dating professional athletes, Erin fell for her boss at the time, Corey. Even though their relationship began strong, she has started to feel that her outgoing personality doesn't mesh with his more reserved persona.
Additionally, he feels she compares him to her previous boyfriends, creating insecurities in him. Wanting to see if they're right for each other, Erin decided they should experience the island.
RELATED: 'Temptation Island' Season 3: Who Are the 23 Singles Joining the Couples?
The couple already seemed doomed, as many fans think Erin already mentally broke him up with him before the show.
One Reddit user noted they thought the former soccer player would likely move on to a guy she deems her "type," and another agreed, believing she would get physical with a single before Corey. 
Erica Washington and Kendal Kirkland
The young couple has been together for a little over two years, and he is questioning if she's the woman for him. Kendal expects his partner to aim for perfection like him, but she has a hard time finishing everything she starts.
They chose to join the experiment with no rules as they want to truly find out if they're meant for each other. Several fans believe the couple won't make it as they think Kendal's already ready to experience other women.
RELATED: 'Temptation Island': When Does Season 3 Premiere and Who Are the Couples?
Others feel the two don't care for each other enough to make it through the season. Most fans are positive Kendall will get physical with someone first as they thought he already moved on before saying their last goodbye.
Several fans don't like how Kendal treats Erica and hopes she leaves him at their final bonfire.
Chelsea Orcutt and Thomas Gipson
Due to Thomas's flirty nature and habit of staring at women while they're together, Chelsea fears he will eventually walk out on her. Additionally, this is his first serious relationship at the age of 37.
Therefore, they went to the island to put their love to the ultimate test. One fan doesn't think he will hook up with a single but believes his likely flirting with them will cause Chelsea to walk away.
RELATED: 'Temptation Island': Morgan Lolar Exposes Evan Smith as a 'Master Manipulator' in Tell-All YouTube Video
While some viewers think Thomas is to blame for her insecurities, others believe she already has confidence issues causing her not to trust her boyfriend when he hasn't cheated.
Kristen Ramos and Julian Allen
The high school sweethearts have been through ups and downs over their 11-year relationship, including his infidelity. Due to his past cheating, Kristen doesn't know if she can ever fully trust her boyfriend again.
As a result, Julian hasn't proposed, although he feels he's ready to take the next step. According to several fans, they will likely make it following the final bonfire, probably becoming the only couple to remain together.
RELATED: 'Temptation Island' Stars Karl Collins and Nicole Tutewhol Back Together After a Year-Long Break
One viewer believes Julian has realized his mistakes and does want to marry Kristen so the other women won't tempt him to cross the line. Another fan noted that while he'll likely remain faithful, she might get physical with someone on the island as revenge.
On the other hand, one user is convinced that Julian will probably "betray her trust" in some way, causing Kristen to end things. Which couples will pass the test, and who will call it quits? Temptation Island airs Tuesday at 10/9 Central on USA Network.