'Temptation Island': What Is the Premise of the Dating Series?
Rebooted USA Network reality dating experiment Temptation Island encourages couples to date singles while their significant others are several feet away in another villa, watching clips of their actions at weekly bonfires. Hosted by Mark L. Walberg, the series is currently in its third season. What is the premise of the show, and which couples are still together?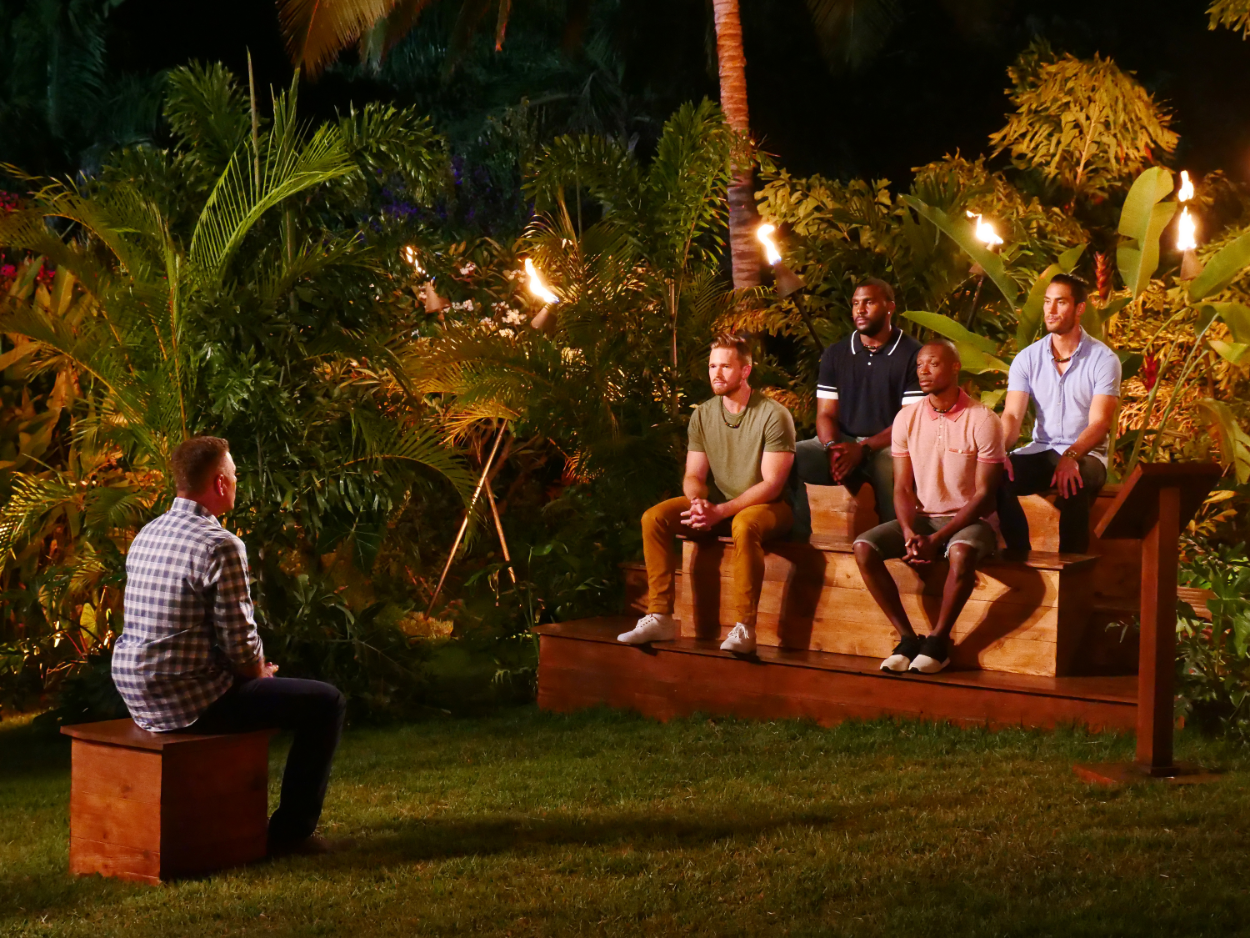 What is 'Temptation Island' about?
The rebooted dating series revolves around four couples who have reached a crossroads in their relationship and aren't sure if the other is the perfect person for them anymore.
Therefore, they split up for a month and live in villas filled with several members of the opposite sex who are also looking for love. Every week, those who came in with a relationship choose a single they're enjoying in the house for a one-on-one date to build their bond.
RELATED: 'Temptation Island': Morgan Lolar Explains Why the Singles Feel Disrespected When Couples Avoid Them
Following the dates, the couples then attend bonfires and must watch clips of the other, usually hooking up or establishing a connection with a single. Throughout their time on the island, the couples figure out what they're missing and personal problems causing issues in their relationship.
By the end of the month, they reconvene and figure out if they want to leave as a couple, single, or with someone they met on the island. Three seasons of the reality television experiment, also hosted by Mark L. Walberg, aired from 2001 until 2003. USA Network revamped the show in 2019, and it's currently airing the third season.
Are the couples from season 1 still together?
California-based couple Javen Butler and Shari Ligons became engaged on the show and continued their lives together. Although they seemingly broke up in Jan. 2020 due to Ligons allegedly hooking up with a single Justin Sturm, the couple is currently together.
Both of their Instagram accounts are set to private. Nicole Tutewohl and Karl Collins left single but reunited a year later and are still together. Both John Thurmond and Kady Krambeer determined they would end their relationship before reconvening and moved on to others in the villas.
RELATED: 'Temptation Island': Morgan Lolar Exposes Evan Smith as a 'Master Manipulator' in Tell-All YouTube Video
However, the two are both currently single. Finally, Evan Smith memorably broke up with his five-year girlfriend, Kaci Campbell, for single Morgan Lolar and proposed six months later.
They later broke up in Jan. 2020, and she released a series of YouTube videos detailing their relationship and how he reportedly manipulated her. Evan, Morgan, and Kaci are single.
Are any couples from 'Temptation Island' season 2 still together?
After David Benavidez established a relationship with Toneta Morgan, he left his girlfriend, Kate Griffith, for her. However, the two quickly broke up, and he reunited with Kate.
They dated for several months before splitting for good. Although Esonica Veira thought she found her dream man in Kareem Thomas, the two didn't make it due to distance.
RELATED: Gavin Rocker Opened up About Relationship With Esonica Veira and Why He 'Can't Respect' Her Anymore
She and ex Gavin Rocker are currently single. Once Ashley Howland believed Casey Starchak didn't care about their relationship, she decided to immerse herself in the experience and walked away with Ben Knobloch, even though Casey proposed to her, but the two didn't work out.
All three are single. Ashley Goldson and Rick Fleur were the only ones to leave together during season 2, but they didn't make it either. Temptation Island airs Tuesdays at 10/9 Central on USA Network.