'Temptation Island' Season 2 Star David Benavidez 'Set the Record Straight' About His Alleged Threesome
On USA Networks' Temptation Island, couples separate and live in beach houses with the opposite sex as a test to their relationship. Because David Benavidez and Kate Griffith have been unfaithful in past relationships, they don't fully trust each other, so they decided to participate in the reality show experiment.
In the most recent episode, Benavidez alleged had a threesome with two women. However, he took to Instagram to set the record straight about what really happened that night.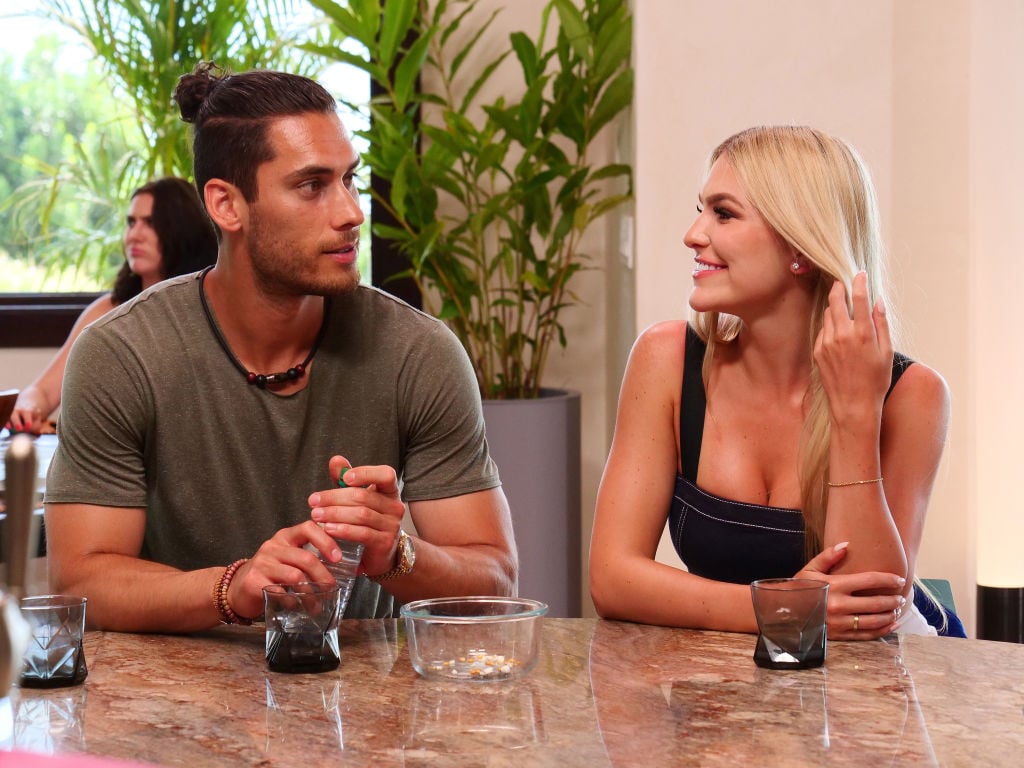 David Benavidez and Kate Griffith on 'Temptation Island' Season 2
Before appearing on Temptation Island, David Benavidez and Kate Griffith lived together and dated for three years. Even though they claim they have been faithful to each other during their relationship, both parties have cheated on others in the past.
Therefore, they came to the island with extreme trust issues. Additionally, Griffith is ready for marriage and children, whereas Benavidez is hesitant to make such a heavy commitment.
According to Griffith, her boyfriend begged her to participate in Temptation Island so he could prove how serious he is about her. Despite Griffith remaining very faithful to Benavidez on the show, he has already had a questionable moment with Toneata Morgan in the hot tub and an alleged threesome.
David Benavidez had a possible threesome on 'Temptation Island' Season 2 Episode 4
After the boys took their love interests on dates, Payton Burgess confronted Casey Starchak for not selecting her because she felt they had a connection. Starchak felt it also but didn't want to get too close to her as he does still have a girlfriend, so he pushed Burgess away.
That night, they had a blackout turned glow party where everyone finally let their guards down. Gavin Rocker was in the hot tub sucking Burgess' toes while Rick Fleur and Medinah Ali made out.
As this was going on, Benavidez and Samantha Hoffman went to his room to change into their bathing suits. Instead, they ended up naked in the shower. After Hoffman lathered Benavidez's body up with soap, they rinsed off and invited Burgess to join them.
Almost immediately after she entered his room, Benavidez asked her to get naked and exposed himself to her. In the confessional, Burgess admitted she wasn't attracted to Benavidez but was feeling frustrated with Starchak and "down for a good time."
Therefore, she undressed and got into the bed with an already naked Benavidez and Hoffman. The episode ended with Burgess lying on top of Benavidez and making out with him, while Hoffman cheered her on.
Even though it seems pretty straightforward what happened that night, Benavidez took to his newly created Instagram page to defend his actions.
David Benavidez took to social media to defend himself
Before the episode began, Benavidez posted on Instagram, "Episode 4 will not be easy to watch for me or anyone I care about – especially and most importantly, Kate.
I will be going on IG Live after the episode for anyone that is interested in discussing perception vs. reality." After the episode ended, he posted another screenshot of text, writing, "Wish I could've given everyone the full version of events to set the record straight on what happened, but unfortunately, when lawyers get involved, not much I can do."
A follower commented, "Just know we are only getting what producers want us to see and what makes good TV. Smart people will know this," and he responded with the red 100 emoji.
Six hours later, he uploaded more text with four points explaining his behavior that night. "1) I did not have sex with Peyton or Sam that night. 2) I did not do anything more with Peyton that night than kiss her. 3) I did not kiss or hookup with Sam that night. 4) None of these statements condone what I did do that night – which is go against everything I told Kate I wanted to go to TI to do. It's really hard to see this play out months later and see the pain Kate went through. I take full responsibility and regret it all and hope you will get to see that in future episodes."
He finally uploaded one last post ten hours later, writing, "Would like to think everyone is smart enough to notice the outfit that someone is wearing in interviews. Think you can interpret what I mean by that."
Unfortunately, it's unclear what any of his explanations mean, so viewers will have to continue watching to see if he and Griffith end up together.