'Temptation Island' Season 2 Star Ashley Howland Revealed Where She 'Drew the Line' With Casey Starchak
Casey Starchak asked his girlfriend of almost two years, Ashley Howland, to test their relationship in Hawaii on USA Network's Temptation Island Season 2. On the reality television show, four dating couples split up and enjoy the "single life" with 24 of the most eligible men and women.
After hearing Starchak say he wouldn't care if their relationship ended, Howland "drew the line" and began a romance with Ben Knobloch. In an interview with Pop Culture, she opened about Starchak's hurtful words and getting close to Knobloch.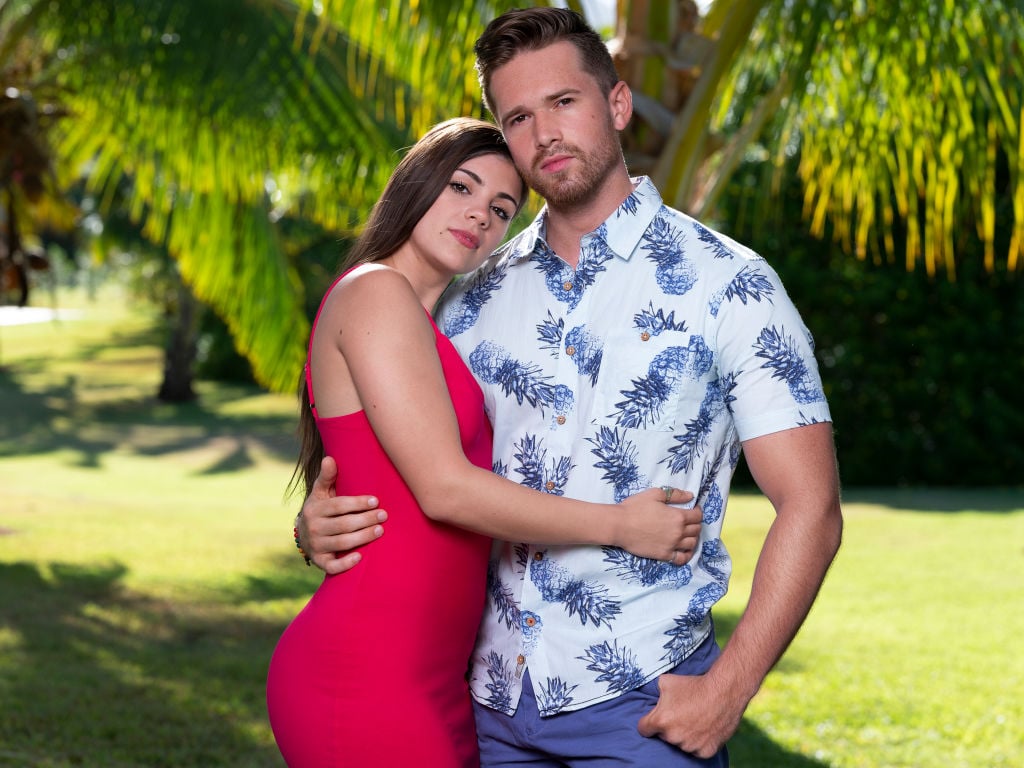 Ashley Howland and Casey Starchak on 'Temptation Island' Season 2
The Florida based couple met on a dating app, and even though Starchak wasn't looking for anything serious, he chose to settle down with Howland. However, after the two moved in with each other, their relationship became plagued with commitment, and trust issues as Starchak's party-boy past worried Howland he would hurt her like other men. Therefore, he brought his girlfriend to Temptation Island to put their relationship through the ultimate test.
When they arrived at the island, it seemed like they were the strongest couple there and would leave with each other. Even though Starchak walked around naked, covered only by an apron, and flirted with Payton Burgess, he remained "un-temptable."
In the Girl's Villa, Ben Knobloch and Deac Conti competed for the attention of Howland. However, she kept them at arm' s-length distance and remained focused on her relationship until hearing Starchak say he would be content going back to his party ways if Howland left him.
Ashley Howland seemingly falls for Ben Knobloch on 'Temptation Island' Season 2
Devastated by his words, Howland leaned on Knobloch, and they shared a meaningful kiss. The couple also spent the night together, which shocked Starchak, who was certain Howland would come back to him.
Howland and Knobloch continued strengthening their relationship, and she blatantly chose him over Conti. In the most recent episode, Howland sent a video message to Starchak explaining that she was working on herself and hoped he's doing the same.
However, she didn't tell him she loved him, which stuck out to Starchak and caused him to break down crying. In his video, he told Howland he's changed and wants to marry her. Even though she wanted to hear those words for so long, it seemed like they came a little too late.
Ashley Howland opened up about her 'Temptation Island' Season 2 experience
When Howland first began her Temptation Island journey, she admitted she was focused on their relationship and more concerned about him getting tempted. However, after he revealed he wouldn't mind going back to his party boy ways, that's where she "drew the line."
In an interview with Pop Culture, she said that revelation ended their relationship. It was a little bit easier for her to move on with Knobloch's help. However, she admitted her feelings and mixed emotions towards Starchak made it hard to start a relationship with Knobloch on the island.
When it comes to Howland and Knobloch having a physical connection, which went against the rules she and Starchak set, Howland said, "If I would have seen him do what I did, I would have cried, a lot. But sometimes words stick with you more."