'Temptation Island' Season 3: Who Are the 23 Singles Joining the Couples?
'Temptation Island' returns with a new cast including 4 couples at a crossroads and 23 singles ready to fall in love. Who are they?
USA Network's reality dating experiment Temptation Island returns for a third season with a new cast ready to test their relationships. Who are the singles joining the couples in paradise?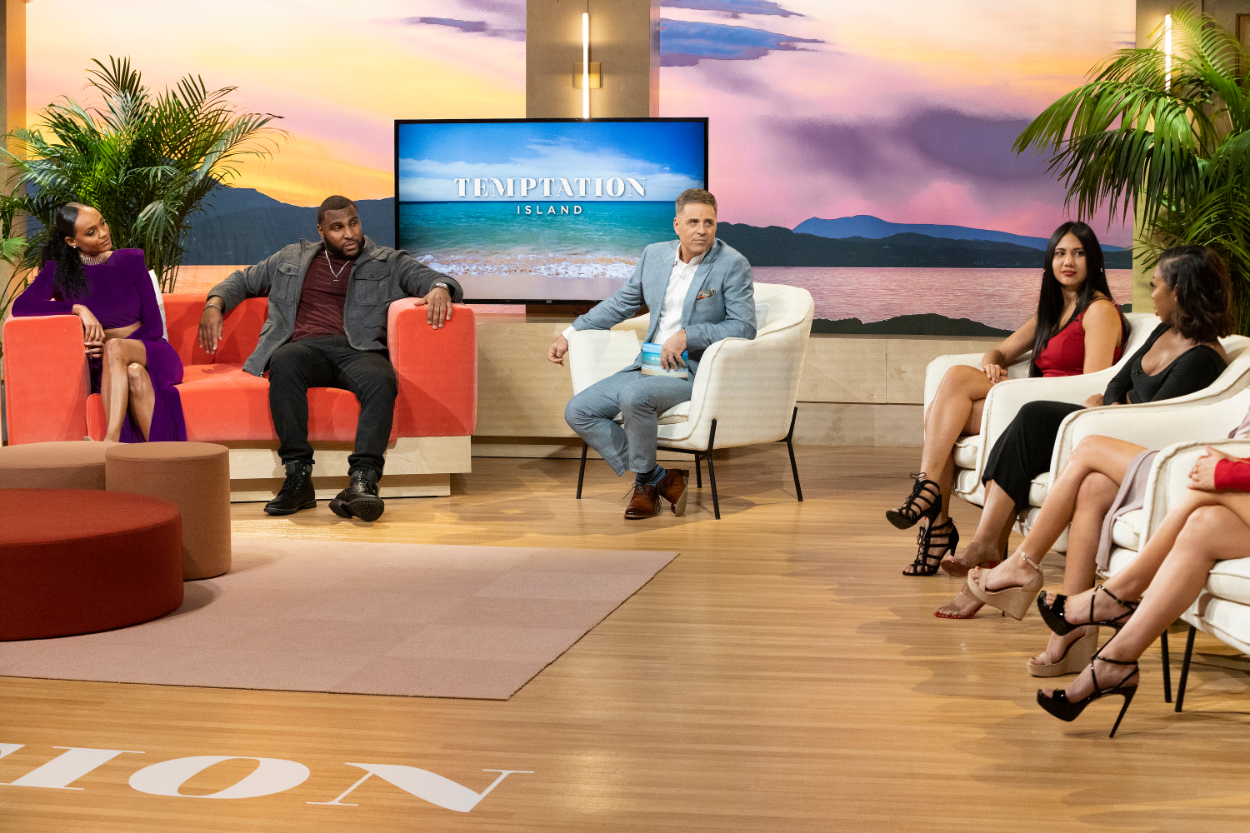 Who are the 'Temptation Island' season 3 couples?
Chelsea Orcutt, 29, and Thomas Gipson, 37
After dating for over a year, the West Hollywood-based couple decided to come to Temptation Island because she feels he flirts too much in social settings. She also worries his fear of commitment might lead him to eventually cheating on her. 
Erica Washington, 24, and Kendal Kirkland, 26
While 24-year-old Erica Washington believes 26-year-old Kendal Kirkland is the man of her dreams, he isn't sure she's the partner for him. Therefore, the couple of two years want to experience what the show offers to see if they're right for each other.
Erin Smith, 24, and Cory Sobczyk, 25
Due to Erin Smith's history of dating professional athletes and habit of comparing her boyfriends to each other, her boyfriend of two years, Corey Sobcyzk, has begun to lose his confidence. She wants to see if anything is lacking in her relationship while he wants to prove he's the man for her.
Kristen Ramos, 26, and Julian Allen, 26
The high school sweethearts began dating 11 years ago when they were 15-years-old but haven't sealed the deal because of his past infidelity. Admittedly unsure if she's able to let go of his mistakes, he hasn't been able to get on one knee. Therefore, the New Jersey-based couple is hoping the experience helps them move forward in their relationship or permanently end it.
Who are the 11 female singles joining the cast?
Alexcys Homan, 23
After being single for the past four years, the "self-proclaimed party girl" wants to find a genuine connection with someone who gives her what she feels she deserves.
Amanda Spain-Butts, 24
The microbiology student and bottle service waitress wants to find a meaningful relationship after leaving a toxic one.
Grace Hagan, 25
Now living in New York, the account executive who prefers tall, funny men is on the show looking to find love after spending time on dating apps.
Isabel Thanmithak, 27
Following an unhealthy relationship and a few event-filled years, Isabel signed up for the experiment to find a gentleman.
Katrina Koomen, 22
The young collegiate soccer player, who mainly dates older men, will join the couples and notes she will shamelessly pursue anyone she wants.
Lauryn Stewart, 27
Recently divorced, the personal trainer is open to falling in love again and arrives on the island searching for her potential perfect match.
Madilynn "Maddy" Brown, 24
The Virginia-based dancer has yet to find a boyfriend but wants to find someone she can settle down with following the experience.
Maya Morsi, 32
After not getting respect from previous partners, the self-proclaimed adrenaline junkie hopes to find a man who matches her intellectually. 
Nicole Ciszak, 22
The New Jersey native who admittedly falls hard for guys wants to find someone she can spend the rest of her life with on the island.
Sophia Perez, 22
Recently out of a relationship, the Miami party girl signed up for the experience looking for someone with whom she can move forward.
Lauren "Tula" Poindexter, 28
The former Miss Louisiana is looking for a fresh start after a failed engagement and hopes to find it on Temptation Island.
Who are the 12 guys joining the cast?
Alex Alvarez, 29
The country music lover who enjoys having a good time, Alex, has a stable job and ready to settle down with the perfect girl for him.
Dr. Blake Eyres, 34
The outdoorsy-dentist looks at Temptation Island as his next adventure and wants to prove he makes a good partner.
David Silvia, 27
After becoming a successful salesperson, the party boy is ready to put aside his partying ways and for the right woman.
Evan McFadden, 29
Following a devastating breakup with someone he dated for three years, the "mama's boy" wants to show off his qualities he brings to the table.
Griffin Libhart, 25
While the retired professional soccer player doesn't have any problems attracting females, he hasn't found the one. Therefore, the Maryland-based business owner signed up for Temptation Island, seeking a deeper connection.
Jesse Stephanos, 25
After being single for three years, the Florida-based business owner wants to find a girl who can keep up with his adventurous spirit.
Juwan Haynes, 25
Following a series of failed relationships, the former professional football player is looking for a woman he can start a family with and someone his mother approves.
Lex Lindquist, 28
The Miami based event planner hopes to find a woman who can keep his attention long enough to seriously date at Temptation Island.
Rocky Buttery, 31
Hoping to find a lady who enjoys working out as much as him, the 31-year-old model signed up for the experiment looking for his perfect match.
Shaquille Urie, 24
No longer pursuing professional football, the model and personal trainer wants to start his new life with a woman he meets on the island.
Tom Triola, 27
Nearing 30 and ready for commitment, the New Jersey-based family man hopes to find the right person to settle down within the villa.
Trent Jespersen, 30
The Florida based real estate agent hopes his thoughtful manner will attract someone on the island.
Temptation Island returns Feb. 16 at 10/9 Central on USA Network.