'Temptation Island' Star Samantha Hoffman Detailed Her Post-Show Relationship With David Benavidez
On Temptation Island Season 2, Samantha Hoffman and David Benavidez quickly developed a sexual connection before it went too far, and he chose to send her home.
In an hour-long podcast with Reality Steve, the flight attendant opened up about the infamous "threesome" and her relationship with David before the reunion.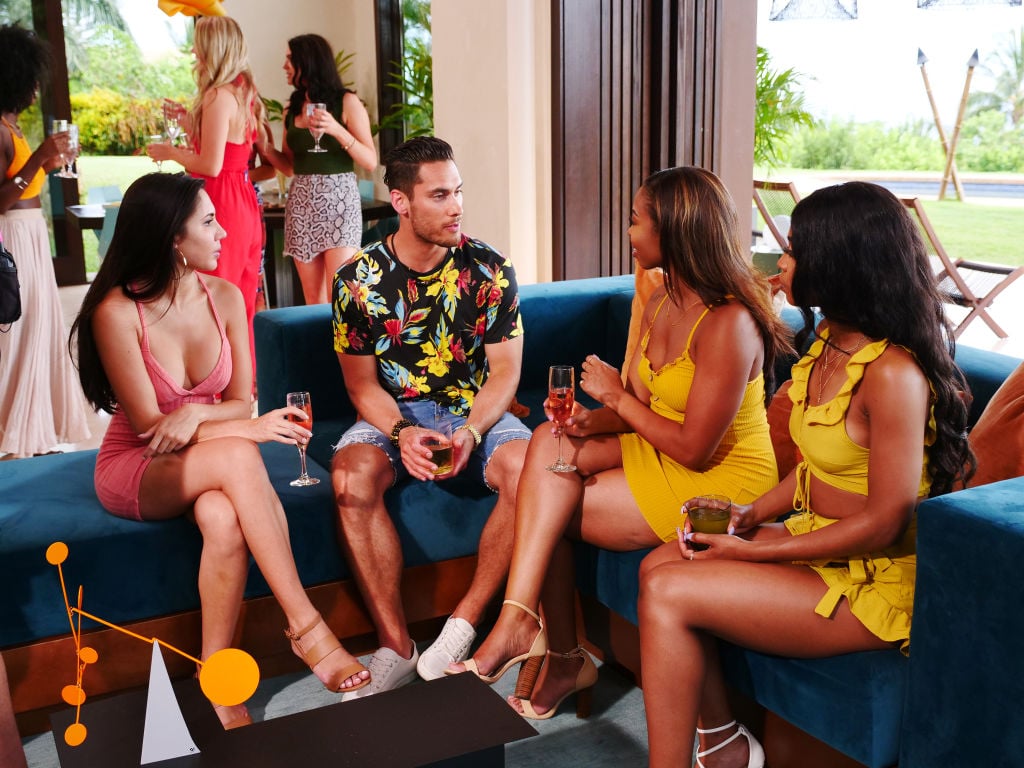 Samantha Hoffman and David Benavidez on 'Temptation Island' Season 2
When David Benavidez arrived on Temptation Island, single Samantha Hoffman almost immediately got the vibe that he wanted to break up with his girlfriend, Kate Griffith.
Therefore, she opened herself up to him, and they ended up showering together. She also engaged in what some people considered a threesome with David and Payton Burgess before he sent her home and pursued Toneta Morgan.
Even though the New Jersey native chose to leave the island with the model, things didn't work out between the couple. At the reunion, Toneta claimed David used her and only wanted to move to Los Angeles to become an actor.
Additionally, Samantha dropped a bomb that she and David had slept together since the show wrapped, while the New Jersey native vehemently denied her accusations.
Currently, David and Kate are seemingly working on their relationship. On Reality Steve's podcast, Samantha exclusively detailed everything from her time on the island until the reunion and her relationship with David.
Samantha Hoffman opens up about the infamous threesome
According to Samantha, during the Blackout Party, everyone was extremely intoxicated, and they were engaging in four-way make-out sessions and biting each other's butts.
Then, the flight attendant and David exchanged a kiss in the audio room, which he denied at the reunion, and they ended up showering together. As they showered, Samantha explained David spotted Payton and invited her into the room.
She maintained that only Payton and David shared a kiss, and no one had sex that night. While their actions didn't bother Samantha because everyone was "blacked out" drunk that night, she did note that she felt confused at the time before falling asleep in his bed.
Samantha also said she comforted David in the morning because he woke up "distraught" that he would look bad on television. According to the flight attendant, all three cast members were confused when their "threesome" popped up in the trailers promoting the show because it wasn't a part of anyone's storyline as he ended up choosing Toneta.
However, Samantha believes he "came there with a plan" and purposely picked someone other than the flight attendant to look better on television and control his storyline.
She explained that after the party, she talked to Toneta, and the ladies found out that David told them both the same things, including compliments about "wanting to see them in braids."
However, David and Toneta went on a date the next day, when the two became a "couple," so Samantha believes he told her something to get her back on his side.
Samantha Hoffman detailed her relationship with David Benavidez before the reunion
When David sent her home, Samantha said she left "with no hard feelings" and hung out with several other guys after filming ended. After linking up with David once in New Jersey, she went to Los Angeles for a couple of nights where they went to a bar, and he drunkenly told her that he regretted not leaving the island with her.
Samantha said she thought he would behave differently after the show, so they ended up sleeping together that night and continued to talk for a couple of weeks.
Then, he called and asked her if they could keep their relationship quiet until after the show aired, and Samantha agreed. However, when they received calls for the reunion, the flight attendant had a hard time lying about not seeing David, so she notified him to give him a heads-up.
According to Samantha, he got upset on the phone, and then she didn't hear him from him again. When the flight attendant contacted Dominique Price, who had a thing with Kate at the time, she realized their storylines matched from when Kate ghosted him, so she knew he and his long-time girlfriend got back together.
Samantha also said she contacted Kate after the reunion show and sent her "receipts" from David's house and Uber account to prove they were messing around, but the couple has blocked her.
While the two haven't been talking to anyone, Samantha claimed David called production and said he wanted to "come clean," but they told him he missed his chance at the reunion.