'Temptation Island': Which Couples Are Still Together?
The first two seasons of the rebooted reality dating series Temptation Island have followed a total of eight couples who are at crossroads in their relationships. How many of them have stayed together?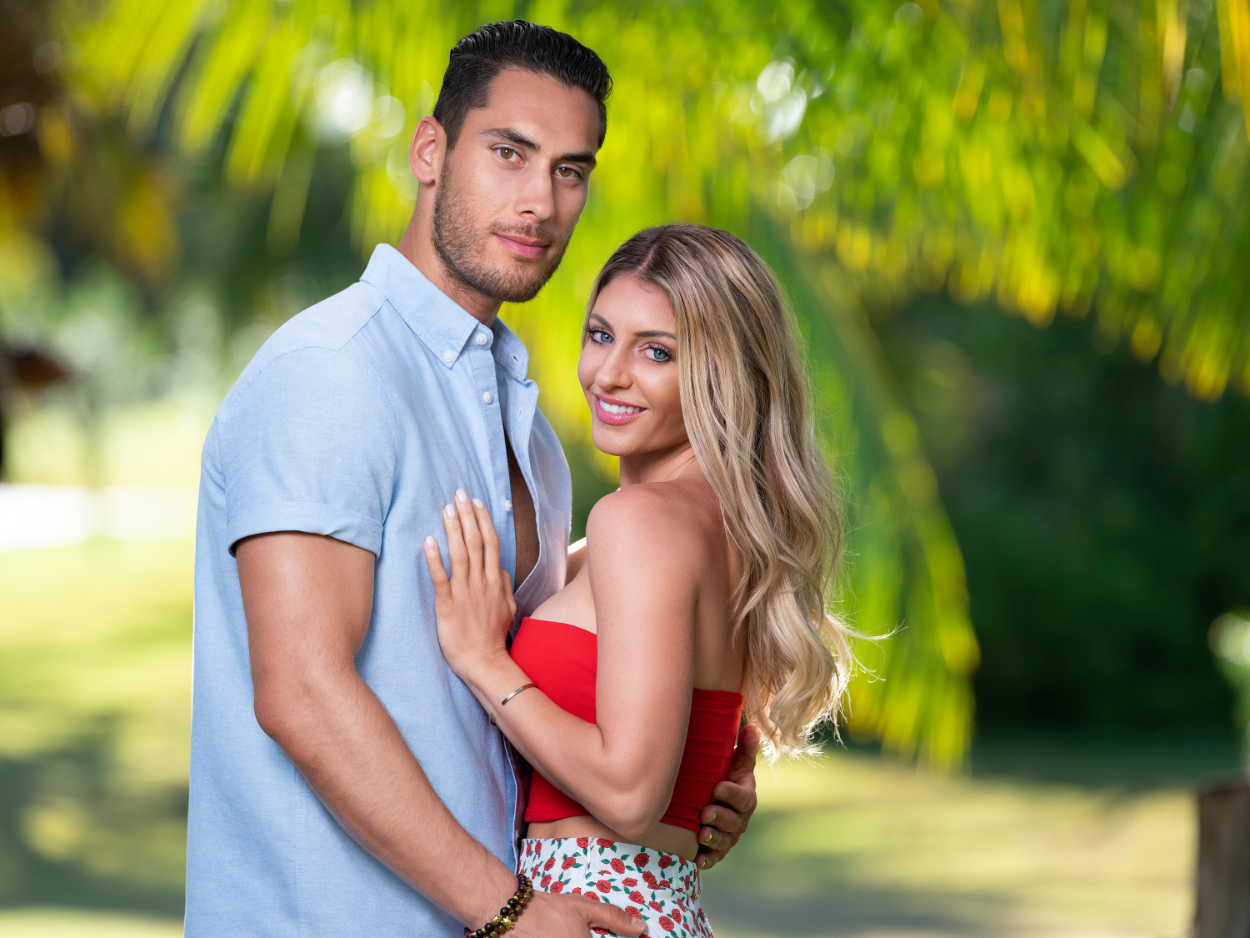 Javen Butler and Shari Ligons
The high school sweethearts decided to go to Temptation Island after dating for eight years to prove his faithfulness to her, and she wanted to hang out with other men. During the final bonfire, which aired in March 2019, Butler proposed to Ligons, who accepted.
RELATED: 'Temptation Island': Javen Butler and Shari Ligons Seemingly Break up After Cheating Allegations
Following the show, single Justin Sturm claimed he hooked up with her on the island, and Butler seemingly confirmed by replying to a tweet of hers with, "you cheated on me." In January 2020, the couple broke up as they deleted their pictures together and unfollowed each other. They have since reconciled.
Karl Collins and Nicole Tutewohl
After dating for nearly three years, the Chicago-based couple appeared on the show because Nicole Tutewohl began questioning her feelings for Karl Collins. During the final bonfire, she initially agreed to make it work with him before changing her mind and leaving solo to focus on herself.
RELATED: 'Temptation Island' Stars Karl Collins and Nicole Tutewhol Back Together After a Year-Long Break
Six months after filming, he moved out of her place, and they began living separate lives. However, fans started noticing the two began hanging out again after a few months. In February 2020, the couple went on a ski trip with a few other TI stars, where they revealed they started dating again.
John Thurmond and Kady Krambeer
The Texas-based couple dated for three years before coming to the island as Kady Krambeer didn't think John Thurmond represented the kind of guy she wanted to marry. They decided to part ways at the final bonfire.
RELATED: 'Temptation Island' Morgan Lolar Shoots Her Shot at 'Survivor' Star Jay Starrett
Although they both formed connections with others in the villa, the two didn't pursue a romantic relationship with them. Thurmond is still single, while Krambeer has been in a relationship with Nathan Schell since 2019.
Evan Smith and Kaci Campbell
After being in each other's lives for 10 years and dating for five, Kaci Campbell brought her boyfriend to the show as he couldn't bring himself to get down on one knee. Even though he intended on proving himself to his longtime girlfriend, Evan Smith quickly fell for Morgan Lolar.
RELATED: 'Temptation Island': Morgan Lolar Exposes Evan Smith as a 'Master Manipulator' in Tell-All YouTube Video
He broke up with Campbell in a memorable bonfire and moved across the country to live with his new girlfriend. Six months later, he proposed. However, the engagement didn't last as the two split in early Jan. 2020.
Casey Starchak and Ashley Howland
Season 2's Casey Starchak and Ashley Howland initially entered the show as one of the stronger couples, but she quickly moved on after hearing him claim he wouldn't care if they broke up.
RELATED: 'Temptation Island' Season 2 Star Ashley Howland Revealed Where She 'Drew the Line' With Casey Starchak
He proposed to his girlfriend during the dramatic Dec. 2019 bonfire, who rejected it and dumped him for Ben Knobloch. Starchak and Howland are single.
David Benavidez and Kate Griffith
The New Jersey-based couple lived together and dated for three years but wanted the TI experience to figure out if they were ready to take the next step in their relationship. Although Kate Griffith enforced strict boundaries with the other men, David Benavidez showered with women, kissed them, and nearly had a threesome.
RELATED: 'Temptation Island' Stars David Benavidez and Kate Griffith Say Negative Backlash Brought Them Closer
He then left the island with a different person he claimed to fall for, Toneta Morgan, but they didn't last long. During the reunion, Griffith found out he also hooked up with another single, Samantha Hoffman but wanted to make things work. They announced they were still together by posting a New Year's Eve 2019 picture together. However, the two have since split.
Gavin Rocker and Esonica Veira
Before appearing on TI, Gavin Rocker and Esonica Veira dated for almost two years but wanted to see if they should continue their relationship.
RELATED: Gavin Rocker Opened up About Relationship With Esonica Veira and Why He 'Can't Respect' Her Anymore
While Rocker had a few connections in the house, Veira got close to Kareem Thomas and decided to leave the show with him. However, the two ultimately didn't work out. Rocker and Veira are both currently single.
Rick Fleur and Ashley Goldsun
After dating for four years, the Massachusetts based couple went on Temptation Island, believing it would help their relationship. However, Ashley Goldsun ended up having sex with another single early into the experience.
RELATED: 'Temptation Island' Season 2 Star Ashley Howland Revealed What Really Happened Between Her and Ben Knobloch
They still chose to leave the island together but later broke up without revealing why. While some fans think the two are still dating and hang out on the low, it seems they are still broken up and have yet to reconcile publicly.
The new season of Temptation Island airs Feb. 16 at 10/9 Central on USA Network.