Tessa Thompson Has 5 Words to Describe Her Chemistry With Chris Hemsworth
Chris Hemsworth and Tessa Thompson boast palpable chemistry that effortlessly seeps through the silver screen. The two have been friends for a while, and their bond with one another is admirable and has proven to be a bankable duo that fans can't get enough of. Thompson recently had so much to say about her friend Hemsworth but used five words to describe their chemistry.
Tessa Thompson and Chris Hemsworth cracked up a friendship on set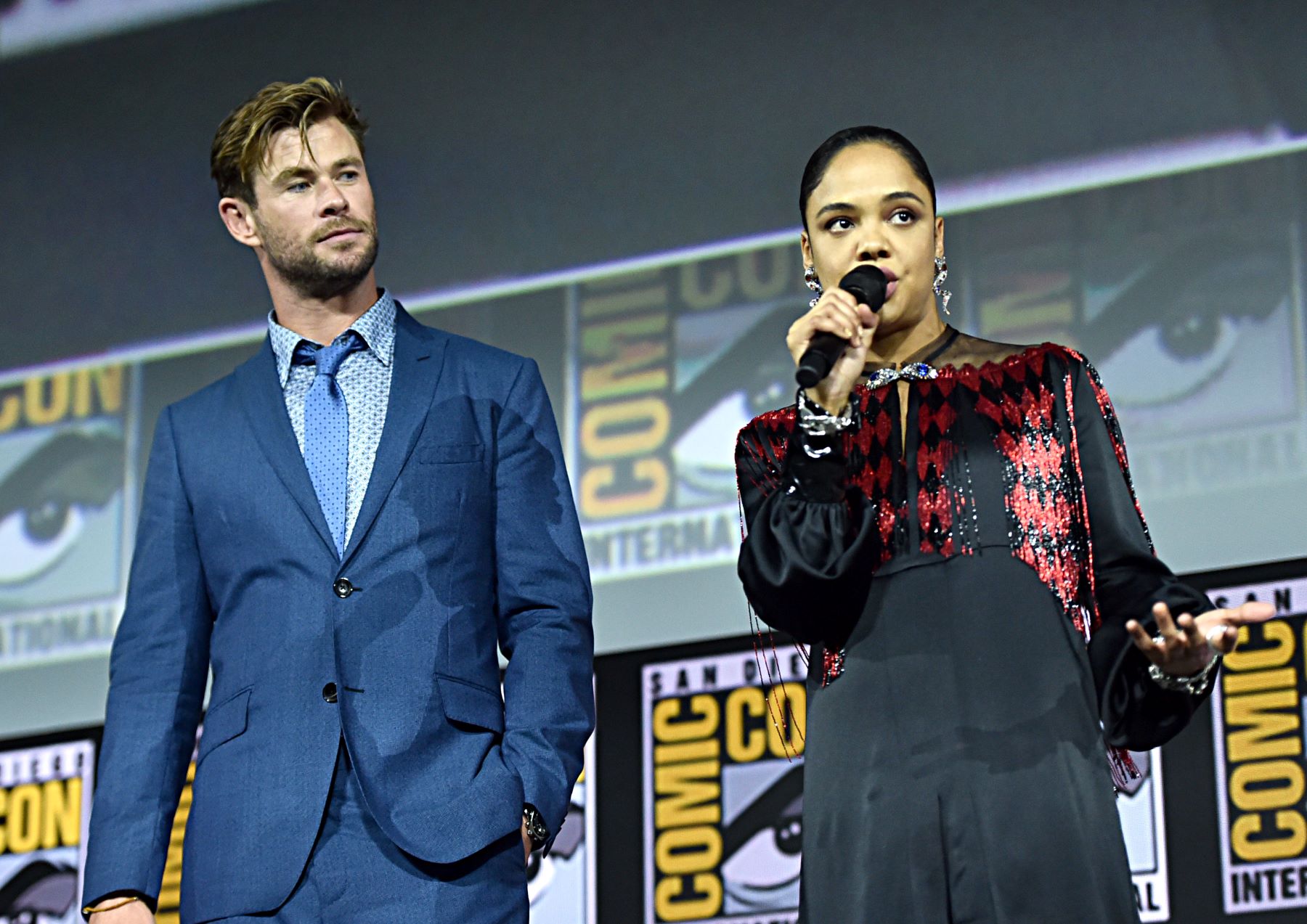 Tessa Thompson and Chris Hemsworth's friendship dates back to 2017 when they both appeared in Thor: Ragnarok as Valkyrie and Thor, respectively. The duo was reportedly meant to be written as lovers, but the writers decided to approach their relationship in another way.
According to Refinery29, the Ragnarok writers didn't feel they would do Thompson's character justice by sidelining her and making her Thor's love interest. "It was like, 'Let's give Valkyrie her own story that connects with Thor, and if it makes sense for them to get together, then great. You've got two really good-looking people who can fight and who'd probably be good together if the story went there, but it just didn't," screenwriter Eric Pearson said.
The onscreen duo drops hints of a possible attraction to one another, but nothing of the sort is discussed explicitly in the 2017 film. The pair continued their onscreen friendship in real life and have had nothing but the best to say about each other, often singing praises to one another in interviews.
Tessa Thompson has 5 words to describe Chris Hemsworth
Tessa Thompson and Chris Hemsworth have managed to capitalize on their chemistry onscreen to appear in various other projects, and fans haven't been disappointed. The duo appeared onscreen in Avengers: Infinity War in 2018 and partnered once more in the 2019 film Men in Black International.
Thompson played Agent M while Hemsworth played Agent H. Although Hemsworth's character is a more seasoned field agent, their characters manage to find equal footing and work as partners instead of one lauding their experience over the other.
The movie received moderate success grossing $253 million at the box office against a budget of $100 million. Their performances were lauded by critics who praised their onscreen bond. Hemsworth told Collider in 2019 that he was more than excited to share the screen once more with his Ragnarok co-star.
"She was at the top of the list, and I said, 'Fantastic, we'll pick where we left off and letting both of us do something different than the dynamic in that film, the difference in chemistry," he said. Hemsworth said he loved working with Thompson because he didn't have to spend half of the film getting to know her.
Hemsworth and Thompsons shared in a 2019 interview that they loved working on MIB because it was a different setting from their Marvel Cinematic Universe characters. Hemsworth said, "It was great. We knew each other we had the chemistry, but we had to find a whole new chemistry in there." However, Thompson interrupted, saying, "Sometimes we had too much chemistry."
Hemsworth and Thompson will star once more as their MCU selves in the upcoming Thor movie, Love and Thunder.
What we know so far about 'Thor: Love and Thunder'
Thor: Love and Thunder is set to premiere on July 8, 2022, and tickets are already on sale. The movie follows Thor as he attempts to find inner peace but has to return to action to prevent Gorr the God Butcher from killing all gods. The sequel is set to include Jane Foster, now the Mighty Thor.
AMC listed the movie as the shortest Marvel movie in Phase 4 with a 1 hour and 59 minutes runtime. It's unclear what ground the film will cover and if it will set up the story for further development, but fans speculate that it may tie up some existing storylines, precisely that of Hemsworth's Thor.
RELATED: What Is The Next Project Tessa Thompson and Chris Hemsworth Would Love To Work On Together?