Teyana Taylor Just Revealed Erykah Badu Is Her Midwife
Teyana Taylor taps Erykah Badu to help with her home birth.
While 2020 has its share of letdowns, it's also been a year of collaboration. Teyana Taylor and Erykah Badu are up next in the realm of artists who are joining forces, and we're not talking about the song "Lowkey" on Taylor's new album. These two celebs are working together to bring a new life into the world.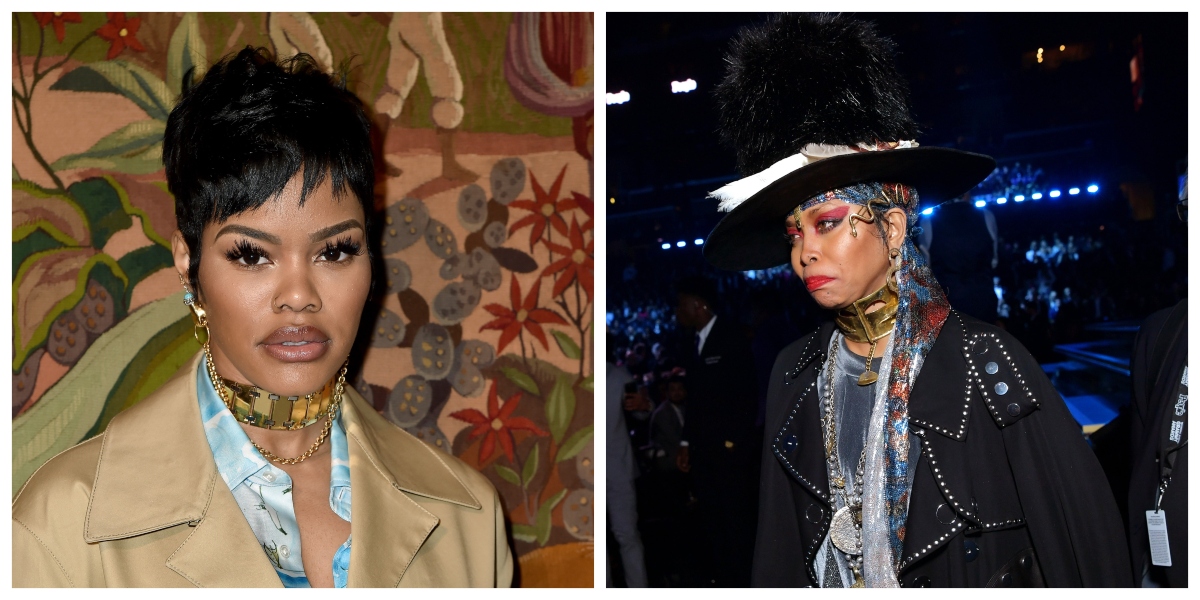 Teyana Taylor announced her pregnancy
Taylor and husband Iman Shumpert are expecting their second child and made the official announcement with a music video that dropped on June 12. They are already parents to daughter Iman Jr. — nicknamed Junie — who's four, and are getting ready to welcome another girl.
Taylor revealed her baby bump in the video for her new track, "Wake Up Love," and Junie is shown cradling her mom's stomach.
She told People that the entire family is over the moon. "Iman is super excited. Junie is ecstatic — I'm talking super ecstatic. Everybody is just excited. I can't wait. I've got three more months left until we meet our little princess."
Taylor added that Junie is gearing up for her big sister role and talks to her belly all the time.
You have kids that are a little bit jealous. But she's so excited and preparing herself to be a big sister. She constantly kisses my stomach, she constantly talks to the baby. Even when we go to the store, she's like, 'Okay, mom, this is for the baby.' She's so ready. She's going to be such a great big sister.
Erykah Badu is Teyana Taylor's midwife
Taylor is enjoying her pregnancy and celebrating the release of her new album titled "The Album." A
s a guest on Nick Cannon's radio show on Power 106, she discussed her music, family, and plans for giving birth at home. Taylor revealed that Erykah Badu will act as a midwife to assist her with her home birth.
"I'm considering home birth and I'm actually gonna be doing it with Erykah."
She went on: "You know, I feel like if I did it once without any type of warning, I could do it this time fully prepared. Giving birth like that was scary but it was such a powerful thing."
Fans recall Shumpert delivered baby Junie at home on the bathroom floor when they couldn't make it to the hospital in time. He tied off the umbilical cord with his headphone cord. After that experience, Taylor is game to do a planned home birth this time.
Badu has been a doula for years
Erykah Badu has experience delivering babies and has been a certified doula since 2011. During a 2015 interview with Pitchfork, she spoke about how she fell into it naturally and does the work for free.
She enjoys ushering new life into the world. Midwifery training was the next step, and she's delivered more than three dozen babies.
A home birth is about being able to create exactly what you want, because it's such a violent moment inside of the body that you want everything else to be as beautiful as it can be. So I started studying to be a doula and got my certification in 2011 and now I'm in training to become a midwife. I'm almost there and before I know it I'll be able to open my own practice, if that's what I desire.
Taylor's baby is due in the fall, and she is ready for Shumpert and Badu to be by her side.